Richmond Community Chorus Invited to the Smithsonian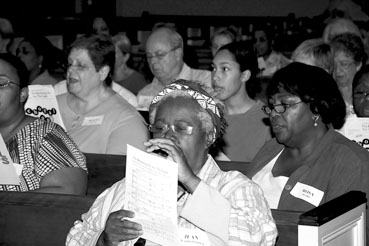 One Voice, Richmond's only inter-racial community chorus, will perform June 6 and 28 at the National Theatre and Virginia State University, respectively.
 
Then on July 20, they will travel by invitation to Smithsonian American Art Museum in Washington D.C. to perform "An' All That Jazz." One Voice recently celebrated its fifth anniversary. It was partly inspired by a desire among founding members to encourage an ongoing constructive dialogue in Richmond about race. "One Voice began with a conversation, sitting on folding chairs in an empty church room," states their Website www.OneVoiceChorus.org.
 
"I could on and on about One Voice," says Marilyn Milio, Outreach Coordinator. "I originally heard them at a concert last summer at Sixth Mt. Zion Church in Jackson Ward and was just so impressed with their simple mission of healing through music. For folks to cross those racial barriers, it's just remarkable."
 
"One Voice works toward healing and racial reconciliation between Americans of African and European descent," part of their Mission aims. Toward this goal, the Chorus has already brought together many area residents. Today, One Voice is made up of more than 125 singers whose shared motto is "singing the beauty and power of diversity." One Voice reflects diversity in both in background and race. But when they stand in performance or practice at St. Gile's Presbyterian Church, of 5200 Grove Avenue, they unite anyone listening, in melody, and a shared musical culture.  
 
The only thing needed to join One Voice Chorus is a desire to unite the community through music. No audition is required. Contact one of the directors, Glen or Lavetta at glen@onevoicechorus.org or lavetta@onevoicechorus.org or call 231.0324
 
"An' All That Jazz" features Dr. Weldon Hill and a jazz combo performing the music of the Harlem Renaissance. Soloist Desiree Roots and the Richmond Jazz Society will join them.
 "Just come," Milio urges. "We'll sing for you."
June 6, the National Theatre, 708 E. Broad St. 8 PM, $20 612-1900
June 28, Virginia State University, 1 Hayden Dr., Petersburg 524-5000
July 20, Smithsonian American Art Museum, Washington D.C. 4 PM Free. (202) 633-7970