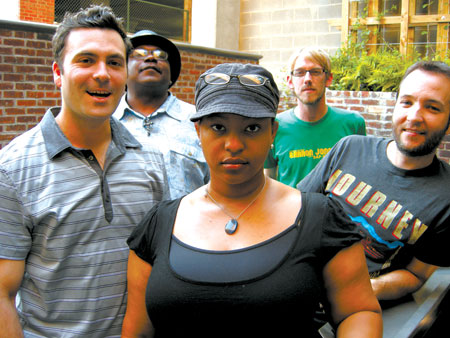 Members:
Jon Gleich, Keys/Sax
Dabbs Aikens, Drums
Ticia Carter, Vocals
Darren Moxin, Guitar
David Monger, Bass
Pennyshaker aced the test that defeats most bands – the test of time. Together for almost seven years, they're still performing, evolving, and while hanging out at Capital Ale House downtown, acting a lot like a mischievous family you can't help but love. Their infectious neo-soul sound is an achievement of solid musicianship, collaborative songwriting, and Ticia Carter's bold and honeyed voice. In performance and on their self-titled studio recording, Pennyshaker mixes jazz, blues and soul for a unique groove. Like the members of Pennyshaker themselves, it's original, funky, and embraceable. The band performs at Innsbrook Pavilion, June 21 at the Central Virginia Wine Festival. But first, they're chilling with a few beers.
Where did the name come from?
Ticia – I came up with Pennyshaker and it was a joke, kind of. I kind of felt like that's what we were. Like a street vendor, you're singing on the corner, you got pennies in your cup, and you're shaking it. You do it because you love it, not for the money.
Who are some of your influences?
Ticia – It's a plethora. I always used to wish that Patti Labelle was my aunt. What my parents played was what I listened to, like the Commodores, Luther Vandross, all that kind of stuff. As I started to grow up, I really liked Teena Marie and Nina Simone. At the moment, they call me the B-side band queen because I don't really like commercial stuff. Right now, it's Chrisette Michelle, Jill Scott, and like a lot of old school jazz standards, like Billie Holiday, Sarah Vaughan, Ella Fitzgerald. When you need some inspiration, you might throw something old in. Our music, it's emotional. You can connect with it a lot. If you enjoy funky, groovy – that's what it is.
Dabbs, tell us about yourself!
Dabbs – I'm from New York City. I have seven brothers and four sisters and was raised around music. Kool & the Gang, Crown Heights Affair, Ben E. King… I played with Ben E. King for several years, went to Japan with him. I've been down here since '98.
Richmond is a big change from New York.
Dabbs – It slowed me down a little bit. You know how crazy New York City is, and I was right in the mix of it all. Coming down here was a good idea for me. I just did it on the spur of the moment too, loaded up the car, and I'm gone.
You sure there wasn't a broken heart involved, a woman somewhere?
Dabbs – Well, they understand now.
Jon – Daddy Dabbs has a lot of stories.
How did you find these guys?
Dabbs – I answered an ad in a music store, I think it was in Sam Ash. I came down, auditioned for the band, and got the job.
Jon – We wanted to get a new sound and something new going. We really needed a strong vocal and a strong drummer. We went through a lot of very tedious auditions. We weren't going to settle on it. It took a long time.
Dabbs – It's been history ever since.
Is there a Pennyshaker philosophy?
Dave – There are so many ups and downs when you've been around as long as we have, but our constant is just to write good music. Our commitment is just to be comfortable in our own skin and put out a good show.
Ticia – We've had these discussions before. Do I want a song that is going to live for three months and then [listeners] forget about it and then move on to the next blonde haired whoever? No, that's not what I'm looking for. If it was, we wouldn't have been together for as long as we have. When you put as much heart into your music as we do, you want people to be able to connect to you and feel something more.
What's kept you guys together when so many bands fold?
Jon – The general theme of what we're doing now, is just the family feel we've got. Connecting with people is just the most important thing. Our focus has always been our connection between each other. The trust we've been able to build over the years with each other, we're able to try new things. Ticia can go do her thing, she knows we're right there for her whereas in a new band, you don't know if anybody's going to catch you.
Ticia – I used to play with this other band. It was a very every-man-for-himself type of atmosphere. We don't have that. I don't think we've ever had that.
Jon – Ticia is very focused on the way that we all sound instead of trying to be a diva or whatever. A lot of guitar players take a lot of solos, need to be in the forefront, but Darren's extremely tasteful. It's a really egoless situation. With the exception of Dabbs, who's an ego maniac. [laughter]
Dabbs – Everybody gets a great show. We give it all we've got. That's what I strive for.
Ticia, how did you meet the guys?
Ticia – I was just looking for something to do because I had quit a different band. I saw an ad in Punchline for a singer. There was no name, no number, no nothing. So I had to call the magazine to figure out who it was. They were like, let me get your name and number and we'll call you back. I waited a couple days and then they called back. They couldn't even [pronounce] Jon's last name. It was work.
What question have you never been asked in an interview that you want to answer?
Dave – One question no one ever asks is what sucks most about being a local musician? No one ever asks that. Jon, you want to sum that up?
[Jon ignores him, so Dave answers himself]
Dave – The non glamorous part is that it's a 6 PM to 3 AM job that you're stepping into. You're loading, you're doing everything, and then you have little times in there when you get some free food to get you going, and then you play and it gets you going. It's all for the end result. You lead up through so many hours of loading in, struggling to get booking, then you get to the payout.
Darren – The payout amounts to about twenty minutes of music while the rest of the time you're trying to get your PA straight, your bass player and your drummer are fighting, and you're miserable, and then you have like twenty minutes where it's good, and you dig that, so you keep going back for more.
Jon – So let me get this straight…It's six hours of work for a week prior, [in exchange] for like twenty minutes of gratification? Sounds like marriage. [laughter]
After seven years together, how do you keep it fresh?
Jon – We've been playing some of the same songs for awhile. But that trust atmosphere that we've created, it really allows you do things new every night. You get consistency, but we have a very organic approach. If someone takes it in a different direction, we'll try to go there. We'll let it ride.
Ticia – Like real musicians should. If I wanted a cookie cutter type of situation, then I'd go to a karaoke bar. But you want connection, you want some fusion, you want some flow, you want the ability to see how you can grow, something that keeps you excited, keeps you engaged. Even if it is a six year relationship, you can still pull a trick out and keep things interesting.
What's in Pennyshaker's future?
Dave – Our music is evolving. Our music from day one or year two was different than it is now. There aren't a lot of bands with a black female singer who are playing real instruments, real music in today's music scene. A lot of it is overproduced. Ticia is a main part of our band. Everything comes around her. There's not a lot of bands like us.
Jon – We basically want to turn people on to us who haven't heard of us. You just gotta come out. Bring your people, let's go, we'll have a good time.
Pennyshaker performs at the Central Virginia Wine Festival, June 21, 12 to 6 PM, Innsbrook Pavilion, 4901 Lake Brook Dr, Glen Allen. www.Pennyshaker.com