Wu-Tang Clan Leader Launches New Website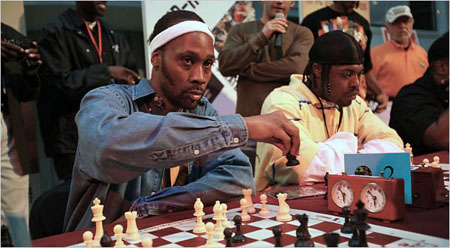 When he gets a free minute, composer, multi-platinum producer, and rapper RZA can add "Web mogul" to his resume. The busy leader of Wu Tang Clan went live last week with WuChess.com, an online social network that brings together Hip Hop and competitive chess. As a social network, WuChess allows users to create and visit profiles, and take part in live chat and instant messaging. As an online learning tool, WuChess features live and training games for all skill levels including prize tournaments. As a Hip Hop community, WuChess allows subscribers to get brand new MP3's and videos. If that's not enough, subscribers can watch celebrity matches like those in which their favorite Hip Hop artists battle it out on the proving ground of a chessboard. To develop WuChess, RZA spent months working with Chesspark, an interactive chess site that prides itself on bringing the challenge of live games to Internet players of all skill levels.
RZA is a lifelong chess player who first learned the game in Pittsburgh, where he grew up with ten brothers and sisters. No stranger to violence or controversy, RZA faced a murder charge fifteen years ago. Authorities ruled the act to be self-defense. Today he promotes the game partly to encourage smart decision-making among youth and he admits that he relies on chess for relaxation. RZA frequently mentions the critical thinking skills and mentor-like relationships that regular chess play cultivates. Professionals agree. "It's kind of the "anti-drug" or the "anti-violence" activity," says Richmond Clinical Psychologist Dr. Theresa Parr. "When you're doing something positive, you're not doing things you shouldn't."
Parr is working with Maurice Ashley to develop a curriculum for chess in schools. Ashley earned the rare title of International Grandmaster of Chess in 1999, and has been called "the Michael Jordan and Tiger Woods of Chess." He is the first and only African American to hold the title. Both Ashley and Parr emphasize the power of chess to teach critical thinking, and to cross boundaries. "Chess is a whole culture that you can get into," Parr says. "It also has the benefit of being something you can do by yourself, but you can also do it with other people. So you can be on chess teams and have the social experience of doing that, but you can also do it from home. And of course with Internet you can play with people all over the world." RZA's WuChess now gives enthusiasts another opportunity to do so.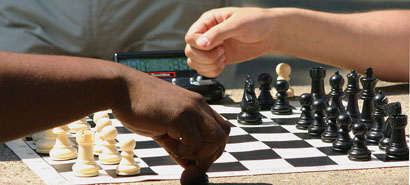 While RZA's life often seems obscured in mystery or demeaned by finger pointing, a few things are certain: He's a disciplined student of martial arts, chess champion, Hip Hop icon, and triumph of the streets. The combination isn't as incongruous as it may sound. Urban parks across the nation including Washington D.C.s' Dupont Circle, and New York City's Tompkins Square and Washington Square Parks have reflected a thriving black chess culture for years.
RZA is always a savvy entrepreneur, and WuChess is meant to add to his empire. Annual subscriptions cost $48, and some of the profits will go to The Hip Hop Chess Federation's (HHCF) college scholarship fund. Founded by writer Adisa Banjoko and Leo "Blast" Libiran, HHCF is a non-profit organization that offers recreational games, life strategy workshops, as well as college scholarships for youth in Southern California. HHCF hosts regular international tournaments that bring together heavyweights in Hip Hop, martial arts, and chess for several days of workshop, competition, and discussions. Recent events have featured panelists like DJ QBert, Rakaa of Dilated Peoples, and more.
Want to learn more?