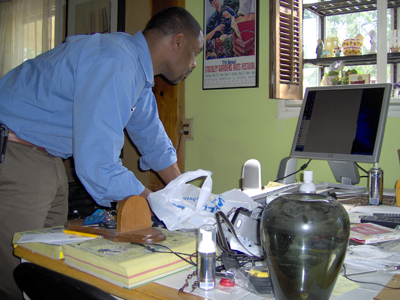 Meet Clayton Singleton, a visual artist who regularly shows his expressive painting in Richmond galleries, and a public school art teacher. For two weeks, Clayton kept a diary in which he opened up about his job, fatherhood, losing loved ones, and much more. You may relate to the challenges Clayton confronts while juggling demands of living, as well as the unexpected joys that can arrive out of the blue.

I Am An Expression of Unconditional Love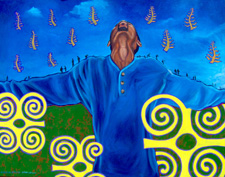 "Rebuilding Faith in Myself. I Am Not Your Bridge to Use."
Friday
7:30 AM The alarm forces my right eye open and is met by the sun slapping me through the vertical blinds. I remind myself that I didn't work last night.
I teach the subjects painting, drawing, sculpture and ceramics to grades 9 through 12. Right now for class I'm creating these foam people I call "Dream Kids," kids dressed in career uniforms. I called them that because my students aspire to go into different professions. Two weeks from today, the class is doing a big presentation of Dream Kids to talk about what jobs they dream about doing. I was supposed to create the forms last night for two Dream Kids. I set deadlines so I can get everything done, but the couch swallows me on some nights. Last night was one of these nights. The sleep felt good.
But I have to get up. I'm heavier than my awaiting work.
Monday
Clayton starts to feel the strain of remodeling projects at home and pressures of SOL testing at school. He hasn't been able to get to the studio in a few days, and he feels behind schedule. Topping it off, he lost his cell phone with all his important contacts.
2 PM I'm working on illustrations for my kid's book and also a portrait for father's day of a father and son interacting with one of one of those plastic expanding colored mechanical balls. But I'm feeling discouraged about an illustration. It's not turning out right, and I had set today as a deadline. I can't get the background subtle like it needs, so I went and bought a new canvas for it. I've got to start over tomorrow. I lost my cell so now I've got to go get a phone too. No time to go to the studio today.
I stayed up a bit late last night writing out bills and looking at kitchen magazines. Today is filled with teaching, checking work, filling out student progress reports, cleaning, and preparing for next year.
The thing about SOL testing is it's not relevant until it's over. The exams for which students sacrifice the right side of their brains take about two weeks to administer. During that time, we proctor and lock the school down. It seems if we were not always in a "lockdown" state of mind, teachers and students would not have to adjust to temporary situations by which they seem so frazzled.
Wednesday
1 PM I'm not really having a good day today. It's not bad, but it's not good, you know? I'm just tired, emotionally and mentally. It's like seven out of ten kids need "extra attention," and not just to help them understand, but rather with the staples of learning, with the basic school rules, like, "No hats on in the building." Everyday, the same kid with the same nonsense of having his hat on, as if he doesn't know any better. But adults have been stripped of so much power while given more responsibility, it's ridiculous. It's equivalent to sending under-manned, under-supplied troops to a volatile region and saying, "Win!"
I'm just exhausted. And hungry. And I need some coffee. LOL
Friday
Clayton's former wife Jamel lost her father, so their son is staying with him a while longer. Clayton is happy to have Jarrett for the extra days, but the time with his son makes him miss his marriage and being with Jamel and Jarrett as a family.
6 PM School was pretty cool today. It's prom, so that's senior skip day. There was not much disagreement in the halls or in my class. It's cool to watch the kids transform, if only for a few hours. They are genuinely happy, at peace, and excited. They allow you to appreciate them with no walls, no boundaries. I wish everyday was prom.
I still have Jarrett because of Mr. Kinloch passing. I'm giving Jamel time to be with her family and work out the arrangements for her dad. It's been a week with my man. I remember how it used to be when we all lived together. I miss it, I must admit. Of course I love my man and I do miss the husband/ wife/ child family aspect of my life.
Jarrett is in there tearing up some stuff. I wonder what he's thinking about his grandfather passing. He is talking more these days, so that's a good thing. Well, it's time to get ol' boy cleaned up to get a haircut. We're going to have fun tonight.
Sunday
12:36 PM I talked to Jamel this morning. It's kind of cool talking to her and hearing what she's really thinking and being able to feel I believe her. We had a memorial service for her dad Saturday. It's crazy. My mom passed away in September, and her mom the March before. Three parents in about a year. It almost makes the divorce silly. We talk and communicate more, and better. I guess it takes tragedy for someone to appreciate life. But it was duly necessary — the divorce, I mean. Anyway, my brother is here. We're off to visit mom's gravesite.
2:10 PM I took some roses from my mom's rose bush to put on the gravesite. My mom would've liked to see her roses this year. She was always so proud of her garden, especially her roses. She was always so very protective of her garden – her joy, her solace from this crazy world. JahNay [Clayton's niece] looks just like my mom. She came and gave me a hug. I miss my mom.
Tuesday 
5:45 AM And I have to go to work, why today? I'd much rather stay home and work on my foam figures. I'm running into some issues with the material. They're made of Foamular, the pink insulation building material. If it were denser, I'd be happier because it would be easier. But anyway, it's work time.
2:20 PM School is wack today [even though] the kids are on point. They're working pretty well. But the building is tense because of testing. I'm done proctoring, but it feels like I'm taking an SOL test. Does the environment have to be tense to communicate the importance of the test for the students and school?
I just remembered I've got to go to the bank. I can't go to the studio today.
Wednesday
8 PM There's got to be a better way to construct these foam people. I have to sand them in the bathroom and it's hot in there! I have the fan going but with all the dust, and with asthma, I can't breathe in the mask too well.
Why can't I just make it simple? No, I go all out! Now I'm kind of tripping because the learning going on keeps making me go back and forth to the store to get something different. I'm bouncing to Michael's [craft supply store] to get a Styrofoam cutter to cut the forms better. It's wack, and they close at nine. Only two days until the presentation.
Friday
It's Presentation Day. Clayton stayed up until 3 AM to finish the Dream Kids. After three hours of sleep, he grabbed a suit and headed to school.
3 PM I danced in class today. It was fun. I think they'll circulate it on MySpace. There I am cutting up, having fun, we're all laughing. I look up, and there are seven cameras and phones framed on me. I'm like, "Oh, lord. No electronic devices allowed on campus!"
But the presentation was hot. The kids loved it, I loved it. I impressed myself. I got love from the students and they looked like they enjoyed themselves. That's good mojo.
Happiness.