From Gilbert Hunt to Virginia Estelle Randolph,
African American history comes alive.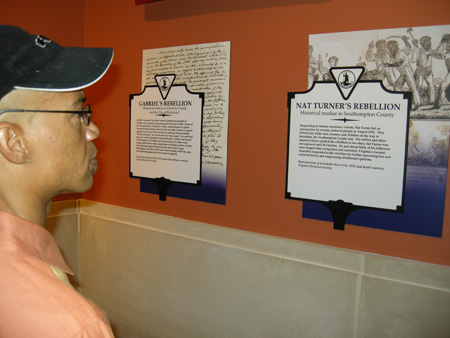 They're familiar sights along Virginia highways and even in the city of Richmond: no, not ticket scribbling State Troopers.
Highway markers document the culture and history of an area. The claim to one can be a source of pride to a community. The iron plaques often serve as symbols of public recognition of figures and events that could slip from memory – or never be granted acknowledgment in the first place. Community leaders in Richmond, for example, worked for months in an effort to place a marker at the execution site of slave and rebellion leader Gabriel Prosser. In 2004, when they'd collected enough money, and met with approval by The Virginia Department of Historic Resources, the event was celebrated with a candlelit unveiling at 16th and Broad Streets, the Negro Burial Ground where Gabriel was put to death, and the earliest known African cemetery in Richmond.
The same site was a source of controversy recently, when VCU forged ahead with plans to re-pave the parking lot currently covering the area. After small but ardent community protest, VCU officials agreed to postpone pavement pending further research. While it's impossible to know for certain if it impacted this outcome, the marker placed less than four years ago raises awareness everyday of the historic value of the land it looks over.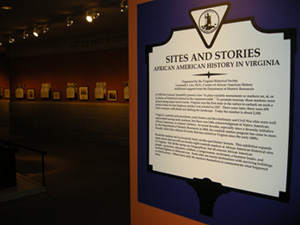 "Sites and Stories: African American History in Virginia" is an exhibit at the Virginia Historical Society of roadside historical markers documenting important places and people in the Commonwealth. The exhibit illustrates twenty eight significant events in African American history. The extended text does not duplicate that of each highway marker, but provides new information and context. When possible, other items round out the experience, as in the display of John Jackson's guitar and well-traveled case. Jackson was a musician who's commemorated in Rappahannock County.
Virginia's historic highway marker program was established in 1922, making it the nation's oldest. The first marker was erected five years later in 1927. Soon after, North Carolina began its own program, modeling it after Virginia's. Today, the typical cost of a marker is $1225.
Save gas money, travel time, and meetings with State Troopers. Visit "Sites and Stories" now through July 27 at Virginia Historical Society, 428 N. Boulevard, 342-9665 www.VaHistorical.org.