Before you see Dead Prez, did you know…?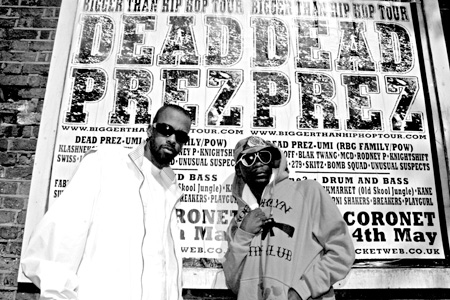 M-1 was mobilized as a young man by the book, "The Autobiography of Malcolm X," by Alex Haley.
Spike Lee said of "The Autobiography of Malcolm X:" "It has given me courage that I didn't know I had inside me."
M-1 and stic.man met at Florida A&M University in 1990.
Lee went on to make the film, "Malcolm X" starring Denzel Washington.
M-1 and stic.man called themselves "Dead Prez" and moved to New York, where they built a following with their knowledgeable, politically-charged rap, and powerful live shows.
Dead Prez were first signed to Loud Records, and were label mates with Wu-Tang Clan and Mobb Deep.
Dead Prez released "Let's Get Free" in 2000. Educated, defiant, and wholly political, "Let's Get Free" was considered by many to be the best hip-hop album of the year. One review called it, "The most politically conscious rap since Public Enemy."
M-1 also goes by the name "Mutulu Olugbala," while stic.man goes by "Khnum Olubala." The surname is Yoruba, a language spoken in West Africa, and means "for the love of the people."
In 2004, the Dead Prez released "RBG: Revolutionary But Gangsta." With "RBG," they took it back to the streets, with a personal record that revealed some of the most private parts of their pasts.
Dead Prez were featured performers on "Dave Chappelle's Block Party" in 2006. Their song "Hip Hop" is the instrumental heard on every episode of the Dave Chappelle Show.
Also in 2006, Dead Prez released an album with the Outlawz called "Can't Sell Dope Forever," and M-1 released a solo record, "Confidential." Stic.man released "Manhood" in 2007.
Dead Prez are featured in their own documentary, "It's Bigger Than Hip Hop," directed by John Threat, whose real name is John Lee.
Stic.man says: "A man gotta be balanced. You can't just be about the pleasures."
"Information Age," the newest Dead Prez album, is set to be released in November, Election Month.
Want to go?
Dead Prez in Richmond! June 20, 9:45 – 11 PM, Hyperlink Café, 814 W. Grace St.
Cost: $15 at the door