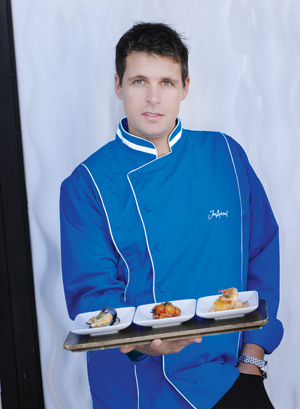 by Cesca Janece Waterfield
On July 11, Chef Jon Ashton will appear on NBC's Today Show to teach viewers how to undress.
The well known chef has developed several recipes for salad dressing boasting rich taste without all the fat. He'll demonstrate his "trimmed down" recipes in a segment the Today Show calls, "Undressing the Dressing."
Ashton is based in Florida, although he spends most of his time travelling, sharing his enthusiasm for delicious and healthy food. His celebrity star continues to grow, but Ashton hasn't lost his commitment to families, children, and healthful eating. A dining program he developed with the University of Pennsylvania has been introduced in Australian schools with plans to introduce it soon in the US. Urban Views Weekly talked with Jon and got one of his favorite recipes for delectable crab salad.
You travel the world for most of the year and are constantly on the go.
How do you keep motivated?
Passion and purpose go hand-in-hand. It is my passion and purpose that keeps me focused on my end goal: to change people's relationships with food.
Why is it important to eat healthfully?
Life and food work together. We all know friendships fail and marriages fall apart, but food will never let us down. Our relationship with food begins the day we are born and sees us through our entire life, so we ought to make it a healthy one.
How does healthful eating at home bring families together?
So much of a family's life revolves around food. We cook together, have family dinners, grow our own herbs and vegetables. We are very fortunate that as a family to be able to share the values we believe in through what we eat.
We're celebrating Independence Day this week. How did you first "discover" America?
I fell in love with America as a child watching a show called Entertainment USA, hosted by a gentleman named Jonathan King. Everybody seemed so jovial and the weather was a major contrast to never-ending dreary rain in England. It was only upon visiting the USA that I fell in love with it and knew this was the place I wanted to call home.
How did you discover your passion for cooking?
Cooking with my Granny Ashton. She taught me the gift of sharing as she'd have me take bread round to the neighbors. I saw the impact giving had on people and I was sold. I also loved the time we spent in the kitchen, the laughing and joking we did. We created so many happy memories in our kitchen.
What will you talk about on the Today Show?
I have noticed in the past ten years that folks are over-dressing their salads. To be honest, most dressings people are buying are not good for a salad. Salad and dressing should complement each other. Many leaves for salad are delicate and they have their own character, I feel a lot of the dressings drown that flavor instead of enhance it.
The most important thing with food is to eat as natural as possible. There are ways to enhance salad taste like ensuring the dressing is seasoned well, and adding herbs to flavor your dressing. Simple rule of thumb; the longer the ingredient list and the more ingredients you can't pronounce on the back of the bottle, the worse it is for you.
What's your favorite salad to prepare?
That's a hard question. It's like asking a parent who their favorite kid is. In all honesty, I like creating on the spot, based on what is available in my fridge and what is in my garden. It's always so much more gratifying to be creative.
What are some tips we can use when dining out to make sure the salad dressing is healthy?
Ask if it is made in-house. Usually restaurant made dressings are healthier. It's safer to go with the fail-proof olive oil and balsamic vinegar to dress your salad, with some freshly ground pepper and a dash of salt. Happy days!
Do you have any guilty pleasure snacks?
Too many to count, but I do love English chips – French fries in America. On a cold winter's day there was nothing like piping hot chips from the neighborhood chippy, as we affectionately called it.
What is your favorite cooking tip?
Have fun. Turn up the music and throw yourself your own kitchen party. Make extra and bring some over to the neighbors.
Cracking Crab Salad
Three ounces of cooked crabmeat contain only two grams of fat. This is my favorite Crab salad recipe! Once you taste it, you won't go back to the mayo kind!
1 garlic clove

1 shallot, chopped

1 medium tomato, peeled, seeded, and cut into chunks

5 large basil leaves, roughly chopped

2 tablespoons sherry vinegar

1 pound lump crab meat

1 mango, peeled and chopped into cubes

8 Pappadam (available at Indian grocery stores). Cook to packet directions.
Combine garlic, shallot, tomato, basil, oil and vinegar in blender and puree. Add some salt and pepper and taste. (It's lovely, isn't it?) Place crab meat in bowl; add enough dressing to moisten it. Add diced mango and serve on a crisp Pappadam. Enjoy!
Recipe © Jon Ashton Enterprises
Chef Jon Ashton appears July 11 on the Today Show.