By Cesca Janece Waterfield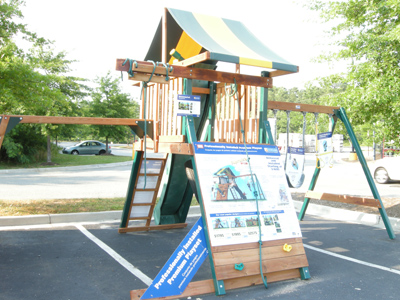 When a child enters a playhouse, fort, or playset, and shuts the door softly behind, she can open another door onto her imagination, toward fantasy and possibility.
Jeff and Shannon Flounders purchased their Rainbow Play System for their daughter Haley, now four, at Play N' Learn's Ultimate Backyard, a company who for fifteen years has retailed residential play equipment constructed at the company's South Dakota factory. Shannon admits, "We weren't going to buy her one this early." But Jeff's brother is Tom Flounders, Manager of the West End location. "He talked us into it," Shannon laughs. "She likes it a lot. She used to climb part way up and turn around. But just this month she started going to the top."
According to Tom, Rainbow's product line is uniquely designed to allow flexibility and ease of modification as children mature. "Our products allow a lot of growth potential," he says. He notes that many Homeowner's Associations place restrictions on playsets, limiting color, height, and location, and he says Rainbow works with each family's unique needs. His store has brought its line to homes throughout the region, including to Richmond, Charlottesville, and Fredericksburg. Flounders emphasizes the diversity of families who've visited Play N' Learn's lot, but he chuckles about the expression of a child who's dangling from and dreaming in a clubhouse or castle. The Midlothian resident says, "Kids are kids. They love the same things we did. We used to love to swing, to slide. Things are still the same, this day and age."
Like Rainbow, Woodplay of Virginia, places highest importance on safety. Bill and Missy Loving of Glen Allen bought their playset from store owners Kathryn and John Gray. "The nuts and bolts and fixtures are heavy duty. We slide on it," Missy the mother of three confesses. Grant and Rachael, now almost five, probably feel lucky to get some swing-time. "It's hard to say what they like best, because they like it all." All of Woodplay's products are made of redwood, which is durable and naturally repellant to many insects. The Loving's set features a steering wheel and telescope, which mom enjoys, because, she says, "Grant thinks it's a horn. They play on it all the time. Our neighbor made a comment to me that she's never seen a playset get as much us as ours has."
Missy emphasizes the strong customer service she feels the Loving family has received from Woodplay. When Carpenter bees took over the main beam securing the swings, Missy remembers, "All we did was send them photos and they came out and replaced the whole [beam.] At press time, Woodplay plans to return to stain the new wood.
Kathryn and John discovered Taylor's backyard amusement and their own business opportunity, three years ago when exploring the market for quality playsets for the girl, who will celebrate her fifth birthday this month.
Mother to the active girl whose doe-eyes are fixed on her dolls as she plays in the upper deck of a playset, Kathryn values the security of knowing her child is only steps away in the backyard. Asked what she likes best about the sampling of playsets in their showroom, Taylor says, "I like them because they look pretty." She says of her playset at home, "It has a bucket and I can pull my animals up in it." Kathryn caresses the girl's head and says, "She makes a pretend fire and just has fun."
When pretend fires stoke the coals of imagination, we can all let loose a bit of joy.