Kodak Zi6 Pocket Digital Video Camera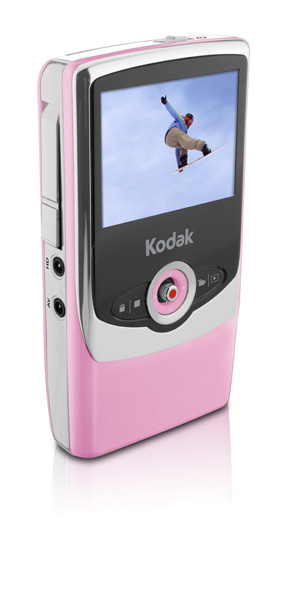 Kodak's Zi6 pocket digital camera has all the power of a camcorder and it fits in your pocket. "The Kodak Zi6 Pocket Video Camera satisfies their thirst for an HD video camera that is simple to use and can go anywhere life takes them," says John Blake, Kodak's General Manager of Digital Capture and Devices. Blake's job is to convince you to buy the Zi6.
But here's what we know:
• With this little device, there are no frustrating conversions between shooting footage and uploading it to You Tube. The Zi6 has built-in USB and software by Arcsoft to make direct uploading easy. No lens cap or dials to set.
• HD quality video capture made possible with 720p at 60 fps with 16:9 aspect ratio
• Slow motion playback and a large 2.4-inch LCD screen
• Expandable SD/SDHC card slot holds up to 32 GB for hours of video recording
• Experience your videos on HDTV in stunning HD quality with included cables
• Video software allows you to add pictures and music to your video and then upload easily
• Eco-friendly pre-charged AA Ni-MH rechargeable batteries and battery charger
• Optional accessories include 2GB and 4GB memory cards
• Available in September for $179.9
Xbox 360 Triples Storage!
The new Xbox 360 SKU has three times the storage space of the earlier console that was priced at $349. Not only does the new Xbox 360 SKU have triple the storage space, the price of the 20GB Xbox 360 is being reduced by $50. At $299, the value is only around until the units are gone.
Xbox Breakdown:
Xbox 360 Arcade – 256MB memory unit is priced at $279 and it comes with five Xbox LIVE Arcade games.
Xbox 360 Elite – Costs $449 and features a 120GB hard drive.
New Xbox 360 – Costs $299 and has a 60GB hard drive. Each new Xbox 360 60GB will come with an upscaling DVD player, wireless controller, Xbox 360 headset, LIVE Silver membership, one-month subscription to Xbox LIVE Gold. The new Xbox hits stores early next month.
Grill Tek Multi Grilling Tool
It's summer, and the BBQ is smoking. Grilling just got even more fun with this tech-savvy multi-tool by Grill Tek. It features six different devices in one to help you bringt heat to meat! The Grill Tek has a digital clock with an alarm, and of course, an electronic cooking timer. It's also a bottle opener, and features a utility knife. For night grilling, its LED light is convenient. A retracting reel keeps it close, yet out of the way. As a "utility knife," the Grill Tek isn't the greatest. But it's still a very handy tool and priced right, at only $19.95, including batteries.
Pet's Eye Digital Camera
This device clips to your pet's collar like an ID tag. Powered by a lithium ion battery and completely water resistant, you'll enjoy seeing the world your pet sees. You can program the Pet's Eye to take photos at the interval you choose – from one photo per minute to every fifteen minutes. The Pet's Eye then will store the images in its internal memory. Download pictures to your computer with the USB cable that is included. Use the same cable to charge the lithium ion battery. The Pet's Eye is fairly rugged and will become available in October. $44.99 at www.EntertainmentEarth.com.
iPhone
The new iPhone 3G became available July 11 nationally as well as in 21 countries last week.Its release was accompanied by some technical glitches, mainly because this version's activation has to be completed in-store. Experts are buzzing that Apple is gearing up to make iPhone more than an incredibly useful consumer device, but their next major focus, like Mac and the iPod. Its GPS-based services are better than ever, since the new iPhone 3G uses signals from orbiting satellites, giving it improved positioning accuracy. Its predecessor utilizes a combination of cellular and WiFi hotspot location. This change came as a surprise to many who've followed the iPhone's development. But Steve Jobs did a remarkable job of keeping development on the new iPhone secret. Using more advanced chipsets, the iPhone 3G will give you ten hours to talk at 2G GSM. That's an 80% improvement from the current model. Surf the Web for six hours. As an iPod, Apple press brags of seven hours of video and a full day of audio playback. The 3G is available now at $199.
Ikea's PS Laptop Workstation
Heading to college? The Ikea PS is perfect for dorm rooms or anywhere space is precious. The Workstation eliminates the need for a full desk. When closed, it might remind you of the high school locker you thought you left behind. Open, the tray has plenty of room for your laptop and two recesses ideal for your iPod, gadgets, or speakers. Available now in white or red, $59.99 in store or online.