Destination , Backyard!
by Cesca Janece Waterfield
A trend that has exploded this season is the "Staycation." Instead of spending a lot of cash on destination vacations, families are exploring their own region, and finding out that saving money doesn't compromise relaxation and fun. Discover a fresh perspective in your own neighborhood. Even if you've enjoyed a vacation trip this year, a staycation will allow you an affordable "extra," while you support businesses here at home. In Richmond, where an afternoon's drive can take you to the mountains, the ocean, or countryside, staycations are especially easy to enjoy. But even if you stay in town, a great break awaits.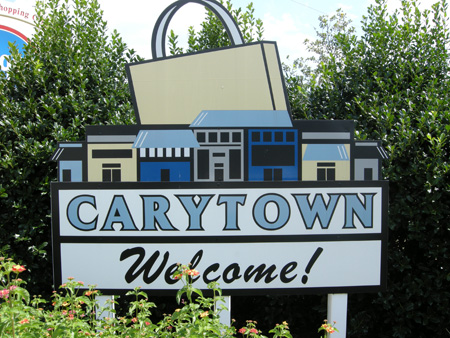 World-Class Shopping
New York City has 5th Avenue, while the Champs Elysees glitters in Paris. Between Powhite Parkway and the Boulevard, Richmond has Carytown;  nine blocks of fashion, food, people-watching, and shopping. On New Year's Eve since 2006, Carytown becomes Richmond's own version of Times Square, when thousands gather to party in the New Year.
As part of your staycation, treat yourself in one of the district's boutiques or pamper yourself in one of its salons. And whether you want a quick snack or a world-class meal, a smoothie or homemade snacks for your pooch, Carytown can satisfy.
The Byrd Theatre rises at the Boulevard end of Carytown. A national historic landmark, its interior is awe-inspiring, and opulent enough to have hosted movies stars for premieres, including last year's "John Adams." The Byrd shows movies nightly and adds matinees on Saturdays and Sundays. All shows are only $1.99. On Saturday nights, an organist entertains on the Wurlitzer before the show.
Every Thursday, Saturday, and Sunday, head to the 17th St. Farmer's Market in Shockoe Bottom. The Thursday and Saturday markets specialize in fresh produce, baked goods, and hand goods, while Sundays are every treasure-seeker's dream, complete with vintage jewelry, clothing, crafts, and more. On Tuesdays, visit the Byrd House Market where you'll find fresh produce, natural foods, baked goods, handcrafts, and very often, local entertainment. Rain doesn't stop the Byrd Market; they just set up in the big blue gym on Linden St. 224 Cherry St., Tuesdays, 3:30 to 7 pm.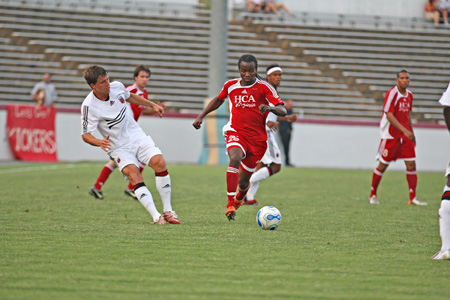 Got Game?
See a pro-soccer game and support the Richmond Kickers at University of Richmond Stadium. Support the red and white! There's still time to see the final home games of the season, Aug. 1 and Aug. 9 at the University of Richmond Stadium, 3201 Maplewood Ave. www.RichmondKickers.com
Combustible excitement!  Virginia Motorsports Park has got plenty, including drag racing, mud bog, tractor pulls, and more. Check out their "Nite of Fire," Aug. 2, featuring all-day racing and fireworks. Different events carry varying admission costs. VMP offers free admission to those with military ID on designated "Military Appreciation Nights." VMP is at 8018 Boydton Plank Rd., Petersburg. Call 862-3174 or visit www.VirginiaMotorsportsPk.com
If golf is your style, head to First Tee at 400 School St. Partially funded by Tiger Woods, First Tee combines education and golf instruction in a program designed for life guidance. The organization has something for all ages, from youth to seniors. Enjoy a single afternoon on the green or commit to one of their programs. Learn from the ground up, or improve your game with their clinics, personal instruction, and more. 646-4074. Chesterfield location, 6736 Hunting Creek Dr.
Laserquest combines the simple concept of hide-and-seek, the latest laser tag equipment, and the thrill of capture! As you make your way around the challenging course in their multi-level facility, machines emit vapor and speakers throb with music. Score points by "tagging" opponents, solo or as part of a team. Shockoe Bottom at 12 N. 19th St. 788-8800; near Chesterfield Towne Center at 889-91 Research Rd., 378-0400. Combine lasertag, ice skating, hockey and arcade games at SkateNation Plus, 4350 Pouncey Tract Rd. in Glen Allen.
Bryan Park is a Northside star, on Hermitage Rd. Disc Golf acolytes converged upon it for this year's Mid-Atlantic Wide Open Disc Golf Tournament. Disc Golf is sometimes called "Frisbee Golf."
It takes the concept of traditional golf and gives it a toss. The idea is to sink the flying disc in the wire mesh basket with as few throws as possible. Bryan Park offers covered picnic areas, recreation fields, and waterside shade, as well as an array of wildlife, hardwood forests, streams.
Chill Out in the Great Outdoors
The James River Park System is nationally-recognized and includes 550 acres covering twelve properties along the James River. Pony Pasture Rapids offers the answer to anyone looking for a soggy zip through rapids, a hike through sun-dappled woods, or a relaxing respite waterside. Smallmouth bass fishing, bird watching, and Class II whitewater boating are great here. Located south of the city at Riverside Dr. and E. Rockfalls Dr. Pony Pastures is a natural wonder in the middle of the city and can be a memorable part of any staycation. 646-8911. Also visit Lewis Ginter Botanical Gardens, 1800 Lakeside Ave. 262-9887
Enjoy the urban outdoors and explore the grounds of Capitol Square. The Virginia Civil Rights Memorial was dedicated just last week (See our coverage page 12), while the Capitol itself boasts recent renovations. www.VirginiaCapitol.gov and www.VaCivilRightsMemorial.org
World of Museums
This month The Science Museum of Virginia, 2500 W. Broad St., hosts "Science Saturdays" Aug. 2 – Aug. 30. Each "Science Saturday" kicks off at 11:45 am with a short play by the Carpenter Science Theatre Company, "All About Weather." "Hubble Space Telescope: New Views of the Universe," is a visiting exhibit providing an up-close view of the historic orbiting telescope. The Science Museum also features an IMAX Theatre, currently showing "Kung Fu Panda," and "Grand Canyon Adventure: River at Risk." Museum admission, ages 4 – 12/Seniors/Active Military, $9; Ages 13 – 59, $10. Many, but not all programs included in admission. Call 864-1400 or 800-659-1727, www.SMV.org.
Virginia Museum of Fine Arts, 200 N. Boulevard Hours: Wed. – Sun. 11 am -5 pm 340-1400 www.VMFA.state.va.us
Black History Museum, 00 Clay St. www.BlackHistoryMuseum.org 780-9093 Tues. – Sat. 10 am – 5 pm $5, 60+, $4