Book by Pulitzer Prize winner asks the questions you want and need to, but fear to!
What are the questions you wish you had asked before getting into your last relationship? Whether they are large or small, looming or seemingly insignificant, there are questions that we all should ask before giving our hearts away, taking the next step in a relationship, or popping the question. In 750 Questions Worth Asking Yourself or Your Significant Other, Charlotte author Glenn Proctor guides readers through a search for compatibility and self discovery. Sometimes funny, often sexy, and always thought-provoking, these essential questions you probably never considered asking get to the heart of relationships as they build trust and strength. 
As with all his books, the Pulitzer Prize-winning journalist, mentor and leadership coach wants his questions to elicit responses. Questions like: " Is it harder for men or women to be faithful?" "Do you worry most about money, health or happiness?" and "Is it best to love or be loved?" are certain to spark meaningful conversations over dinner or late night pillow talk.  
So, whether you are looking to describe your perfect Sunday morning, figuring out how much your significant other really texts, or wondering whether an open relationship would improve your marriage, delve into this book with the one you love for some eye-opening moments that just might help you better weather the storms of life and love.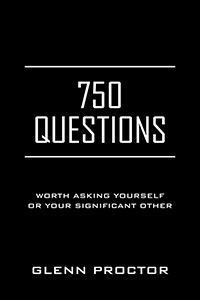 750 Questions Worth Asking Yourself or Your Significant Other is available for purchase at https://outskirtspress.com/bookstore/details/9781478792284