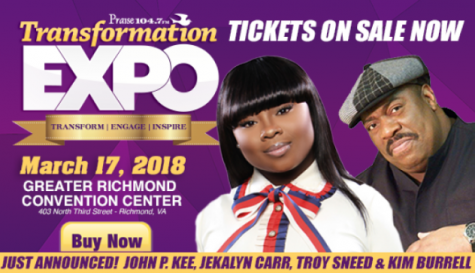 Radio One Richmond, operator of the markets largest urban radio station group, is promising to produce the biggest gospel lineup to come to Richmond at its 11th Annual Transformation Expo on Saturday, March 17th, at the Greater Richmond Convention Center.
The expo stage will feature musical performances by The Clark Sisters, Kierra Sheard, Jonathan McReynolds, John P. Kee, Jekalyn Carr, Kim Burrell, Troy Sneed, The Walls Group, G.I, and more.
In addition to the performances, the 11th Annual Transformation Expo will introduce the Radio One Community (R.O.C.) Awards. The R.O.C. Awards highlight individuals or organizations that are making an impact in the community. Categories include the L. Douglas Wilder Life Achievement Award, Arthur Ashe Humanitarian/Civil Rights Award, Cathy Hughes Business Community Award, Oliver White Hill Community Outreach Award, and the Maggie L. Walker Do Something/Youth Outreach Award.
"We are very excited for our 11th Annual Transformation Expo," said Marsha Landess, Vice President, General Manager, Radio One Richmond. "The expo is our way of bringing a day of inspiration, transformation, engaging performances and phenomenal vendors together to improve the lives of our listeners and community. We have never been more excited about our lineup and the chance to honor the people of Richmond with the R.O.C. Awards. March 17th will be a day that surely will not disappoint those that attend."
The general admission ticket price begins at $30.00 and can be purchased at etix.com until 11:59 p.m. on March 16th or at the Radio One Richmond office.  NBC 12 and The CW Richmond are the official media partners of Transformation Expo 2018.  For more information, log on to www.praiserichmond.com.