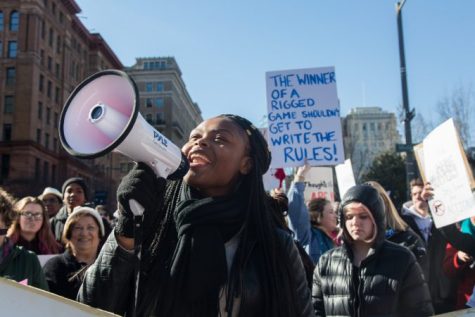 The Power of the People will always challenge the People in Power. Millions of people joined in solidarity March 24th as our young people, our teenagers, and our children led us ALL in a March for Our Lives in Washington, DC, the seat of our nation's power. The whole world was watching and/or marching in a show of force and activism that challenged power and demanded CHANGE. Congressional Leadership had already gone home to their districts for a 2-week recess and the President left town to take his usual trip down to his Mar-a-Lago Golf Resort in Florida for the weekend. So, our national leaders were not in Washington to witness this powerful demonstration of public protest and civic engagement. The absence of our nation's leadership was conspicuous.
One of the teenage leaders and a primary organizer of the nationwide march on Washington, Emma Gonzalez, at the end of the rally, stood silently on stage after reading the names of the 17 victims of the Parkland Shooting. She stood silent for 6 minutes and 26 seconds. Absolutely silent for 6 minutes and 26 seconds to mark the moments of terror the student survivors in Parkland endured, the moments it took for the life of 17 classmates to bleed out onto the stone-cold floors of Marjory Stoneman Douglas High School on that Valentine's Day, this past February. Emma Gonzalez's silence was both powerful and courageous. It put an exclamation point on the end of an extraordinary and historic day. In complete contrast, the silence of our Congressional Leaders and our current administration on the potency of this moment and the national call for CHANGE …is Outright Cowardice. For the leaders who are currently in power to remain silent is not only informative for all of us, it is also shameful. By their silence, they continue to demonstrate clearly that their constituency is NOT the people they were elected to represent, but rather the NRA, special interests and this nation's gun lobby.
Gun violence in America is a national epidemic. It is a public health concern. Every serious movement in history has in some way been led by young people, and we have come to a point where new leadership on this issue is desperately needed. Americans from communities of color have been plagued by gun violence and senseless loss of life because of gun violence for decades. And yet, when our youth (black and brown) speak out in protest, they are met with the resistance of institutionalized policing and profiling. They are not covered by national media or invited to have a March on Washington. No. They are met with tear gas, rubber bullets and massive police enforcement dressed in riot gear. But, the young leaders of the March for Our Lives did not allow those facts and statistics to go unrecognized. They collectively acknowledged the students from other communities, beyond their own affluence and privilege. Students from urban communities beyond Parkland or Sandy Hook and embraced them as a part of the painful and violent story that is all too common across the American cultural landscape. These students made room for ALL voices calling for change to be heard. These students are the leaders we have been waiting for. They are Fierce and they are Fearless and they will NOT turn back now. Congress your days are numbered. Power to the People!
Images provided by whyy.org