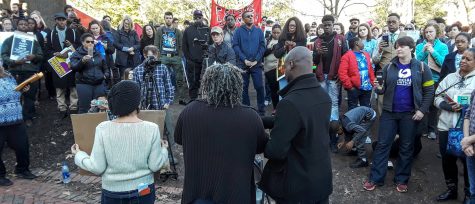 On Saturday, May 19, the Richmond Committee of the Virginia Prison Justice Network (VAPJN) will host a Richmond Speak-Out for Prison Justice from 1 to 3:30 pm at Second Baptist Church, 1400 Idlewood Ave. in the Randolph neighborhood.
Titled "Confronting Justice: One Story at a Time," the Speak-Out will be an opportunity for prisoners, former prisoners, family members, supporters and advocates to tell their stories and inform the public about the realities of life in Virginia prisons. The event will be livestreamed on Facebook and then posted on the VAPJN website.
One of the key issues to be discussed will be Virginia's use of solitary confinement. Among those addressing this issue will be David Smith, who spent more than 16 months in solitary confinement in the Norfolk City Jail. Mr. Smith spoke about his experience at a recent press conference hosted by the ACLU of Virginia and other advocacy organizations.
The May 19 Speak-Out will be dedicated to Askari Danso, currently held in solitary confinement at the Sussex I maximum security prison after leading several prisoner efforts to expose injustices in the system. Mr. Danso was the subject of a front-page story in the May 6 edition of the Richmond Times-Dispatch. His case will be spotlighted at the Speak-Out.
As of May 12, the Speak-Out has been endorsed by the ACLU of Virginia, Community Unity in Action, House of Dreams Outreach & ReEntry (Hampton), Interfaith Action for Human Rights, Mary G. Brown Transitional Center, RISE and the Virginia Defenders for Freedom, Justice & Equality.