By Nia Simone McLeod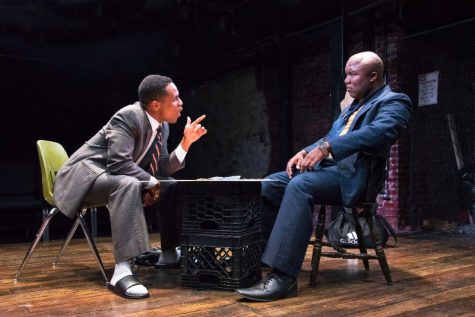 Black art inspires individuals from all around the world and black theatre is no different. The talents that have come across a stage and a spotlight are unmatched and have not only left their mark on the artistic medium but have influenced history. Contemporary black thespians like Leslie Odom Jr. and Danielle Brooks have become household names, but without the passionate individuals that braved the long history of black theatre breaking that glass ceiling, there may not be a genre for those to explore their passions in today.
The deep-rooted history of black theatre began at the beginning of the 19th century. The first known play to be written by a black playwright was The Drama of King Shotaway by William Henry Brown in 1823. The play was based on the life of Joseph Chatoyer, a Garifuna chief who led a revolt against the British colonial government of Saint Vincent in 1795. Sadly, there are no known copies of the play.  It was first produced in 1823 by the African Company at the African Grove Theatre in New York City, which was also founded by Brown. This was also the first resident African American theatre company in the world. The company was constantly harassed by the police and other members of the white community, causing the company to move its mainstage around several times.
This company was a stepping stone for many black actors and actresses including James Hewlett, the first black Shakespearean actor, and a teenage Ira Aldridge, who was soon known internationally for his Shakespearean roles and pushed social boundaries by often playing opposite white actresses. Although the company's audience was separated by race, it showed the community that black actors deserved to be center stage.
Since genre's introduction at the beginning of the 19th century, there have been hundreds of prominent black playwrights, actors, directors, producers, etc. that amplified the African   American voice on the main stage. Some prominent individuals within black theatre include Lorraine Hansberry, the first black woman to have her play produced on Broadway with A Raisin in the Sun and Juanita Hall, the first African American to win a Tony for her role in the play South Pacific. The continuation of black theatre lies in the opportunity and drive of the next generation. In Virginia, there is a program that is passionate about funding the next generation of black theatre greats and continuing the long history of striving and thriving against adversity: The BlackList.
The BlackList was created by director Mary Shaw as a celebration of black theatre that both praises prominent black playwrights and raises money for a member of the next generation to study black theatre at the collegiate level. The theatre production company TheatreLab has sponsored the event since its founding showcasing legendary playwrights like August Wilson and Lorraine Hansberry. This year, the program showcases playwright, screenwriter, and author Suzan Lori-Parks.
Katrinah Carol Lewis, Associate Artistic Director of TheatreLab and director of the company's production of Lori-Parks' play Topdog/Underdog, says that choosing Suzan Lori-Parks as this years' featured artist was an obvious choice, "Suzan Lori-Parks was chosen because she is an important African American playwright with an impressive and impactful body of work."
Born in Kentucky in 1963, Lori-Parks showed interest in writing as a child by writing her own poems and songs. She even created her own newspaper with her brother entitled "Daily Daily."
After having an initial interest in chemistry, she was pushed to pursue a career in writing after reading Virginia Woolf's classic novel To the Lighthouse. Later on, after graduating from Mount Holyoke College with a B.A. in English and German literature, she studied under influential and legendary black novelist James Baldwin. He then introduced her into the world of theatre and convinced her to try it out for herself. Since then, she has written over a dozen plays and has had her essays featured in a multitude of academic journals. Her professional career as a writer spans over a decade. In 2002, she became the first African American woman to receive the Pulitzer Prize for her best-known play Topdog/Underdog. In the realm of film, she has written screenplays for Spike Lee with the 1996 comedy Girl 6. Additionally, she also wrote the screenplay for Oprah Winfrey's 2005 TV movie Their Eyes Were Watching God.
As of recent, Lori-Parks wrote a screenplay adapting the award-winning novel Native Son written by Richard Wright. The movie is set to be released in 2019 and stars Ashton Sanders, best known for his role in the 2017 Best Picture Moonlight.
The BlackList will spend June 29th and 30th honoring Suzan Lori-Parks and featuring a number of her most influential plays, including Topdog/Underdog. The yearly event will also help raise money for the scholarship. The TheatreLab production of Topdog/Underdog stars actors Jeremy V. Morris and Jamar Jones playing as Lincoln and Booth, who live through a story of sibling rivalry and brotherly love as they work through their troubled upbringings together.
Lewis, the director of Topdog/Underdog, believes that the play is incredibly relevant in today's society, "I think that Topdog/Underdog would be important in any social climate because it is a story about family wounds, sibling love and rivalry, and how our present and future are defined by our past. The story is specific but the themes are universal."
The African American voice is one that deserves to be heard. Art is a fantastic way to express that distinct perspective, and theatre illustrates that perspective quite uniquely as its own medium. The BlackList is a movement that not only looks back to honor the greats but yearns to fund the next generation's boisterous ideas and knowledge towards this section of the arts. Through grassroots programs like The BlackList, black youth with a passion for theatre across the state can have the funding to pursue their dreams and incite a chain reaction throughout the black community. Those young and old will learn about the importance of theatre and finally see themselves in the media that they consume. Art is power and supporting these programs is proving that timeless statement to be all the more concrete.