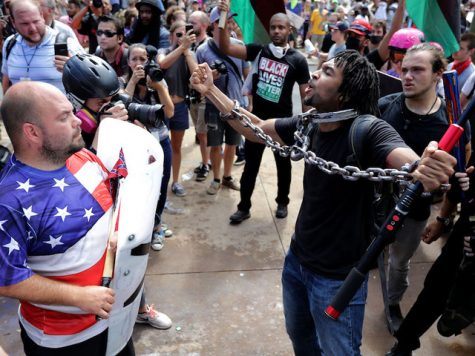 This coming weekend the "Unite the Right" movement will be holding a rally in Washington, DC's Lafayette Park. Members of DC Metro's largest union have been told that a Ku Klux Klan-affiliated hate group will receive special accommodations following the rally to transport them. Outrage within the DC metro community has been building surrounding the announcement. Citizen activists claim that if the group wants "special" accommodations then they should pay for them, and that tax-paying citizens should not be required to provide any funds, whatsoever, in order to allow the Klan to ride public transportation. In fact, an unidentified union leader speaking to a local news outlet made the following statement:
 "Local 689 is proud to provide transit to everyone for the many events we have in D.C. including the March of Life, the Women's March and Black Lives Matter. We draw the line at giving special accommodation to hate groups and hate speech, especially considering that the courts granted Metro the ability to deny ads on buses and trains that are 'issue-oriented,' we find it hypocritical for Mr. Wiedefeld to make these unprecedented special accommodations for a hate group."
Historically, the Ku Klux Klan has advocated white supremacy and the destruction of whole groups of people since its inception. The Klan has always engaged in violence and intimidation against others simply because of their race, nationality, religion or lifestyle. Since 1865, the Ku Klux Klan has provided a vehicle for this kind of hatred in America, and Klan members have been responsible for some of the most horrific violence and domestic terrorism in American history. So, then why is the DC Metro Administration making "special" accommodation for this group?  In America, we DO have a fundamental right to freedom of speech and the freedom of expression granted to us by the U.S. Constitution. However, in the age of Supreme Court rulings that stipulate that corporations ARE people and that certain "religious freedoms" allow individuals to be discriminated against based on their sexual identity or "lifestyle," it's difficult to understand how a documented hate group associated with the violent murders and mutilation of countless American citizens has now become a "protected class" of citizens and the responsibility of citizen taxpayers?
There has to be a point whereby "…Life, Liberty, and the Pursuit of Happiness…" stand in the gap between "Right" and WRONG. White Supremacy is a cancer on the United States and yet it continues to be nurtured, cared for and cultivated by these small and quiet acts of accommodation. Freedom and Liberty are lofty aspirations and will continually be tested, scrutinized and evaluated by the experiences we LIVE. We cannot allow zealotry and fanaticism to taint our pursuit of Freedom and Justice. What DC Metro is doing is not only hypocrisy and counterintuitive to America's highest ideals; it's just plain WRONG.
"We can disagree and still love each other unless your disagreement is rooted in my oppression and denial of my right to exist."         — James Baldwin