Nia Simone McLeod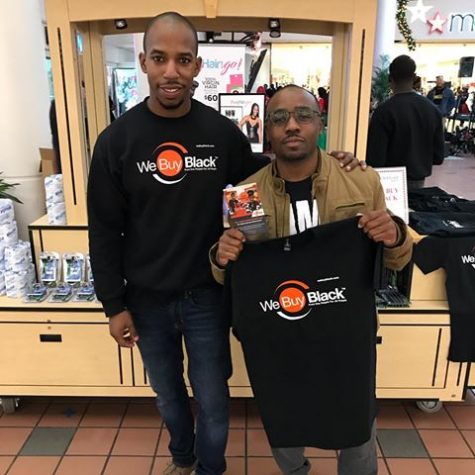 Studies show that the black dollar is worth its weight, and then some, in gold. Even though African Americans only make up 14% of the United States, we are responsible for $1.2 trillion dollars' worth of purchases every single year. In product categories like baby food, deodorizers, and grains, our dollars make up anywhere from a third to the majority of the money spent in the entire United States. The numbers show that when we're excited about a certain product, no matter where it comes from, we put our money where our mouth is and become dedicated to supporting that brand.
Companies are starting to realize that and are branching out into diversifying their market in pursuit of the almighty dollar. One of the more recent successes within the entertainment industry that has solidified the power of the black dollar is the 2017 Marvel smash sensation, Black Panther. The movie broke record after record after record during its time at the box office. Currently, it's the top-grossing Marvel movie, bringing in over $700 million dollars worldwide. After the success of that movie, companies around the world started to take notice of how far the black dollar can stretch.
The buying power of African Americans expands far beyond the dollar and stretches into the all-important influence that black people often have over other groups. When it comes to what's popular, black people are usually the ones that shed the light on it. Cheryl Grace, the Senior Vice President of U.S. Strategic Community Alliances and Consumer Engagement in Nielsen, gave insight into this particular concept, "Our research shows that black consumer choices have a "cool" factor that has created a halo effect, influencing not just consumers of color but the mainstream as well," she said.
This is all the more true in the current age of social media. In a world where viral marketing is key and followers translate into dollars, black influence is key to causing something as small as a dance craze or a slang word to travel around the world and make millions of dollars.
For example, during the Fourth of July weekend Shiggy, a comedian and social media influencer, uploaded a video onto Instagram dancing to rapper Drake's song In My Feelings from his recently released album Scorpion. In a matter of days, the video was shared thousands of times across the internet. People all around the world uploaded their own interpretation of the #InMyFeelingsChallenge. Singer Ciara and her husband Russell Wilson tried out the challenge in South Africa. Odell Beckham Jr. uploaded his own interpretation on his own Instagram page. Even Will Smith did the dance on top of a bridge in Budapest. The song skyrocketed to number #1 on Billboard Hot 100 charts, leading to Drake's album, Scorpion, to do the same. And this all started with Shiggy's initial video, of him just having fun to a song that he liked.
The story of the #InMyFeelingsChallenge was covered all around the world on national news outlets like Good Morning America and the Today Show. Even multiple police departments had to warn others against the challenge to stop people from jumping out of moving cars because the challenge was just that popular. But of course, with the success of a viral sensation, led to others looking to capitalize off a popular moment. In just the realm of t-shirts alone, there are multiple online shops looking to make money off of Drake's mega-popular song and Shiggy's accompanying dance.
The influence of black consumers shifts popular mainstream media unlike none other. That particular influence combined with the power of the black dollar makes the economic power of black people unmatched. Can you imagine what would happen if more of that money and influence was directed to benefitting the black community?
You may be wondering what you can do to make sure that your dollar directly benefits your community. Thankfully, there are many ways to incorporate buying black into your everyday life. Here are some tips that you can use to keep the black community thriving with your hard-earned dollar.
The Central Virginia African American Chamber of Commerce (CVAACC) and the United States Black Chambers (USBC) Directory curated an extensive and detailed directory of black businesses in Richmond. If you don't live in Richmond, you can enter your specific city across the United States and find black businesses that are closest to you. If you'd rather shop online, WeBuyBlack is the biggest global marketplace for black-owned businesses on the internet.
Attend events in your area that allow vendors to set up shop. This is a great way to support black entrepreneurs face to face and get introduced to an amazing, new product. Some great events happening in the near future around Richmond that will feature local vendors are the Down Home Family Reunion, on August 18th, and the 2nd Street Festival, on October 6-7. Also, if you find a product that you want to support, be sure to share them on social media and tell your friends about what you found.
Moving your money into a black-owned bank is another great way to support the community. These black-owned banks make giving back to the community one of their priorities. The interest and fees accumulated by that bank will often be fed back into various programs and organizations, leading to more jobs being created and more black people becoming educated about financial literacy. If you're curious about the black banks and credit unions in your area, here's a detailed map of both created by the BLACKOUT Coalition.
The black dollar speaks loudly, and people are finally starting to listen. When we sit down and think about the ways that we use our dollar, we won't just be benefitting our community in its current state. We'll also be funding the next generation and helping them to be more financially stable.
With the popularity of online challenges at its highest, let's start a new one: I challenge you to use the next month to #BuyBlack. Just incorporating a couple of small lifestyle changes translates to big changes throughout the black community.
The next time you're thinking about making a purchase, think about whether those dollars are going to end up benefitting those within your own community. Remember, your dollar is worth its weight in gold, and then some.