By Nia Simone McLeod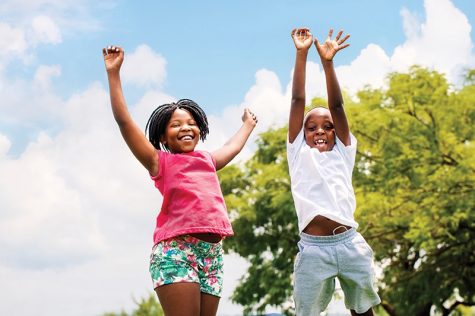 When you're officially stressing over back-to-school season and your favorite summer television series ends on a cliffhanger, you know that the summer season is coming to a close. But, that doesn't mean that there isn't still time for you to squeeze as many good times out of summer as you possibly can. Richmond (and Virginia in general) is the perfect place for you to get in those extra doses of vitamin D before the fall season reveals itself.
Need some ideas to begin your end-of-summer adventure? Read below to find out ten of the best outdoor attractions that Richmond has to offer.
Visit the Animals at Maymont Park
If you're a certified animal lover, then Maymont Park is the perfect place to blow off some steam. It's a gigantic park that boasts many different attractions such as educational museums, lovely ponds, and stunning flowers. But, the animals that populate the area add a level of charisma and character that's unmatched. The park has a farm including chickens, goats, rabbits, and so much more. On the other hand, if you'd like to see animals that are more exotic, the park showcases animals like bobcats and black bears. If you're looking to help the organization take care of its adorable animal family, you can even adopt one of your favorites.
Enjoy a Beach Day at Buckroe Beach
Craving a beach day, but don't want to head all the way to Virginia Beach? Meet Buckroe Beach. Depending on where you are, it's about 30 minutes to an hour closer to Richmond than Virginia Beach. That means you can spend more time chilling out on the water and less time in traffic. If you're more of an adrenaline junkie, Hampton Watersports gives you the power to rent jet skis, kayaks, and paddleboards. This is a wonderful day trip that you've got to take part in before Labor Day rolls around.
Take a Bike Ride with Breakaway RVA
Are you a social butterfly who loves their bike? Be sure to look into Breakaway RVA. They bring bike-riders from all around the city together every month to explore new routes around the city. The routes are already pre-planned, so you won't be fiddling around with your GPS wondering if you're actually going the right way. Additionally, the events are family-friendly so you can bring the whole gang along without having to worry about inappropriate content.
Go Hiking at Pocahontas State Park
This beautiful natural wonder gives you a nature-filled, rural experience while only being 20 minutes away from Richmond. The park offers 64+ miles of hiking trails so it'll never get old. It's the perfect place to clear your head and enjoy the wonders of nature. If hiking isn't your thing, Pocahontas State Park also has an aquatic center and lakes ready to be fished.
Enjoy the Sights of Jefferson Park
Just the view of the city alone makes Jefferson Park a must-see attraction in downtown Richmond. It's a great place to take some amazing Instagram photos or to just sit back and enjoy the weather. There's also a playground for your children to enjoy and workout equipment for you to utilize as well. If you're a morning person, catching the sunrise from this location is absolutely stunning.
Go Boating at Byrd Park
This is a great low-energy exercise for you to see this park in a brand new way. If you're looking for a unique date idea for you and your significant other, then this will definitely help you both bond. Once you're done boating, there's ample space and picnic tables for you both to have your own personal picnic. If that's not romantic, then who knows what is?
Go Skateboarding at Laurel Skatepark
Looking to take up a new hobby? Why not head over to the Laurel Skatepark and practice some of those smooth moves? Located in Glen Allen, this skatepark boasts ramps, rails, a half-pipe, and a bowl. This makes it perfect for all skaters from beginners to experts. It's a great place to take the whole family and get everyone involved in a brand new activity. You can also bring your inline skates and BMX bikes if that's more of your speed.
Take a Walk by the Canal
If you're not too much of a nature buff, taking a walk by the canal would be great for you. The walk is just over a mile and gives you a ton to look at since you're in the heart of the city. Also, if you're looking for an easy ride, you can take part in one of their canal cruises. They're 30-minute tours that are historically narrated so you can learn while you're relaxing at the canal.
Go Birdwatching in The Wetlands
Looking to start a more tranquil hobby? Take a journey over to The Wetlands. It's attached to the Pony Pasture Rapids Park in Richmond's Stratford Hills and it's the perfect place for you to spot a variety of birds. It's a great place to get away from the most tourist-heavy parts of Richmond and just enjoy the natural beauty of the James River.
Enjoy one of Richmond's End-of-Summer Festivals
Richmond is a city that's known for its festivals. But, the end-of-summer season offers some fun-filled ones to take part in. For example, on September 8th, a Stone's Throw Down in RVA provides some great live music from bands like the No BS! Brass Band, Antibalas, and many more. It also offers craft beers from a variety of different breweries. This is definitely a party that you're not going to want to miss.
Just because summer's about to end doesn't mean you can't end it off with a bang. These ten activities are the perfect way to get out there and enjoy the end-of-summer before the cool breeze of fall falls upon us. Before you know it, you'll be bundling up and getting ready for Halloween! So, get out there and enjoy the natural essence of what Richmond has to offer.