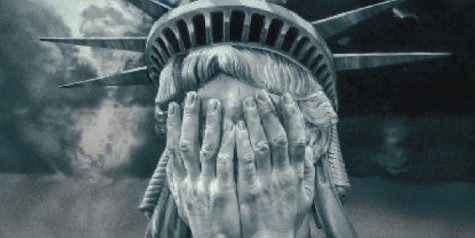 We are now about a month away from what is called the mid-term elections and depending upon your disposition you're poised to participate and are in the process of rallying your relatives, friends and neighbors to do likewise, or NOT. You may be one of those "too tired to care" folks because either politics are too exhausting, or you think that your vote doesn't really count anyway! That's the trouble with democracy. People. The citizenry of this bastion of the democratic process are historically ill-informed and often lackadaisical in their approach to mid-term elections. The general population in the United States of America normally participates at an average rate of less than 60% when it comes to presidential elections every four years, but the participation rate in mid-term elections tends to be woefully less at less than 40% of the population going to the polls.
In the last election in 2016, Pew Research estimates show that only 58% of eligible voters went to the polls. Black voter turnout dropped significantly even as a record number 137.5 million Americans voted in the 2016 presidential election. The Black voter turnout rate declined for the first time in 20 years in a presidential election, falling to 59.6% in 2016 after reaching a record high 66.6% in 2012. The 7point decline for African Americans was the largest decline among any racial or ethnic group since white voter turnout declined from 70.2% in 1992 to 60.7% in 1996.
Any way you look at it, the lack of participation in the democratic process by American citizens is discouraging at best and outright dysfunctional at worst. More than 1/3 of Americans just do not VOTE. Ever! In mid-term elections almost 2/3 of the population does not participate in the democratic process. With all of these folks sitting on the sidelines we have a system whereby those citizens who are absent from the process are becoming like a serf class ruled by the overlords who determine the rules by which they live and the policies and practices that govern their lives including their income, how much tax they pay, where they can and cannot live and even the quality of the water they drink and the air that they breathe.
It has been said that all politics are local, and it's certainly true that's where it all begins. Local elections for school board, county sheriff, mayor, and county commission are where the struggle begins for our most basic and immediate needs within our own communities. Many a candidate for national office began their political career serving on their local school board or county commission. Engaged and active community participation in local politics by way of the VOTE indeed impacts the way that the people of that community are perceived beyond the range and scope of the local political landscape. An active electorate elevates that community and expands their influence into the region, the state and, ultimately, the nation.
Our forebearers bled and died to win the right to participate in the democratic process by casting their votes. The right to vote has come at unspeakable sacrifice for African American people, for the immigrant and many others and yet Americans stay at home rather than exercise their civic duty as citizens. This nation's survival as a beacon of hope and a functioning democracy depends on its citizens to show up and Vote. Get registered NOW and get out and VOTE like your life depends on it because, basically, it does.