By Nia Simone McLeod
With Virginia being one of the oldest places in America, there's bound to be ghostly tales that emerge from the extensive timeline. Dozens of places across the state of Virginia boast a particularly haunting tale and a plentiful amount of supernatural sightings. But, the four listed below are some of the scariest that you'll come across in the Commonwealth. Read on to learn about some of the most important places from our state's history and the spooky sights that lurk behind them every single day.
Scotchtown – Beaverdam, VA

Virginia is the birthplace of a wide variety of important historical figures including Thomas Jefferson, Booker T. Washington, and Woodrow Wilson. But, one of the most outspoken figures of Virginian history has to be one of our Founding Fathers, Patrick Henry. Scotchtown is the plantation that he stayed in with his wife, Sarah Shelton Henry, and their nine children from 1771 to 1778. It's even the place where he penned his most famous speech proclaiming, "Give me liberty or give me death." Patrick's wife Sarah began dealing with mental illnesses after having their sixth child. Not much is known about why she became mentally ill or her diagnosis. But, she ended up becoming violent and having to be restrained to a strait-dress, which is an early rendition of a strait-jacket.
She ended up dying in 1775 and eventually being buried on the property. Some believe that Sarah's ghost still haunts the property to this day. Some visitors report that they've seen a woman in a long, white dress emerging from the basement of the home and walking towards a nearby house that once held servants. Others have seen candlelight in the windows of the home in the darkness of night. Even staff have witnessed some supernatural events including jammed doors and motion detectors going off by themselves.
Surrender Field – Yorktown, VA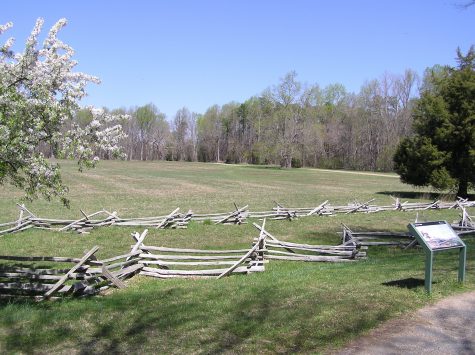 Yorktown played a huge part in the Revolutionary War, being the place where the British ended up being defeated by the Thirteen Colonies, along with France. Surrender Field is specifically where thousands of British soldiers put their guns down and officially surrendered. With such a country-defining war happening in this place, there's bound to be at least a bit of spookiness happening in Yorktown. During the official surrender, a British band played the English ballad "The World Turned Upside Down." To this day, visitors have reported hearing the song without any musicians present. Also, visitors have reported hearing cannon fire and seeing ghosts that resemble soldiers.
One of the most prominent ghosts that people have repeatedly seen is of George Washington's stepson John Parke "Jacky" Custis. After his mom, Mary Custis, married George Washington, Jacky yearned to make a name for himself while on the field, since his stepdad was a war general at the time. He ended up becoming a soldier, even though he didn't have much experience in the field. Then, he became deathly ill from an ever-spreading disease on the battlefield and succumbing to the illness soon after. Some believe that they've seen a blond-haired ghost with a white nightshirt and bloody bandages on the ankles while out on the field. You can visit this field as a part of the Yorktown Battlefield Park and witness the history first hand.
Hollywood Cemetery – Richmond, VA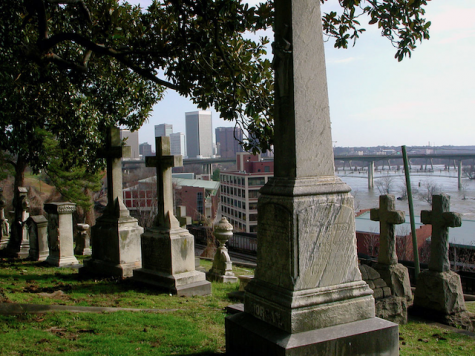 When you think about spooky places and scary ghosts, one of the first places that come to mind will probably be a cemetery. In turn, it may be obvious to find out that Richmond's Hollywood Cemetery has a wide variety of ghost stories surrounding the eternal resting place. Named after the holly trees that inhabit the cemetery, Hollywood Cemetery is home to many different historical figures. U.S. presidents James Monroe and John Tyler were both buried here, along with Confederate president Jefferson Davis. Additionally, 28 Confederate generals were buried here along with thousands of Confederate soldiers.
By far, the most popular ghost story surrounding Hollywood Cemetery has to be the "Richmond Vampire." In 1925, a tunnel that was being built in Church Hill collapsed. This led to many workers being buried alive. Sometime later, witnesses said they discovered a bloodied and mangled figure emerging from the wreckage that appeared to have fangs like a vampire. The person is thought to have been a railroad fireman named Benjamin F. Mosby who was working on a machine when the accident was happening and ended up being burned badly. He ended up dying later that day at the nearby Grace Hospital. Even though the story of the "Richmond Vampire" is nothing but an urban legend, it's still told very regularly to this day to those who dare visit the Hollywood Cemetery.
The Martha Hotel & Spa – Abingdon, VA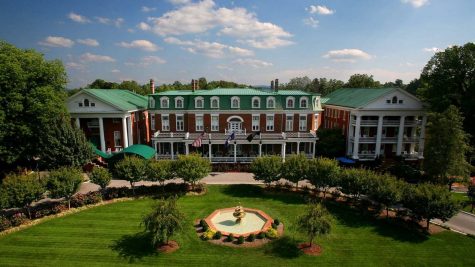 This building has been used for many different things over the years. First, it was a home built for General Francis Preston, his wife, and their nine children in 1832. Then, it was sold to the founders of the Martha Washington College and turned into an up-scale educational institution. After a horrible outbreak of typhoid fever, Martha Washington College had to close its doors in   1932. But, three years later, the Martha Washington Inn was brought into existence.
A prominent ghost story surrounding the historical building involves a woman named Beth, who was a student who stayed at the Martha Washington College to care for wounded soldiers. During the Civil War, the college had turned into a hospital in order to help those who were injured in battle. One of those soldiers injured in battle was Yankee officer Captain John Stoves. The two ended up falling madly in love. Beth, a talented violin player, often played for Captain Stoves to soothe him. Even though Beth put all of her attention and care into taking care of the captain, he ended up succumbing to his injuries in the Martha Washington College. Beth then died soon after from typhoid fever. Some visitors have said they can faintly hear Beth's violin at night. Some even claim to have seen her in Room 403, the room she cared for Captain Stoves in.
Ghostly stories almost seem as Virginian as the James River and the northern cardinal. But, these four are some of the spookiest and creepiest around. They're all open for visiting, as well,  if you're looking to add a dash of scary to your daily routine. Just don't be too surprised if you end up meeting one of these ghostly apparitions face to face!