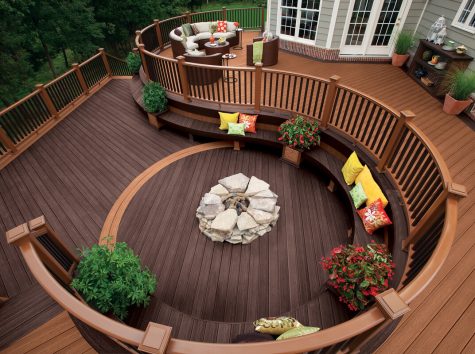 Decks have traditionally been built out of wood, a material that is inexpensive but has a major downside: it's prone to rotting and requires pricey and labor-intensive maintenance through the years. Fortunately, homeowners are increasingly choosing more modern options to build their deck with man-made materials that offer longevity and durability at an affordable cost.
One of these options, composite decking, includes a range of products that are designed to offer less maintenance than wood, which can make a big difference to their cost over time.
They're often made from recycled wood particles and a plastic material that binds the wood together.
Here are some things to consider when choosing composite decking.
YOUR BUDGET
One of the first things to weigh is how much you plan to spend on the project. Just like any construction materials, composite decking is available in a range of price points with different looks and installation requirements.
At the more affordable end of the spectrum are decking products with a limited palette of colors and a simpler, more repetitive grain pattern on their surface. They'll typically be attached with screws through the face of the board.
With a bigger budget, you'll have more choices of colors and textures available. You also could consider decking that attaches from the bottom using special hardware. The hidden hardware gives your deck a cleaner, more perfect look, but it's usually more expensive.
SUNSHINE
If your deck is located in a place that gets a lot of hot, direct sunlight in the summer, you'll probably want to pick a material with a lighter color. Just like a dark-colored car in the summer, dark decking tends to absorb the heat. Some materials can get hot enough to burn your bare feet.
It's a good idea to get sample materials of decking you're considering. You can lay it out in the sunshine to feel just how much heat it absorbs and reflects during the day.
REALISTIC APPEARANCE
If you're wanting a deck that looks like it's made from natural wood, pay close attention to the color, finish and texture of the material you're choosing.
In general, cheaper composite decking materials look smoother and more plastic in appearance. They may be completely uniform in color with a shiny sheen, something that makes it look very obviously like a man-made material.
The best composite decking looks more like wood, which means every piece is unique. They'll have subtle differences in shades, textures and grains along with special finishing at the factory to remove the plastic sheen.
WET SURFACES
If you live in an area that gets a lot of rainfall, it's important that the surface doesn't get too slippery when wet.
Some composite decking, especially the versions with a very smooth surface, can be prone to getting slippery after rain. Again, samples of the material will help you feel just how slick the surface will get when it's not dry.
THE ADD-ONS
Since any deck project involves a lot more than the decking material alone, consider the cost of any extra materials that will be required to complete your project.
There are two areas to look at carefully: fasteners and trim.
For exposed screws or nails, you want to make sure you use a product that is specifically designed for outdoor use. Using the wrong screws on the face of the decking can result in ugly rust spots or a shorter life of your deck as they break down in the weather.
You also may want to consider different kinds of hidden fasteners to keep the hardware from being visible. This gives your deck a clean look but can add considerable cost to the project.
Finally, the railing and trim pieces need to coordinate with your deck. Pricing the entire project, including stairs, rails and caps, will give you a truer picture of what to expect in terms of construction costs.
LOCAL RULES
The last thing you need to know is whether all the materials and your overall deck design meet your local building codes.
Talk with the building officials in your city to see what permits and inspections may be required for your project. Many municipalities regulate the footing depth, materials and location of your deck, including setback distances from utilities or property lines.