Richmond Technical Center's Youth Apprenticeship Program Leads to Full-Time Jobs, State-wide Awards for RPS Students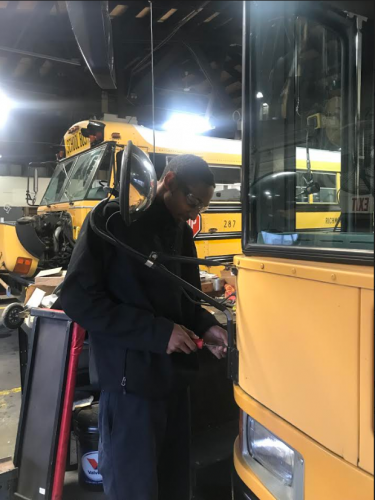 Last year, Keivonte Thomas, Ryan Sanders and Lamar Blackwell were graduating seniors at Richmond Technical Center (RTC). This year, they are full-time employees with Richmond Public Schools Department of Transportation and two of them are the recipients of the Department of Labor and Industry's (VDOLI) Outstanding Apprentice Award, thanks to the RTC Pilot Youth Registered Apprenticeship Program, a new initiative geared at connecting students with meaningful career opportunities while they complete their high school education.
"Our office is so proud of this program and how successful it's been," said Shannon Crooks of VDOLI. "Our hope is to replicate the success of this program throughout the city of Richmond and the entire state."
RTC Pilot Youth Registered Apprenticeship Program, one of only five technical centers selected by VDOLI, offers 16 to 18-year-old RTC students the opportunity to explore career pathways and provide valuable work experience with the goal of expanding the state's skilled workforce.
"With the baby-boomers exiting the workforce and the increasing skill gap, it's imperative that we build the necessary skills in our young people, "said Charles Watson, Career Outreach Facilitator with Richmond Public Schools. "Part of my job is to develop partnerships and create career experiences for students outside of the classroom."
Looking to connect potential employers with student apprentices, he found a perfect match with Richmond Public Schools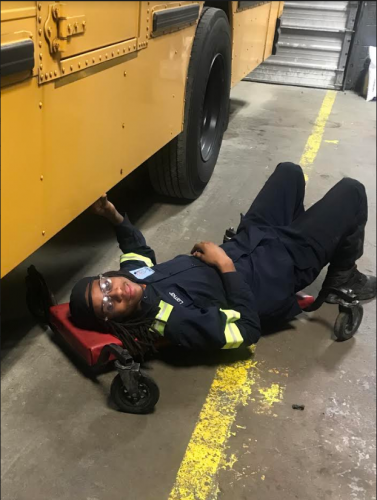 Department of Transportation. RTC offers 34 Career Technical Education (CTE) pathways, including automotive and auto body technology. At the time the RTC Youth Registered Apprenticeship Program was beginning in 2017, Richmond Public Schools had taken over their Transportation Services department (this department was previously contracted through an outside agency) and they were eager to support and mentor their own students. They started with four students in their inaugural year and have recently added one additional apprentice. (The fourth student, Isaiah Fairley, has taken his experience as an apprentice and is furthering his education at the Universal Technical Institute in North Carolina.)
"I was 100% on board with the program from Day 1," said Floyd Miles, RPS Director of Transportation and Fleet Management. "To be able to train your own students and then to hire them on as full time employees is something really special. Especially when we're experiencing a shortage of certified mechanics across the state."
Working in collaboration with VDOLI and Richmond Transportation Department, RTC designed a program that is truly transformational for their students. During the year, each apprentice remains enrolled as a full-time RTC student, working after school, on the weekends and during school breaks to meet the number of hours required for their certification. They must attend all of their classes and maintain a passing G.P.A. to remain in the program. Ms. Bernadette Jenkins-Booker, Manager of Fleet Services for RPS Department of Transportation, makes sure of this.
"If they don't go to class, then they can't come to work," said Ms. Booker. "These students have become like our own children and we want to make sure they are meeting all the requirements they need to be successful."
As a requirement for the program, each student is paired with a mentor in the department. They work alongside of them for the duration of the program, many becoming like father figures to the students – providing them with guidance both inside and outside of the shop, teaching them the skills of the trade and celebrating their accomplishments.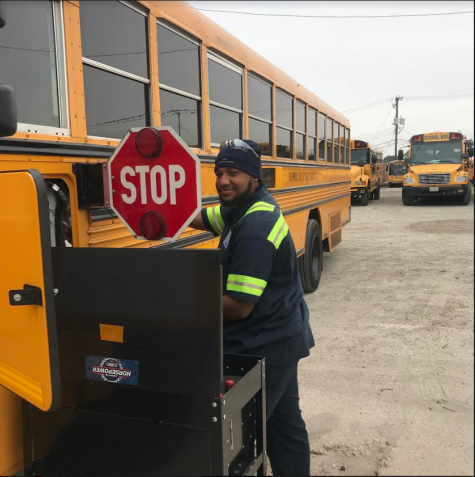 And they have a lot to celebrate. Both Blackwell and Thomas have just met the requirement of 2000 hours necessary for their certification and were honored with the Outstanding Apprentice Award by VDOLI at a luncheon this month. As of October 2018, they are the only two apprentices in the state of Virginia who have completed the Youth Registered Apprenticeship Program and have been hired in full-time roles. Both RPS students a few months ago, they have begun their careers as RPS technicians with already a year of experience under their belts, a full salary and total benefits package.
"I was considering a completely different career path," said Thomas. "But I learned about this program, decided I wanted to try it out and I haven't looked back since. The support that we receive from our mentors and the teamwork in the garage sets this program apart from any others."
For the students, the experience has been life-changing. They hope to see the program grow and they want to pass along their knowledge and expertise to the next class of apprentices, this time as mentors.
For more information about the RTC Pilot Youth Registered Apprenticeship Program, visit their page on rvaschools.net