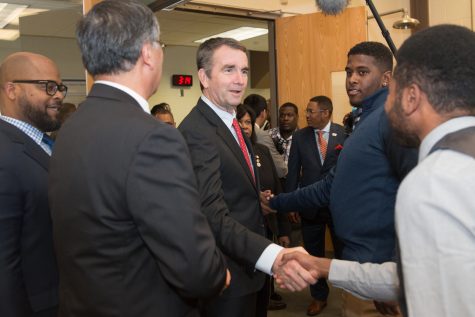 Governor Ralph Northam visited Virginia State University (VSU) as part of Virginia's Computer Science Education Week. The week is based on the national initiative dedicated to increasing awareness of the transformative role of computing and the need to strengthen computer science pathways in higher education.
Before a crowd of government officials, students, faculty, staff and alumni with standing room only, VSU President Makola M. Abdullah, Ph.D. shared why he strongly believed that VSU was the best place to discuss the importance of computer science in higher education.
"I am honored and proud that Governor Northam selected the campus of Virginia State University to discuss the importance of increasing our nation's competitiveness in computer science and technology," Abdullah said. "Right here in the Commonwealth of Virginia, we have Virginia State University, a higher education institution who is the No. 1 producer of African American graduates in computer engineering. This validates VSU is preparing and empowering our students who will be equipped to revolutionize technology of the future."
Gov. Northam shared that jobs in science, technology, engineering, mathematics, arts and health fields (STEAM-H) are the jobs of the 21st century.
"No matter where you turn and it does not matter what area of employment you work, technology and computer science is so important," Governor Northam said.
During his visit to VSU, Governor Northam had an opportunity to visit some of the labs in the College of Engineering and Technology. In each lab, Governor Northam met faculty and students in the College to learn more about the work being done in the areas of technology and computer science.
At the conclusion of the program, Governor Northam presented VSU President Abdullah a certificate of recognition in honor of National Computer Science Education Week for the University's work in computer science, computer engineering, logistics and system managements.