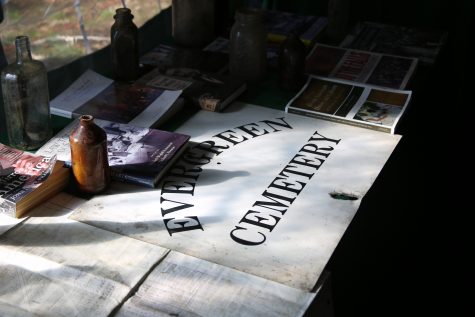 Two foundations in Virginia closed the deal on a conservation easement that sets the stage for one of the largest restoration efforts of a historic African American cemetery in the nation.
The Virginia Outdoors Foundation (VOF), chartered by the state in 1966, and the Enrichmond Foundation, chartered by the City of Richmond in 1990, announced the easement on Evergreen Cemetery at a cleanup and celebration event on January 21, as part of the Martin Luther King, Jr. National Day of Service.
Evergreen Cemetery, located on 60 acres in the outskirts of Richmond, was created in 1891 as the final resting place for thousands of African Americans who were born during or shortly after the end of slavery. Many of them became business, civic, and political leaders during Reconstruction, including the first African American female to charter a bank in the United States, Maggie L. Walker, as well as businessman, newspaper editor, activist, and politician, John Mitchell, Jr.
Because of segregation, African Americans could not be buried in white cemeteries. Founders created Evergreen as a monument to their achievements. Enrichmond estimates there are as many as 20,000 people buried at Evergreen, making it one of the largest African American cemeteries in the nation.
As many African American families fled Virginia during the early 20th century to escape racial violence and discrimination, the cemetery, which did not have a perpetual care fund, gradually suffered from overgrowth, trash and vandalism. Despite efforts by local volunteers to help care for graves, the property's condition continued to deteriorate into the 2010s.
Work on the easement began in 2016, when VOF earmarked $400,000 from its Preservation Trust Fund for the project. The funding was contingent on protecting the cemetery with a conservation easement, which places development restrictions on the deed. First, however, Enrichmond had to acquire the property from a private entity. Enrichmond met with the owners over several months, and in 2017 negotiated its purchase. The foundation also hired a full-time caretaker and assembled a team of stakeholders to guide the process, composed primarily of people with family buried at Evergreen.
Among other things, the easement ensures the property will not deteriorate further, buildings must serve permitted uses such as education and visitation, and the property will remain accessible to the public.
"Evergreen Cemetery is one of the great sacred sites in our country and it's being restored through a community effort," said Enrichmond executive director John Sydnor. "The history of Evergreen Cemetery belongs to a great many people, and so does its future. We're grateful for the partners, descendants and volunteers that have invested countless hours into transforming the cemetery. We look forward to continuing our partnership with the community as we rebuild Evergreen."
With the recordation of the easement and transfer of funds from VOF, Enrichmond will now turn its attention to creating a master plan for the site, which is expected to take several years and require millions of dollars to implement.
"This project represents Virginia's largest investment ever in the care of a historic African American cemetery, and based on our research we think it may be the largest such public investment in the nation," said VOF executive director Brett Glymph. "More than that, it represents an opportunity to heal old wounds in Richmond, to bring people together, and to share the stories of thousands of Americans who overcame slavery and discrimination to represent the pillars of freedom and opportunity that our country was founded upon."
---