By Nia Simone McLeod
During the month of February, love is in the air like never before. In the name of Valentine's Day, couples throughout the Commonwealth are showcasing their love through everything from teddy bears to heart-shaped boxes of candy. As for before the spark hits, dating is an ever more complicated art that's led to tons of apps and websites that are promising to link you to your next true love. Richmond-based entrepreneur Soliél Paden hopes to bring people together through a refreshed take on an older practice: speed dating, through her company Speed Date RVA.
Paden created Speed Date RVA back in 2013 in an effort to help the people in her community connect, "I've always been seen as someone who fosters connections with awesome people so I figured out a way to use that natural ability to help those same people explore the dating pool in Richmond." Paden continued, "Who isn't looking for love?"
Speed dating is an insanely popular form of matchmaking that was started in the late 90s by a rabbi named Yaacov Deyo. He and a group of friends strived to think of an innovative way to bring Jewish singles together to meet, and eventually marry. They designed a system where singles would be able to work through twelve dates in one night. Therefore, Beilinsohn came up with the concept of speed dating. The very first speed dating event happened at a San Francisco-area coffee shop, Peet's Cafe. Within a year, the idea of speed dating began to pick up steam, even being utilized in a local TV program
Ever since its inception in the late 90s, speed dating has become a global phenomenon leading to many happily-ever-afters. It is even often seen as more efficient than online dating. The New York Times found out that users on an online dating site usually go out with less than one percent of the people that they meet online. On the other hand, at a speed dating event, the average participant matches with at least 1 out of 10 of the people that they meet, if not 2 or 3.
There's a reason why speed dating is so popular: there are many different benefits when comparing it to online dating, meeting someone at a bar or a club, and conventional blind dating. At a speed dating event, you are more likely to connect with someone since everyone is there for the same reason: to find someone. The time limit implemented into the event makes sure that a participant will not have to endure a bad match for too long and that everyone has the same opportunity to make a match. Unlike at a bar, speed dating events are quiet by design. No longer do you have to deal with having to yell over today's latest hits when you're trying to connect with someone.
One of the biggest factors that sets it apart from other mediums of meeting people, is that you are not pressured to select or reject a person in-person. The matchmaking element happens after the event is already over with, so, if you make a love connection, you can make a clear decision about the next move without the pressure that you can feel when you're face-to-face.
Speed Date RVA presents events and mixers that are catered towards Richmond's community of mature professionals. The events have led to many success stories, including multiple engagements. "I have to say the most memorable story is the one that led to marriage from an event in March 2014. The couple even asked me to be in their beautiful wedding!" Paden said.
She continued, mentioning another couple, "There was also an event in May 2015 that led to an engagement and now a Fall 2019 wedding. The groom-to-be actually attended 2 events until he found his wife-to-be after the decision to attend last minute for support. I get so happy thinking about this."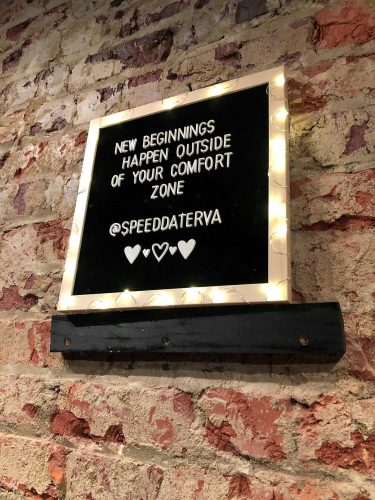 The company also hosts other events that are outside the realm of speed dating. Previously, Speed Date RVA hosted an event entitled "A Man's Perspective" that was meant to encourage open dialogue between the sexes on love and relationships in the modern day. The event featured a panel of local gentlemen that answered questions on the subject at hand and added their unique perspective to the convo. Speed Date RVA not only fosters connections within the community, but it pushes individuals to keep the conversation flowing over the sometimes taboo topic of relationships.
When asked about the company's biggest accomplishments, Paden looks towards its constant growth, "The love and success stories are a given but overall I would have to say the organic growth. That's always been the goal for Speed Date RVA: quality over quantity."
For Paden, being an entrepreneur has always been a part of the plan, "Honestly, I have never thought about not being an entrepreneur, it's just in some people's spirits." Throughout the Black community, she's inspired by many different prominent business-minded individuals, "I have to say though that I am inspired by many consistent and thorough professionals like Adrienne Cole-Johnson, Melody Short, Ham Glass, and Oprah just to name a few. Charis Jones is also someone that everyone should be taking notes from in RVA!"
As for advice for future entrepreneurs, Paden prioritizes consistency, "Research, find your niche, be thorough, know what makes you and your service or product unique, be confident in it and own it! Success follows those who are diligent."
Paden hopes that the future of Speed Date RVA showcases another side of love to its future attendees, "While I do not consider myself to be a matchmaker, I do hope to see more people be open to the idea that love is just outside your normal routine or social circle, even in a small city like ours. I see Speed Date RVA continuing to show attendees of all relationship preferences just how true this is and can be."
If you would like to learn more about Speed Date RVA, you can follow them throughout social media on Facebook, Instagram, and Twitter.