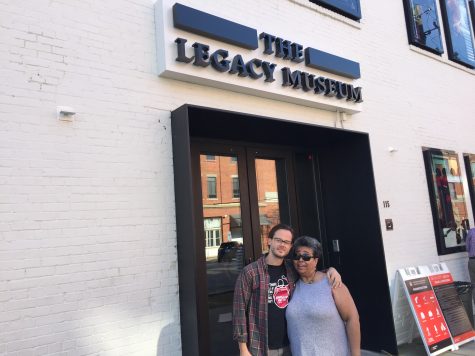 Montgomery, Alabama has a long and historic past. It might be said that Montgomery and Richmond, Virginia have a great deal in common when considering their respective places in American History. Montgomery was where the first offices of the Confederate Government were established and where its President Jefferson Davis was installed February 22, 1861.  Until Richmond, Virginia on May 29, 1861 became the Capitol of the Confederacy and served as such until after the Civil War. Today in downtown Montgomery there sits The Legacy Museum, which chronicles the major events of the Civil Rights Movement. The exhibitions within the museum contextualize those major events of the Movement by shining a white hot light on America's history of racial inequality and injustice beginning with a deep and visceral exposure to the Chattel Slave Industry and moving forward to our present day system of mass incarceration. Anyone who visits the museum is not allowed to take any photographs and all cellphones must be silenced and put away for the duration of your visit. This allows the visitor to remain present as they make their way through the very graphic displays, photographs, video documentaries, interactive holographs, placards, and artwork all designed to engage, educate and shake you into a recognition and awareness of where we are in American History and how we got here. America as a nation has yet to acknowledge our racial history of injustice, including the Genocide of Native People, the legacy of slavery, state sponsored racial terrorism and the legally supported abuse of racial minorities.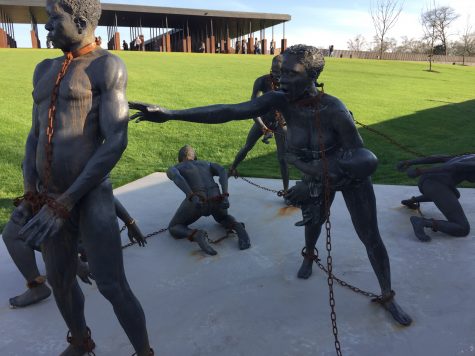 Not too far down the road from The Legacy Museum: From Enslavement to Mass Incarceration is The National Memorial for Peace and Justice. This is a heart wrenching and elegantly designed memorial to the over 4,400 African American men, women and children who were hanged, burned alive, shot, drowned, and beaten to death by white mobs between 1877 and 1950.  It is the first national recognition and memorial to acknowledge the victims of racial terror lynchings in the United States. The Memorial and Gardens overlook the town of Montgomery and is intended to be a space for truth-telling and reflection about racial terror in America and the historic Legacy that has brought us to where we stand today as a nation.
What is clear and remains true is that our government, religious and civic institutions, politics and policies continue to practice racial injustice, inequality and systemic racism at the highest levels. Although slavery as an institution has been abolished for centuries, we are still embroiled in racially centered issues ranging from mass incarceration to immigration and human rights, all of which are deeply rooted in America's white supremacist origins. Why do we continue to allow our past to define our present? There's a place of solace within the museum exhibitions exactly at the moment when you need to catch your breath, shed some tears or just sit in silent contemplation. It is a gallery that displays the images of the (S)Heroes of The Struggle for Civil Rights and Justice, both living and dead. Inscribed on the wall of this room, cast in a golden shimmering light, are these words —"If we have the courage and tenacity of our forbearers—who stood firmly like a rock against the lash of Slavery—we shall find a way to do in our day what they did for theirs."
Hopeful words of encouragement and exhortation, but without the courage to face the truth of our past, we are destined to be stuck in it.