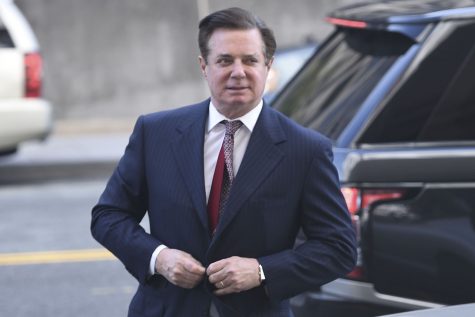 The American Criminal Justice System is indeed shamelessly broken on so many levels that cannot be disputed. The evidence is abundantly clear when we look at the sentence handed down last week in a federal courthouse with the whole world watching. A federal judge in Alexandria, Virginia gifted Paul Manafort, the former campaign chairman for the Trump campaign and convicted felon with 8 felony convictions against him, with an embarrassingly lenient sentence of just 47 months, giving him credit for "time served". This man was given a little less than 4 years in prison for 8 felony convictions. Manafort displayed absolutely no contrition whatsoever, while addressing the court with the arrogance and entitlement of white privilege that allowed him to claim pity for himself instead of remorse for those he victimized by his crimes.
This convicted criminal was touted as being "a good person who had helped many people and was basically blameless in the rest of his life".  These claims were not made by his defense counsel, but rather from the bench by the judge in the case! The judge himself was justifying Mr. Manafort's criminality and defending his "good name" in open court. All of this while the Special Counsel had recommended, under the uniform sentencing guidelines, that Manfort be sentenced to between 19 and –a -half to 24 years in federal prison. But this particular judge literally shocked all of the legal pundits and others in the courtroom, as well as many people across the nation, by giving Manafort a mere 47 months as punishment for a laundry list of crimes and criminal activity.
Only in America can a Black woman, a single mother of 3, who fired warning shots in the air to ward off her estranged and abusive husband be given 20 years in prison and a so-called white collar criminal, who is a white guy and convicted felon, be allowed to defraud the United States Government in the service of a foreign enemy power while bilking the American people out of millions of dollars, be given a lesser sentence. And, on top of All of That this convicted felon is defended and called an otherwise "good person" from the bench by a United States Federal Judge! Justice is a FARCE in America and clearly works for white folks differently than it works for black, brown and poor folks.
White-collar crime by white guys in America continues to make a mockery of what Equal Justice for ALL is supposed to stand for. It continues to make those who are unjustly incarcerated and unfairly sentenced by arbitrary sentences based on questionably bias "judicial discretion" a slap across the face of our Democracy and it violates the basic tenets of what we call the American Justice System. On paper, the platitudes espoused all sound good and project lofty and aspirational goals, however, in practice the system is The White Guys Club! If you are a member you have unfathomable privileges and so do

most of the people who look like you with perhaps the aberration of poor white folks who still do not reach the extraordinarily high rates of incarceration of black and brown people who are locked up and excessively sentenced to jail time. Those who are not members of the "CLUB" lose in court and clearly membership has its Privileges. Like Congresswoman Alexandria Ocasio-Cortez recently said, "Justice is NOT blind…it's BOUGHT."  Without a White Privilege Card, "Justice" is more elusive than trying to hug the wind!