By Nia Simone McLeod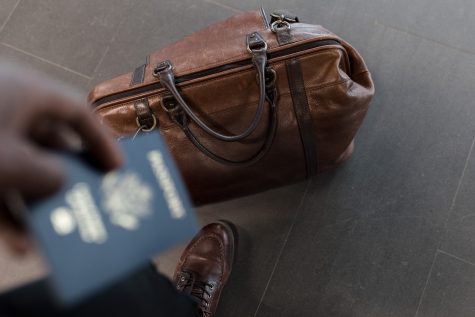 As we scroll through our social media timelines, we are often met with people who seem as though they are traveling 24/7. All you see on their profiles are gorgeous beaches and amazing views throughout every single post. You might think that they are running through a trust fund or that they just hit the lottery. The true answer may be much simpler and way less expensive than that. Traveling, especially abroad, is often seen as something that's left for only those with a large amount of disposable income. This particular subculture is growing in popularity and teaching thousands of would-be travelers that everyone has the opportunity to see the world.
This is called being a "digital nomad." Digital nomads are people from all around the world who choose to work remotely online from a variety of different places including co-working spaces, coffee shops, or even public libraries. Due to their "location independence", they take this freedom to work while they explore the world. This creates a uniquely fulfilling and productive experience that furthers both their career and their life experiences. This lifestyle has skyrocketed in popularity in recent years which begs the question; how did this phenomenon start?
The History Behind Digital Nomads
Way before the term digital nomad was coined, in 1983, journalist Steve Roberts took his work on the road in a very innovative way. He set out to ride his computerized bicycle, affectionately named Winnebiko, all across the United States. While he explored the United States, he took his business along with him and was able to manage his writing career full-time on the road. Due to the high-tech nature of his bicycle, he was able to write and take calls while riding. This was an incredibly revolutionary concept back in 1983 and was even covered by national news outlets such as CNN.
Thanks to the internet, the concept of traveling full-time while you work became more and more feasible. As statistics have shown over recent years, many people are beginning to kick their 9 to 5s to the curb in order to explore something more flexible.
The Rise of Remote Work
Remote work's growth in popularity is a slow burn that's been inching forward since the early 2000s. The release of Timothy Ferriss' landmark novel The 4-Hour Workweek introduced the idea of remote work and travel to a brand new generation of workers. The book deals with the concept of "lifestyle design" and manipulating your day in order to give yourself more free time to do with as you please, like travel. For example, Ferriss discusses the effect of outsourcing small daily tasks to virtual assistants.
Studies done by the U.S. market research firm Gallup confirmed that 43% of American employees worked remotely in 2017. That's up from 39% in 2012.  Freelancing is often thought of as the future of careers, especially for Millennials. USA Today conducted a survey that found 74% of Millennials are interested in contractual work instead of full-time work, compared to the 57% of Generation X and 43% of Baby Boomers. Twenty five percent of all who were surveyed stated that they intended to leave their full-time jobs in the next five years in order to freelance.
The internet has created a wider spectrum of new jobs than ever before and has given millions of people the opportunity to work wherever they want.
The Destination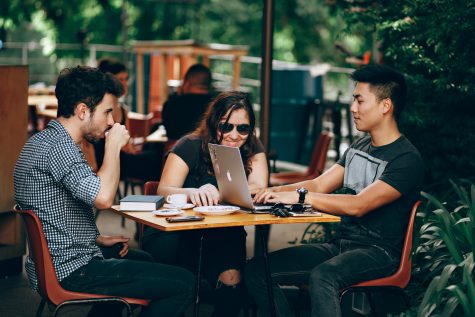 For digital nomads, the only thing that they need in order to work is a laptop and reliable WiFi. Therefore, the world is their oyster. As more and more travelers have branded themselves as digital nomads, cities around the world have become hotspots for those types of travelers. Chris the Freelancer, a popular digital nomad and content creator with over 60,000 subscribers on YouTube, curated a list of digital nomad hotspots built around cost of living, availability of high-speed internet, and an existing digital nomad community. The top three places that he recommends are Chiang Mai, Thailand, Bali, Indonesia, and Bangkok, Thailand. But of course, a digital nomad can choose to go wherever they would like.
How Do Digital Nomads Work?
Since the term is called "digital nomad" you may believe that these individuals are only working jobs in the tech field. But, that could not be any farther from the truth. There's a variety of remote jobs available through companies that you may already be aware of like Aetna, Amazon, and Humana. One study found that 63% of companies have remote workers. If you would rather not work for a company and choose to work freelance, there are a variety of options there as well from transcribing, to graphic designing, to consulting.
Downsides of Being a Digital Nomad
Unlike the amazing views from a digital nomad's social media page, there are downsides to living that lifestyle. In an article written for the Huffington Post, writer Sahaj Kohli talks about the isolation of being a digital nomad, "I go weeks without knowing when I am going to see my fiance again or talk to some of my best friends. I am constantly missing out on what is actually happening in their lives in real-time because by the time we properly catch-up, things get forgotten."
Charity De Souza, a travel writer and copy editor, told Mic that combining a full-time workday with travel can be very difficult, "Time zone changes mean I have to stay up late for meetings, catch up on important emails at odd hours, and skip sightseeing to finish a project." Behind the beautiful sights and warm temperatures, there's hard work that goes into a digital nomad and true dedication that comes with juggling the double life of being a full-time worker and a full-time traveler.
The name of the game for digital nomads is flexibility. From their location to their career choice to their schedule, being a digital nomad allows a sense of location independence and freedom that's often left for retirement. As people, we are often expected to work 9 to 5 for the same company for decades, rarely taking vacations, until we can retire. The lifestyle of digital nomads turns that normalcy on its head to have the opportunity to schedule work around their life and not life around their work.