Submitted by Ezibu Muntu
When VCU instructor Tanya Dennis formed a student-based African dance company in 1972, she had no idea how deep the roots would grow.  Roots strong enough and tough enough to meet head-on one of the toughest problems facing American society today which is teaching values, relevant history and culture to children in a society that is ofttimes divisive, and sometimes violent.  A society that doesn't give black kids a fair shake.
Next month Ezibu Muntu Dance Company & Cultural Foundation will be changing its name to Ezibu Muntu.  The name change is symbolic of the metamorphosis the company has gone through this past year; a Company that has taught African Dance and Drumming to the Richmond community for over 46 years.
Dennis, who returned to California in 1975, three years after establishing Ezibu Muntu African Dance Company, assumed that the Company would disband; after all, they were just VCU students.  She had no clue the Company was still in existence until seventeen years later.
While on a flight from New York, Dennis picked up an airplane magazine and there, featured in a New York BAM festival article was a picture of Renee Knight, one of Dennis' student dancers; captioning stating, "Ezibu Muntu African Dance Company performs at BAM festival."
VCU students Renee Knight and Faye Walker had kept the company not only growing but thriving, from a 26 member company that met on the third floor of the Franklin Street Gym every Tuesday and Thursday evening, to seventy-eight members including a children's, youth, senior and performing company, including a stilt walker and eleven drummers.
Arriving back in California, Dennis immediately contacted the Company, reuniting with old and new members.  For the next fifteen years, she attended the Company's annual summer concerts.  Each time she visited, Dennis was struck by the bounty of talent and knowledge that laid untapped within the Company.
Dennis transitioned from teacher to administrator, earning an administrative degree to become a principal of a high school.  She became a community activist with the Alliance of Californians for Community Empowerment (ACCE) and a reporter for the Bay Area's Post News Group.
In 1999, Dennis joined "Athletes United for Peace" an NGO with the United Nations, as educational director.  Eleven star athlete basketball players were selected from seven Bay Area high Schools to go to the Hague Appeal for Peace in The
Hague Amsterdam to play good-will games with the Dutch National team.  Dennis and the Director of the Project Doug Harris presented a "Peace in the Streets" forum and while there, Dennis was introduced to "Living Values," a character education curriculum that would become the basis of her educational success with children for the next twenty years.
In 1995, the NAACP bestowed their community service award to Dennis for her work with at-risk youth, and that same year the San Francisco Civil Rights Commission convened a meeting with her to discuss her strategies for reducing the suspension rate for African American males.
Meanwhile, Ezibu Muntu, composed of many engineers, teachers, administrators and nurses, were doing great things in the Richmond Community.  Renee Knight, the executive director of the company won teacher of the year four times.  Faye Walker continued to teach Dennis' classes at Virginia Commonwealth University, and for 38 years has taught special education classes within the penal system.  Patra Brodie, does outreach for Goodwill Industries, teaching social skills, work skills, and resume building.  Roderick Davis, teacher at Virginia Tech, teaches principles of Basic Architecture and Engineering, is a Capoeira "Ianco" which means "one with balance" and was the first American student under Mestre Nestrepanao.  Davis will graduate in 2020 as the first American Professor in this martial art.  Davis is also attending Long Island University to get his Certificate in Civil Engineering. During summers, he teaches children drum making and life skills.  He received the Umo Community Service Award for taking care of a young man who lost both parents and a grandparent within a year.  La Shara Smith, is a Quality Engineer for Tredegar Corporation, responsible for quality
compliance, auditing and quality systems compliance.  She is a member of the Black National Society of Engineers whose purpose is to increase culturally responsible black engineers.
In 2007, Dennis transitioned from education to advocacy work during the Great Recession when families started losing their homes to foreclosure. She then formed a group entitled SHOUT OUT JUSTICE, inspired by a series of articles she wrote for the Post entitled, "The Perils of Probate." Dennis exposed a new menace to the middle class, the probate court who, like the banks, were stripping the middle class of their property and assets without oversight or penalty. Dennis became adept at community building and advocacy work.
Over the course of ten years, Renee Knight, Executive Director of the Company encouraged Dennis to return to Richmond to help build the company's resources. For five years, they worked long distance planning Ezibu's future, including finding a permanent home for the company.  They also agreed to expand Ezibu's cultural outreach into music, theater and education.
"Ezibu had been at 418 Main Street for eighteen years before the owner sold the building." Says Knight; "We were forced to move to another location far out on Midlothian Parkway, disconnecting us from population we wish to serve, but that was all we could afford."
For five years Dennis tried to assist from a distance, writing grants, seeking to acquire a property for the company to no avail.
"Two things were preventing our success," says Dennis, "lack of money and me not being in Richmond."
Last September, Dennis took Knight up on her invitation and moved to Richmond ready to utilize the rich cultural assets that laid untapped within Company members.
"It takes a village to raise a child" and we are that village" says Dennis. "I arrived from California ready to assist the Company but teaching in Richmond Public Schools I immediately realized a much bigger challenge, which is the imperative to close the achievement gap, my advocacy work is now about empowering Black children in Richmond."
Dennis knows the power of character education and knew her knowledge could make a difference.  "It's impossible to educate a child who hasn't been socialized, taught self-control, values, or their history.  To close the achievement gap, we first have to address systemic problems occurring within the Black family.  Who better designed to address Black issues than an African American organization?  Especially one as talented as Ezibu Muntu!"
Dennis feels the curriculum she has taught for over twenty years is the ideal solution.  "We offer our children very little to counteract all the negative things that occur in their lives, the media with its crass and vulgarity, where everything goes, and everything is said unfiltered.  Those messages are confusing to children and have a negative impact. Add family units that are less than ideal and the perfect storm for failure has been created."
"Where can a child go for proper knowledge or safe refuge? Ezibu Muntu had been doing this for forty-six years.  Our only
problem is we aren't reaching enough children and we need more organizational structure, and of course money."
To address the monetary issue, Dennis embarked on seeking to produce a series of music events at the Carpenter Theater in June to fund finding a facility for a community center and fund programs like Saturday school, literacy programs, nutrition, and authentic Black history.
Although partial funding was received, it did not meet their fund-raising goals and the project must be tabled for next year if $60,000 is not raised in the next 30 days, however, Dennis is not deterred.  "We'll eventually garner the necessary funds to produce our music venues.  It's just going to take a little more time."
Dennis knows tackling closing the achievement gap is a formidable task but feels Ezibu's style of child empowerment goes a long way.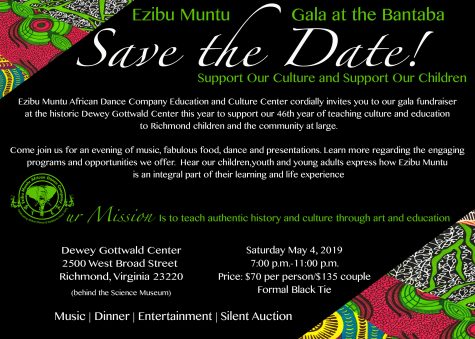 "People don't realize that $310 billion would be added to the U.S. economy by 2020 if minority students graduated at the same rate as white students," says Dennis.  "We all suffer as a result of the achievement gap.  The Company is positioning itself to do more.  It is our responsibility to teach and support our children, and we have the talent and tools to do it."
All the internal change within the company necessitated the name change.  Ezibu Muntu in Yoruba means "family and community" and that's what the Company is. They ARE the change we wish to see in the world, especially for African American children.
To continue the excellent work they do in the community, Ezibu Muntu is hosting its 4th annual Black-tie fund-raising gala at the Gottwald Center on Saturday, May 4th from 7:00 pm – 11:00 pm.  Hopefully, everyone will make this a sell-out event by joining the company for a night of dance, sumptuous food, presentations, live music and a silent auction.  Please go to http://www.ezibumuntu.org to purchase tickets today.  EARLY BIRD PRICE: $70 per person, $135 per couple. Or mail a check to PO Box 62, Richmond, VA  23219 or call 804-592-0086.  Your ticket(s) will be at the door.