By Suyapa Marquez | Senior Community Affairs Representative
Project Plant It!, Dominion Energy's springtime tree-planting program, is back in 2019 with innovative strategies to teach students about the important role of trees in the ecosystem. The program has expanded to 18 states where Dominion Energy conducts business, including regions of North and South Carolina previously served by SCANA gas and electric companies.
All participating students will receive a free redbud tree seedling to plant for Arbor Day, which falls on April 26. This year, about 70,000 students are enrolled in the program. Project Plant It! is open to groups serving children and teens of all ages and grade levels in classrooms, preschools, scout troops, civic clubs, homeschools and other entities that work with youth.
"Arbor Day 2019 will mark the thirteenth year for Project Plant It! and we are so pleased to offer this popular environmental program in all areas that are part of the Dominion Energy family," said Hunter Applewhite, president of the Dominion Energy Charitable Foundation. "Thousands of children are able to learn about trees and celebrate trees by planting seedlings received from Project Plant It!"
New Features Enhance Learning
For the 2018-2019 academic year, the program includes two fun features to engage teachers, parents and youth in learning about the science of trees and the many benefits that trees provide to the environment:
A newly-refreshed website, projectplantit.com, highlights the educator resources and lesson plans that can be downloaded at no charge. News about the program is readily accessible on every type of device, so check it out.
Three new educational games showcasing cool tree trivia are now on the website for grade levels K-4, 5-8, and 9-12. Play one, two or all three – there's a lot to learn about trees.
The website also includes a number of instructional tools, including an Educator's Guide with 12 STEM-based lesson plans that support third-grade learning standards for math, science, language arts and social studies. All of the lesson plans can be adapted easily for all ages and grade levels of students.
Teaching About Trees is Fun
Kerry Richardson, a first-grade teacher at Barack Obama Elementary in Richmond Public Schools, says that everyone knows how much she loves trees, recycling and the earth.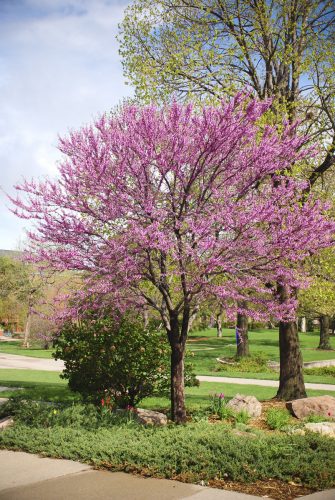 "I'll do anything to protect the environment," she said, which is why she has enrolled her students in Dominion Energy's Project Plant It! program for the past eight years. She enjoys talking with the students about the many benefits of trees, such as providing a home for wildlife, preventing soil erosion, supplying wood to make materials for everyday use, giving us food and improving air quality, just to name a few.
"The Project Plant It! lesson plans include activities about life cycles and the science of trees," said Richardson. "We talk about nature and seeds and how things grow in the garden during our circle time each morning. Sometimes, we decorate little planters and put the tree seedlings in them for a Mother's Day gift."
Richardson's efforts to instill a lifelong appreciation for trees with her students are already bearing fruit, so to speak. "We have a big tree in our yard," said Jamari, a very enthusiastic boy who sported a big grin when asked his favorite things about trees. "I like the fruit that grows on trees and I like that they help us breathe."
Fast Facts about Project Plant It!:
Project Plant It! was established by Dominion Energy in 2007 to educate children, plant trees and improve the environment.
The tree seedlings are grown and shipped to participants in April by the Arbor Day Foundation, a longtime partner with Dominion Energy.
From 2007-2019, more than 570,000 tree seedlings will have been distributed to children in states where Dominion Energy operates.
According to the Virginia Department of Forestry, this equates to about 1,425 acres of new forest if all of the seedlings are planted and grow to maturity.
For more information about Project Plant It!, visit projectplantit.com.