By Nia Simone McLeod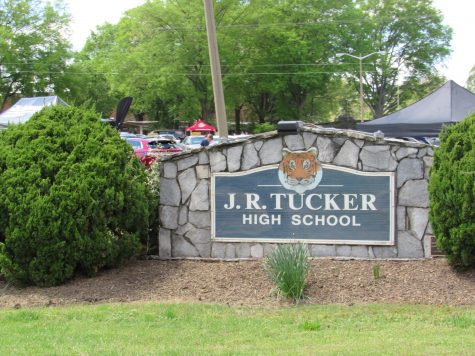 Since 1962, 53 graduating classes have spent their high school years walking the halls of John Randolph Tucker High School. From the 1960's rise of the counterculture to the present day's obsession with social media, this historic campus has seen it all. On April 20th, J.R. Tucker High School's alumni community came together to celebrate the school's legacy one last time before its reconstruction begins in September 2019. The sunny afternoon event was filled with laughs, joy, and endless nostalgia for all alumni in attendance.
Petra Daou, a member of J.R. Tucker's alumni community, enjoyed attending the alumni event and seeing the full effect of J.R. Tucker's history in one place, "It's really nice to see how many people graduated from Tucker and how important the school is. It's going to be sad when they start demolishing it."
Kelvin Coley, a member of Tucker's Class of 2013, thought that the event was bittersweet, "It kind of feels like a funeral." He looked out onto the football field and proclaimed, "This isn't going to be out here. But, these are our memories."
The Alumni Event
Hundreds of J.R. Tucker High School's alumni were welcomed back to the high school's campus during the afternoon of April 20th. The day had many highlights that radiated school spirit including a performance by J.R. Tucker's pep band, a barbecue, and guided walkthroughs of J.R. Tucker's current campus.
In the school's gymnasium, there was a presentation filled with artifacts from different parts of J.R. Tucker's history including an essay written about John Randolph Tucker, a stuffed tiger, and a proposed plan for the new school, opening in 2021. Many parts of the school were open for alumni to experience one last time including the gymnasium, the football field, and the auditorium.
At the event, yearbooks from all throughout J.R. Tucker's history were available for purchase as well as the school's merchandise. The blue and orange shirts, worn by many of the attending alumni, proclaimed that J.R. Tucker was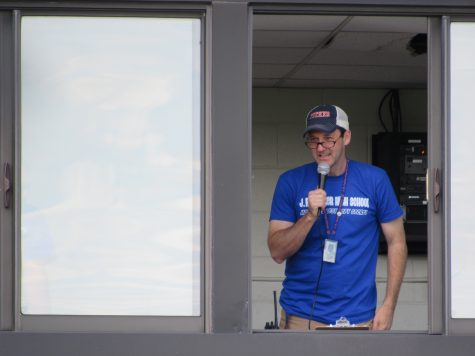 "Henrico's best-kept secret." Alumni of all ages enjoyed walking around the school's campus one last time and reminiscing on the many memories that they made there.
In order to commemorate the day, professional photos were taken on the school's bleachers of J.R. Tucker's alumni classes. Photos were taken by decade, including one large photo of all alumni in attendance on the school's football field.
Before the large alumni photo was taken, the school's current principal Arthur G. Raymond addressed the crowd, "What makes Tucker so special is days like this. You came back and reconnected with each other, which is priceless. You are the reason why we know that Tucker is Henrico's best-kept secret."
Raymond continued, looking forward to the future, "It will reopen in 2021. And yes, you can expect to be invited back for the ribbon cutting."
The History of J.R. Tucker High School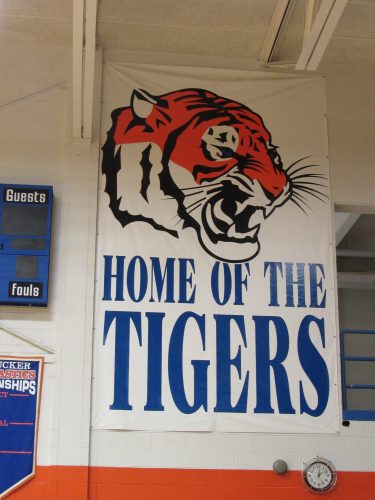 John Randolph Tucker High School was established in 1962. John Randolph Tucker, the school's namesake, was a judge and politician who was elected as a member of Virginia's Senate. J.R. Tucker High School stands out in Henrico County for many reasons. One of the most prominent reasons is that it is the only high school within HCPS that has three specialty centers: Advanced College Academy, International Baccalaureate, and the World Language Center. Over 1,700 students currently attend J.R. Tucker High School. Some of the school's notable alumni include U.S. representative Abigail Spanberger, chairman and CEO of General Motors Rick Wagoner, and ESPN analyst Tim Legler.
Daou says that attending J.R. Tucker High School made a large impact on her life and her current career, "Honestly, it made me more open to the international kids because I used to help them when I was in high school. I went on to become a social worker, where I help refugees during college." Daou continued, referencing the lifetime friends that she's made during her time at Tucker, "I made my best friends here that I'm still so close to now. All my best friends are from Tucker."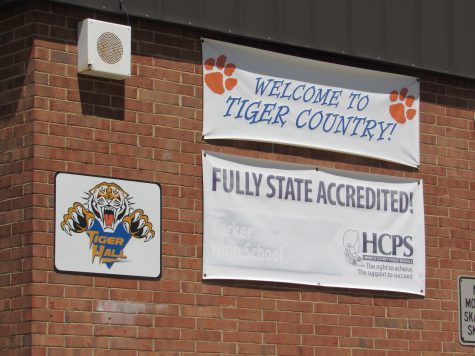 Coley always enjoyed the endless spirit of the high school during his time attending, "It's always been the spirit. The feeling is always happier out here. People are more family-oriented. I have a lot of memories here."
Coley continued, reminiscing on one of his fondest memories from J.R. Tucker, "It was an award show; they gave me a faculty award. I had only been there for two years at the time."
Celebrating Their Diversity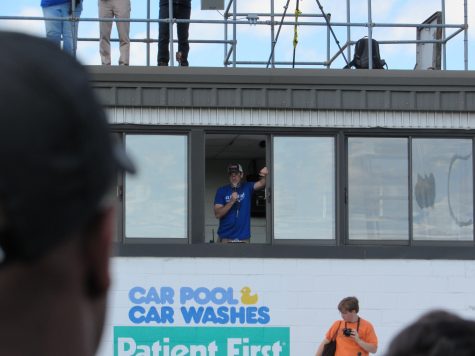 At J.R. Tucker High School, celebrating its diversity is a priority for its students and staff.
In Raymond's "Principal's Message" on J.R. Tucker's main website, he writes "We are proud of our diversity, as 65 countries and 35 different home languages are represented at Tucker.  Our diversity provides us with a tremendous opportunity to learn from each other as our students become 21st-century leaders."
Daou hopes that the school maintains its diversity, even in its new building, "Don't ruin the diversity and keep the spirit. I've never seen a school have this much spirit." Daou proclaims that many of the school's events were filled with undeniable spirit including the football games, senior nights, and the pep rallies centered around the school's all-important "Spirit Stick."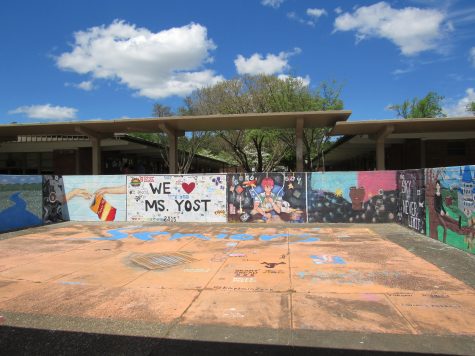 Coley's advice for the next generation of Tucker Tigers came in four short words, "Enjoy the new school!"
The reconstruction of J.R. Tucker High School is a part of a $180 million dollar project that includes an expansion of Holladay Elementary School and a rebuilding of Highland Springs High School, which will happen at the same time as J.R. Tucker's construction. Construction will begin in September 2019 and is planned to be reopened at the beginning of the 2021-2022 school year. During the construction, the students will keep going to school at the current site while the football stadium is being transformed into the new school's main building. Its college campus-style school will be replaced with an indoor-style building.