By Amandalyn Vanover

The American Heart Association is announcing a new Richmond event – Richmond CycleNation. It will take place during AHA's active happy hour on May 30. There will be a fantastic celebration of great music, fun instructors, spirited games, friendly competitions, and brain games.
The mission of Richmond CycleNation Ride Your Heart Out event is to get the community involved on a quest to put the brakes on heart disease and stroke.
"Ride the Revolution! Energizing a nation to get brain and heart healthy through the power of the bicycle." – CycleNation
How it will work:
Each team or individual (typically there are 4-5 people to sign up) will be in charge of raising $1,000 for the cause and will turn the motion of cycling into a movement for healthy living by participating in a relay-style stationary cycling race.
Why, When, and Where:
This networking event is meant to fundraise, promote healthy living, and grow awareness among community members about stroke and heart disease. Richmond CycleNation will take place on Thursday, May 30, 2019. Registration begins at 6 p.m. at the Maymont Nature Center West Terrace located at 2201 Shields Lake Drive, Richmond, VA 23220.
Why You Should Care:
Stroke is the #2 killer worldwide.
A person suffers a stroke and dies from a heart attack every 40 seconds.
Young adults, teens, children, and even unborn babies can suffer from stroke, although the risk does increase with age.
There are problems with everyone having access to help, including those that don't seek help because of financial issues and others don't realize they are experiencing a stroke, as they are uneducated about stroke signs and symptoms.
When EMT's are able to deliver treatment within a matter of minutes of stroke onset, the likelihood for recovery skyrockets.
Stroke Targets African Americans
Stroke does not discriminate; however, it does attack certain groups of people more than others. African Americans is a group most prone to suffering from stroke. The likelihood of a black person having a stroke is nearly twice that of a white person, and the high risk extends to children. If this isn't grim enough, the severity of stroke is typically worse in the black population than that of whites, too.
High Blood Pressure
America's worst health problem across the board is high blood pressure. In fact, 75% of first-stroke victims have high blood pressure. It goes without saying that high blood pressure contributes to the risk of having a stroke.
There is Hope
Stroke is highly treatable if the person gets medical treatment immediately. No more than 90 minutes should pass without proper EMT care. Now that you have learned all the important points, isn't it time for you to ride for what's at stake – hope? The American Stroke Association and AHA are determined to change stroke and heart disease statistics, while improving heart-healthy lives.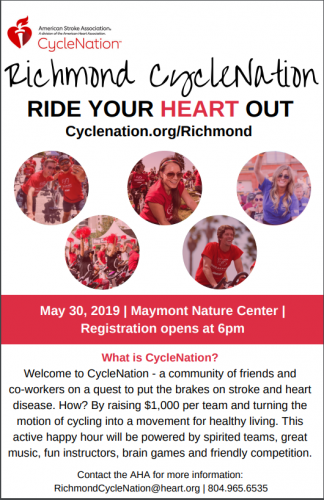 In AHA's effort to transform health, fundraising is also poured into research and advocacy.
How To Sign Up for Richmond's CycleNation
Plan if you will form your own team., join another, or go solo.
Go online to visit CycleNation.org/Richmond
 Are You Ready to Ride Your Heart Out?
Select Register to Join CycleNation
Start a Team, Join a Team, or Join as an Individual
Join as a New Participant
Enter a fundraising goal and make a personal gift
Begin to fundraise. Personalize your page, send emails out to all your family and friends, and post to social media inviting your friends and followers to like, join, and donate.
Before you get started on your sign-up…
Read, Learn & Burn the Following in Your Mind – F.A.S.T.
?Facial drooping
?Arm weakness
?Speech slurring or difficulty
?Time is of the essence – Call 9-1-1 ASAP if any of these symptoms appear, even if they go away. ***This is critical to remember. Otherwise, a person can suffer the full repercussions of a stroke simply because they didn't get treatment.
Richmond CycleNation, American Heart Association Info
Event Website:      cyclenation.org/Richmond
Event Email:         RichmondCycleNation@heart.org
Event Phone:        (804) 965-6535
Event Date/Time:  May 30, 2019 – Thursday @ 6:00 p.m.
Event Location:     Maymont Nature Center West Terrace, 2201 Shields Lake Dr., Ric, VA 23220