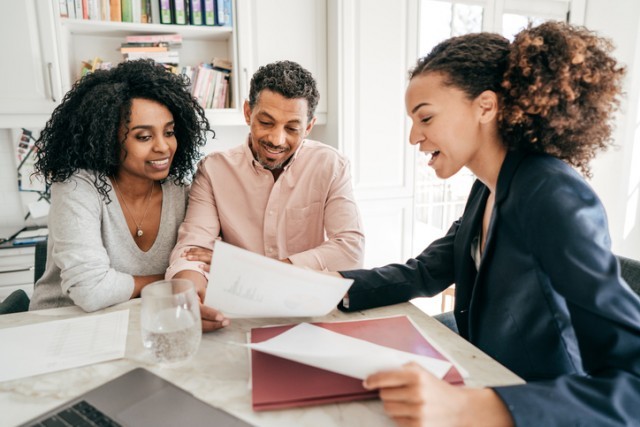 There are many sound reasons for choosing a financial advisor to manage your money. Professional advisors are experts in wealth management and can guide you through how best to save, invest and allot your money for current and future needs. They can also suggest avenues of money management that hadn't occurred to you, help lower your taxes and guide you through uncertain financial times.
A great financial planner can also teach you how to manage household expenses and increase your wealth through proper money management.
To find a reliable financial advisor, start by asking your social network. Friends and family may have some suggestions.
Research online for advisors in your area. Your local newspaper will likely have advertisements for local advisors. Remember to research each advisor with an eye toward your own situation and goals.
Once you have a list of three or four possibilities, look closer at each choice. It might be a good idea to pick a financial advisor who is a certified financial planner. A certified financial planner has passed rigorous exams in order to obtain a certificate.
Once you have discovered each advisor's qualifications, contact the certifying organizations to find out if there have been any complaints against each professional. If so, find out how the complaints were resolved.
You can request a list of satisfied clients who have goals comparable to yours. Contact them to talk about their experiences.
Areas of Expertise
Financial products can contribute to your well-being and peace of mind. Some common investing tools include bonds, mutual funds, stocks and commodities.
Weighing risk is essential. Some products will undoubtedly be better for your portfolio than others. An experienced financial advisor can customize a portfolio especially for you.
You can also do some research to find a segment of the market that might be a good fit for your situation. Then look for an advisor who specializes in that investment. For example, if you want to invest in commodities, your potential advisor should have some experience in that market.
Rate of Success
Success rates will also play a prominent role in your decision. Look at the rate of success for each advisor. Has the rate of return on their recommendations outpaced the average market rate of return over time? An advisor with a solid rate of return conducts research to strengthen his clients' portfolios.
During tough or stagnant economic times, experience will play a vital role. Has your advisor weathered previous economic slowdowns? Do clients thrive in bleak environments? Or have clients taken multiple hits to their portfolios?
You should be wary if clients appear to be doing too good during tough times. Someone with an extraordinary success rate might be too good to be true.
Fees or Commissions
Inquire about how your advisor is paid for services. Most offer fee-based or commission-based services. It will greatly influence your selection.
A commission-based advisor is prone to suggesting financial products that offer a professional commission. It could needlessly increase your exposure to risk. Only use a commission-based advisor if he or she has a proven track record of success and also has your best interest in mind.
When you need someone who puts your best interests first, go with a fee-based advisor. They  will be compensated only for the time spent on serving your portfolio.
Interview
Once you have narrowed your prospects to two or three possibilities, schedule a meeting with each professional. During this consultation, communicate your goals honestly and clearly. A financial planner should be someone who will guide and inform you. He or she will continually increase your knowledge about your current financial situation and how to improve it.
Put it in Writing
Once you have narrowed your list to one or two advisors; ask each to write a plan for moving you from where you are to where you want to be. Get a written copy of this proposal.
This document should have your short-term and long-term goals, and also state who else will profit from the proposal. This plan should be written clearly so you completely understand it.
Once everything has been completed to your satisfaction, you can choose a financial advisor. Then you can comfortably relax and know that your money and future are in good hands.