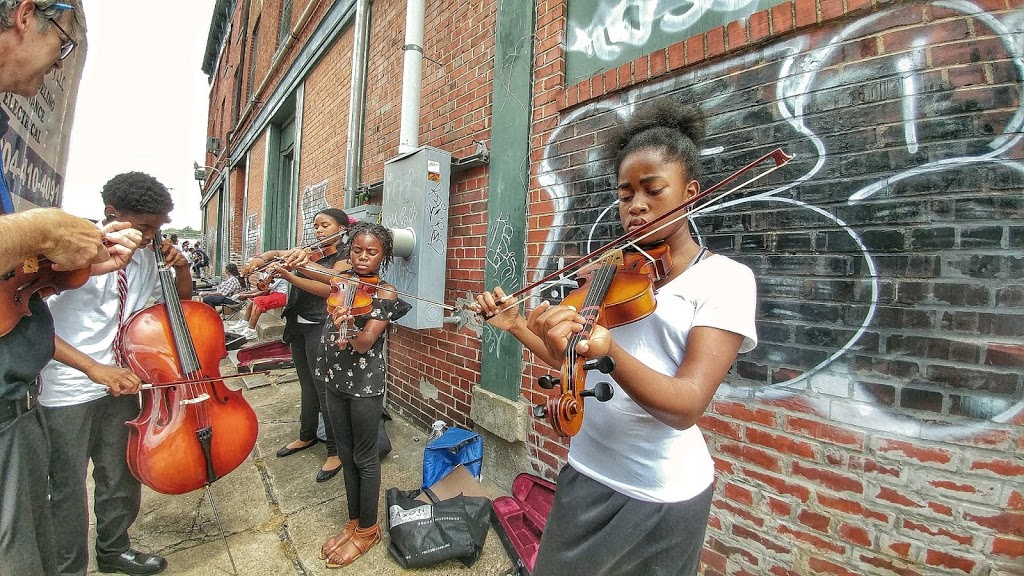 The fourth annual RVA East End Festival will celebrate music, arts, food and fun in Chimborazo Park, 3215 E. Broad Street, on Saturday June 8 and Sunday June 9.  The Festival is a part of the Big Tent Community Festival program of the Richmond Symphony.
The Festival starts Saturday at noon and closes with the Richmond Symphony performance at 7 p.m. Sunday hours are 1-5 p.m.
The RVA East End Festival has raised over $200,000 for music and arts programs in Richmond Public Schools since 2016. This free family event features two packed days of exciting arts and musical performances by local professionals as well as some of RVA's most talented youth musicians, dancers and visual artists.
The festival will kick off at Noon on June 8 with student performances by the Franklin Military Academy Color Guard, choir and orchestra, the Armstrong High School dance troupe, the Chimborazo/George Mason band and orchestra, the Martin Luther King Tritan Elite Dance, the Franklin Military Academy Jazz Band and the Fairfield/Woodville/Bellevue combined band. Saturday evening will feature a performance by the Legacy Band at around 5:30 p.m. and the full Richmond Symphony at 7 p.m. The lineup on Sunday will feature faith-based programming with music by Hill City Church, Cora Harvey Armstrong and others. A schedule of performances and artists will be posted soon on the Festival's Facebook page, RVA East End Festival.
"Our theme this year is The Gift of Arts and Music," said the Reverend Marilyn Heckstall, pastor of Asbury Church Hill United Methodist Church and 2019 festival chair. "These gifted musicians and visual artists are sharing their virtuosity and skilled craftsmanship with the entire community. In return, the festival provides a path for them to pursue their dreams to excel in the creative field."
She noted that the festival's financial goal for 2019 is to exceed $100,000 in proceeds that will be used to support cultural arts initiatives in Richmond Public Schools located in the East End. In the past, funding has been used to acquire or repair music instruments and to purchase choral risers, concert attire, pottery kilns and resources for the Turnaround Arts program.
"A priority for 2019 is to buy and install a new dance floor at Armstrong High School to support the popular and growing dance program there," said Rev. Heckstall.
Festival attendees also can browse among many food and beverage vendors, along with exhibits of sponsors, boutique businesses and other community organizations. Special attractions for kids include Paw Patrol and Marvel characters, Paint Crazy face painting, RVA Hoops, Jenn B-The Balloon Lady, juggler Jonathan Austin, Mr. Public Works, and a National Park Service junior ranger activity, to name a few.
As one of the festival's most ardent champions, Richmond City Councilwoman Cynthia I. Newbille (7th District) has been an instrumental catalyst for this event that celebrates creativity and unites the East End community around engaging kids in the arts. "The East End Festival has introduced hundreds of students to all aspects of the cultural arts in their elementary, middle and high schools," she said. "It is truly life-changing when students can learn and grow together through involvement in music and the arts."
Bon Secours Richmond Health System, a major partner for the festival, believes that the event helps to build strong relationships among diverse community stakeholders, the East End residents and the local businesses including Bon Secours Richmond Community Hospital. "The festival creates a positive synergy that provides a sustainable foundation for leadership in this vibrant area of Richmond," said Becky Clay Christensen, executive director of community health for Bon Secours Richmond Health System.
David Fisk, executive director of the Richmond Symphony, explained that the Big Tent programs combine the power of music with community investment. "The Big Tent allows us to offer free outdoor concerts, creating unique opportunities for the public to experience the music of the Richmond Symphony," he said. "We're delighted to collaborate with the RVA East End Festival for a very meaningful event that benefits the youth of the East End community."
Other partners supporting the festival include Bank of America, Church Hill Association & Friends, City of Richmond, the Flats at 25th, Richmond Public Schools Education Foundation, Richmond Ambulance Authority, The Richmond Symphony, Union Market, VCU Health Department of Arts in Health Care and Weinstein Properties. Individuals wishing to make a contribution to the arts and music programs at East End public schools will be able to do so through donation collections at the festival.
Proceeds from the festival support the music and visual arts programs at the following Richmond Public Schools located in RVA's East End community: Bellevue Elementary, Chimborazo Elementary, Fairfield Court Elementary, George Mason Elementary, Woodville Elementary, Martin Luther King, Jr. Middle School, Armstrong High School and Franklin Military Academy.
Volunteers are needed to help on the weekend of the event and can sign up here. For more information about the RVA East End Festival 2019, contact rvaeastendfest@gmail.com or visit the Festival's Facebook page.