By Amandalyn Vanover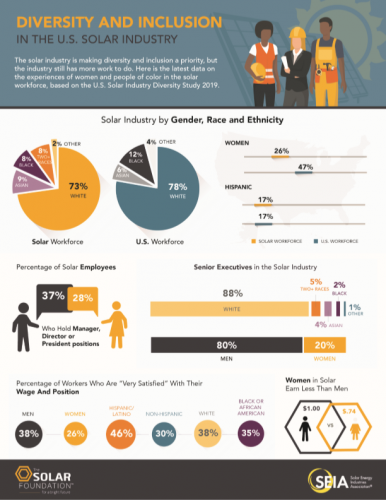 While using solar is green, the faces behind the solar industry remain white. The stats are staggering and cry out for diversity all on their own. The numbers being referred to are the findings from the recent 2019 U.S. Solar Industry Diversity Study. For instance, the study shows nearly 90% of solar senior executives are white, of which 80% are men. This overrepresentation of white men in the industry doesn't stop here. Besides a race gap, there is a major gender gap too. An example of this from the study, as findings report women in the study get paid a whole 26 cents less on the dollar (.74/1.00) than their male counterparts.
Can you believe it? It's 2019, and the entire solar industry is still primarily comprised of white men with salaries that are 25% more than the women performing the exact same job – yes, this is still happening, and it's industry-wide. Why is this? Is there a good reason the industry employees are so narrow and lack any diversity? Something is for sure, and that is the numbers from the findings expose an antiquated, yet common hiring system. This system was recently called into question (after the study's reports were released) by two solar groups: Solar Foundation and Solar Energy Industry Associates.
In an effort to get more people of color and women in the door, Solar Energy Industry Associates and Solar Foundation are working to build and grow solar technology in different communities across the nation. They are calling for more blacks and minorities to be hired into the industry by demanding inclusivity hiring practice changes take place as soon as possible. The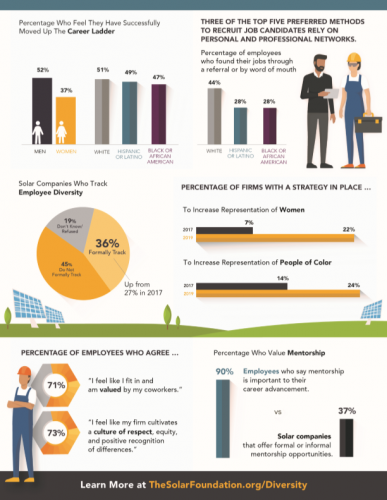 more diverse the locations, the more of a chance locals in each area have the opportunity to enter the industry through a wide-net hiring practice.
"This is a technology that has potential to reach into (a variety of communities) and potentially improve the livelihoods of people nationwide." – Andrea Luecke, Solar Foundation, President & Executive Director.
The new solar installation projects require people of different solar occupations and education levels to get the job done, including many that do not require a college degree or any higher education. The current hiring practices utilize common recruiting methods, such as getting candidates from personal and professional networks. Relying solely on networking results in a funnel of candidates, it cuts the usual wide net hiring base to a much slimmer one and removes any hope of attracting a widely diverse pool of candidates for job openings.
These two solar groups are also encouraging the growing number of start-ups to expand their horizon and move outside of hiring people they know. This will get more blacks and minorities on the payroll. In other words, they want companies to slow down or even halt the process of just hiring friends, family, and friends of friends to quickly fill positions. Casting a wide net will open up inclusivity to effectively and permanently diversify the solar industry.
"Diversity and inclusion are essential to making the solar industry as accessible as possible. While the industry is working hard toward expanding into all communities, studies like this highlight where the gaps are so we can do a better job on filling them. Over time, we hope that our industry workforce will be as diverse as our world, and studies like this will help us get there." — Scott Wiater, President & CEO, Standard Solar
The group left out the most when it comes to solar hiring methods is women of color. The women surveyed reported that in their perception they needed to prove themselves and their competence in comparison to their peers, plus they reported being at a disadvantage for not having the 'right' connections.
There will be more and more solar projects developing all around the state of Virginia and the United States. Virginia wants to be a leader at the forefront of solar farms. With this in mind, keep your eyes open for new projects and developments. Get in touch with the company responsible for the development in order to apply for local, open job positions.
The Chesterfield Observer just released news that a large-scale solar farm is being planned for a mega-site property in South Chester, not to mention an additional data center that will take up nearly 1 million square feet of space. This is just one of many projects Torch Clean Energy out of Colorado is responsible for privately developing and financing in their effort to grow renewable energy across the U.S. and in Virginia.
To date, over 500 megawatts of renewable energy has been generated from TCE's projects (such as the famous 101-megawatt facility called Red Horse in Arizona) and over 1,000 megawatts of renewable energy projects are currently underway too. These include projects stretching from West Virginia and Virginia to Utah, Michigan, Hawaii, and New Mexico. Certainly not the only company jumping on the solar train, the Alliance Development Group is another seeking to construct a solar farm, designated to be behind the Children's Home of Virginia Baptists on Hickory Road, specifically on the underdeveloped land in the back.
Other Solar Job Opportunities in Richmond, VA – Click Here
Whether you are an adult black man, a young Asian woman, or a white female college student – there is a need for you in the solar industry if you are interested, including right here in Richmond, Virginia and the surrounding counties.
"As leaders, we have a responsibility to create cultural change and address the systemic forces that have allowed discrimination to fester." – Abigail Ross Hopper, SEIA President & CEO