By Amandalyn Vanover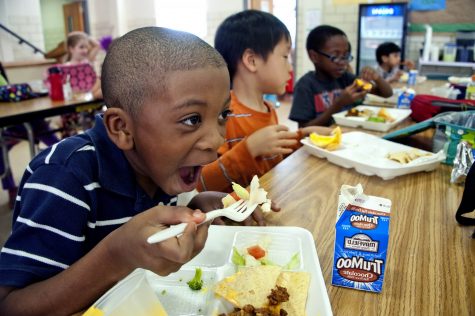 School is ending soon, which means school breakfasts and lunches are going away too. This leads to a growing problem in America: the multitude of children and teenagers in the summertime who get hungry and don't have access to good, healthy food to fill their belly. However, over the past few years, monumental efforts have been made in Virginia and America to change the evolving hunger situation.
The Summer Food Service Program gave out over 1.5 million nutritious meals and snacks to children last year (2018) while school was out for the summer. No Kid Hungry Virginia in Richmond is working with former Virginia First Lady Dorothy McAuliffe and Mayor Levar Stoney to ensure no local child goes hungry this year either. The summer meal program is run through both Richmond's Department of Parks, Recreation, and Community Facilities and the U.S. Department of Agriculture.
These summer meal programs give free food to those 18 and under. It is important to note adults 19 and over are not eligible for most of the summer meal programs. But these programs do help families by stretching food budgets and saving money. Many of the programs are paid for by the USDA and follow their nutrition guidelines. Summer meal programs are hosted at a wide variety of safe places across the community, placing families close to home when the children eat breakfast and lunch.
Most summer meal sites provide recreational, educational, or inspiring activities to entertain kids during mealtime. The environment encourages children and teens to eat, socialize, have fun, and hang out with friends while being an active participant. The best part for parents is taking the kids to the site without any hassles or obstacles. In other words, parents don't need to fill out paperwork, file applications, or even show identification. Food is given out on a first-come, first-serve basis, so it is best to come at the beginning and not wait until the end of the time window.
The Summer Food Service Program across Virginia runs Monday through Friday. There are a whopping 25 locations across the city of Richmond working on filling up children's bellies during the summer! Can you believe it? Breakfast is served from 9 a.m. to 10 a.m. and lunch is from 12 p.m. to 1 p.m. The free summer meals program runs from Monday, June 26 until Friday, August 25 (right before school resumes).
---
Richmond City:
Battery Park, 2803 Dupont Circle
Bellmeade Community Center, 1800 Lynhaven Ave.
Bill Robinson Playground, 35th and M streets
Blackwell, 300 E. 15th St.
Broad Rock, 4615 Ferguson Lane
Calhoun Playground, 436 Calhoun St.
Creighton Court, 2101 Creighton Road
Fonticello Playground, 28th and Bainbridge streets (lunch only)
Hickory Hill, 300 E. Belt Blvd.
Highland Park Plaza, 3300 First Ave.
Hillside, 1500 Harwood St.
Hotchkiss, 701 E. Brookland Park Blvd.
Humphrey Calder, 414 N. Thompson St.
Lucks Playground, Rogers and T streets
Mary Munford, 211 Westmoreland Ave.
Mosby Playground, Mosby and O streets
Pine Camp, 4901 Old Brook Road
Powhatan, 5051 Northampton St.
Randolph, 1415 Grayland Ave.
Reid, 1301 Whitehead Road
Southside, 6255 Old Warwick Road
B. Smith, 2015 Ruffin Road
Thompson, 7825 Forest Hill Ave.
Westover, 1301 Jahnke Road
Whitcomb Court, 2302 Carmine St.
There are four ways to find a free summer meal site for your kids to eat breakfast and lunch, no matter where you are located in Virginia. You will give your full address in order to receive a list of the closest summer meal spots. The site's address, phone number, and food serving days/times are given to you.
Text "FOOD" to 877-877,
Call 2-1-1,
Call 1-866-3-HUNGRY (1-866-348-6479), or
Visit the No Kids Hungry Virginia website – Summer Food Rocks.
---
Chesterfield County
The free summer meal program in Chesterfield County is formed by a partnership between the county library system and the school division. It runs through Aug. 2, 2019. The four summer library locations will serve lunch Monday through Thursday starting at 11:30 a.m. and ending at 12:30 p.m.
Chester Library, 11800 Centre St., Chester, VA
Ettrick-Matoaca Library, 4501 River Rd., S Chesterfield
LaPrade Library, 9000 Hull Street Rd, N. Chesterfield
Meadowdale Library, 4301 Meadowdale Blvd. N. Chesterfield
---
Hanover County
Take your children to John M. Gandy Elementary School or Mechanicsville Elementary School Monday through Thursday for summertime breakfasts and lunches.
June 25-July 31: Breakfast: 8 a.m.-8:30 a.m., Lunch: 12:15 p.m.-12:45 p.m.
---
Henrico County
Over 30 locations will be serving free breakfast and lunch to those 18 and under accompanied by a parent or guardian. Breakfast will be served anytime from 7 a.m. to 9 a.m., and lunch from 10 a.m. to 1 p.m. Each site's serving times will fall within these parameters.
---
Elementary school location sites:
Adams ES, 600 S. Laburnum Ave.: June 24-Aug. 8
Baker ES, 6651 Willson Road: June 24-Aug. 8
Crestview ES, 1901 Charles St.: July 8-Aug. 1
Donahoe ES, 1801 Graves Road: July 8-Aug. 1
Glen Lea ES, 3909 Austin Ave.: June 24-Aug. 1
Harvie ES, 3401 Harvie Road: June 24-Aug. 8
Highland Springs ES, 600 Pleasant St.: July 8-Aug. 1
Holladay ES, 7300 Galaxie Road: July 8-Aug. 1
Laburnum ES, 500 Meriwether Ave.: June 24-Aug. 8
Longan ES, 9200 Mapleview Ave.: July 8-Aug. 1
Ratcliffe ES, 2901 Thalen St.: June 24-Aug. 8
Ridge ES, 8910 Three Chopt Road: June 24-Aug. 8
Sandston ES, 7 Naglee Ave.: July 8-Aug. 1
Ward ES, 3400 Darbytown Road: June 24-Aug. 8
---
Recreational facility location sites:
Confederate Hills Recreation Center, 302 Lee Ave.: June 24-Aug. 8
Dorey Recreation Center, 2999 Darbytown Road: June 24-Aug. 8
Eastern Henrico Recreation Center, 1440 N. Laburnum Ave.: June 24-Aug. 8
Elko Community and Recreation Center, 6216 White Oak Road: June 24-Aug. 8
Hidden Creek Community Center, 2417 Brockway Lane, June 24-Aug. 8
---
Middle and High School location sites:
Brookland MS, 9200 Lydell Drive: June 24-Aug. 8
CodeRVA Academy, 1405 Cummings Drive: July 8-Aug. 8
Elko MS, 5901 Elko Road: June 24-Aug. 1
Fairfield MS, 5121 Nine Mile Road: June 24-Aug. 8
Henrico HS, 302 Azalea Ave.: June 24-Aug. 1
Hermitage HS, 8301 Hungary Spring Road: June 24-July 11
Highland Springs HS, 15 S. Oak Ave.: June 24-Aug. 1
Moody MS, 7800 Woodman Road: June 24-Aug. 8
Quioccasin MS, 9400 Quioccasin Road: June 24-Aug. 8
John Rolfe MS, 6901 Messer Road: June 24-July 25
Virginia Randolph Education Center, 2204 Mountain Road: July 8-Aug. 1
---
Below you will find a list of additional free food resources for you and your family. Pick up the phone if your family is facing dire food or financial difficulties.
Second Baptist Church (804) 353-7682 – Providing free food to those in need with low income.
William Byrd Community House, Inc. (804) 643-2717 – Emergency food assistance and grocery help is given to those who need it. The WBCH program covers people in the City of Richmond and close counties.
Tabernacle Baptist Church (804) 355-0134 – Offers food and clothing to local needy people.
Richmond's First Baptist Church Community Social (804) 353-2181 – A bag of groceries and food is given to individuals/families (up to as many as 12 times throughout a given year.)
Salvation Army Command of Richmond (804) 225-7470 – Provides food to families who reside in the City of Richmond or one of the surrounding counties.
CAPUP (804) 788-0050 – Assists people and families who are facing a temporary crisis by providing free food and emergency rent help to them without any need to pay CAPUP back the funds.
Salvation Army of Richmond (804) 225-7470 – Offering Family and Emergency Services program to those in need and with low income, the SAR helps with emergency shelter, rent assistance, and food. https://feedmore.org/how-we-help/summer-food-service-program/