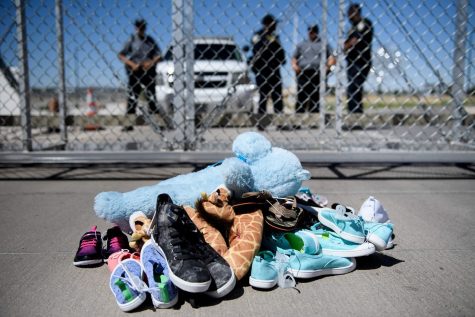 If the United States of America were who she says she is, we would not have children in cages, sleeping on concrete floors in cold warehouse-like encampments at our southern border. As a nation, we would not be able to ignore innocent children being held in inhumane conditions, separated from their parents without their most basic human needs being met.
People, especially children, have basic needs that include safe and sanitary living conditions, not cold cemented floors with chain-link fencing surrounding them where they have not had clean clothing and have not bathed with soap and water for weeks or more. This is a crime against humanity, a shameful moment in our national history and a complete repudiation of existing Christian values, for those pious proponents of "Choose Life" and "Pro-Life" doctrine. It is clear to anyone with eyes to see that the lives of these innocent children being victimized daily at our southern border are NOT the Lives that Matter.
             "I want to tell you this evening that it is not enough for us to talk about love, love is one of the pivotal points of the Christian faith. There is another side called justice. And justice is really love in calculation. Justice is love correcting that which revolts against love."                                                                                   

                                                                                    — Dr. Martin Luther King, Jr.
Any moral authority Christian people think they have or even strive towards in all their declarations is eroded daily by the atrocity that is the United States immigration policy exacerbated by this current administration. The deplorable conditions at the southern border of the United States have children as young as 3 months old being incarcerated in cages similar to a dog pound or animal control facility. They are malnourished with rotten food and no fruits or vegetables, not given proper medical attention or safe and sanitary living conditions.
The Associated Press and other news organizations have been reporting that older children are caring for the younger children, that they have not been given soap to clean themselves or toothbrushes to brush their teeth. They have been wearing dirty clothes, sleeping on concrete floors with Mylar blankets; many have not bathed in weeks or even months. Toddlers are wandering around without diapers and there is a stench of urine and waste throughout the facility.
These children have not been given constructive recreation or educational activities while they wait in these cages unfit for human habitation. What kind of a government can do this to innocent children? What kind of people can allow this to continue? There is rampant sickness and massive overcrowding which will only bring more sickness and disease. These children do not have a chance of surviving these atrocities unless there is an intervention and, soon.
All of US, but most importantly Communities of Faith, must hear this as a clarion call to Action. There MUST be a massive mobilization to Save the Children,, regardless of your politics or political leanings. Call your Representatives in Washington, take to the streets, and demand that additional funding be allocated to the immigration courts to process these claims for
asylum expeditiously. Get these poor and suffering children out of these detention centers and reunite them with their parents or put them in the custody of people who can adequately and humanely take care of them.
The Whole World is watching! The fundamental doctrine of most Faith traditions is that, "They will know us by our love one for another." This is a catastrophe, a human disaster! This is NOT LOVE.