Amaya Coleman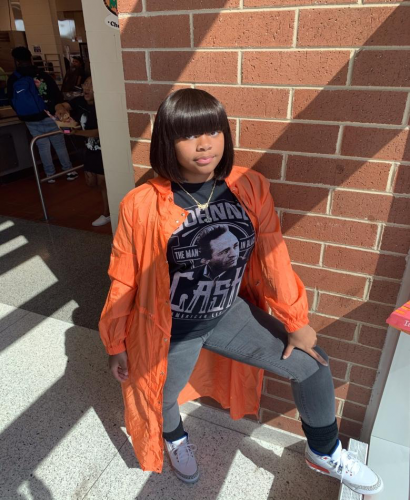 Amaya is the daughter of Sheena and Artrell Coleman. She has two siblings; Atira and Artrell Coleman Jr. She leads her team as Captain of the Junior Varsity squad and excels in academics, maintaining an impressive A+ Honor Roll status.
Bio and stats:
Class of: 2022 (Huguenot High School)
GPA: 4.4
Height: 5'4"
Weight: 150 lbs
Hometown: Richmond, VA
High School Mascot: Falcon
Coach(s): T. Humphries and K. Siedlarczyk
Her favorites:
Color: Olive Green
Food: Snow crab legs
Hobby: Doing people's hair
Nickname: Mya
Movie: Roll Bounce
Pro-Basketball: Los Angeles Lakers
College Basketball: Duke University
Baseball: Baltimore Orioles
Football: Dallas Cowboys
One-on-One with Amaya Coleman
Amandalyn: Amaya, first I'd like to congratulate you on being named Athlete of the Month. When did you get into cheering?
Amaya: I started cheering at 6 years old.
Amandalyn: What do you love the most about cheering?
Amaya: I love to cheer for a couple of reasons; creating bonds with new people and watching the games being played.
Amandalyn: When it comes to higher education, what exactly are you looking for in a school? What is the most important priority for you?
Amaya: The most important priority for me is strictly the academics of the particular school.
Amandalyn: Do you know which college or university you want to attend?
Amaya: Yes, I plan on going to Howard University.
Amandalyn: Is there a quote or Bible verse you live by?
Amaya: My favorite quote is 'Every next level of your life will demand a different you.'
Amandalyn:  When it comes to teams, what do you believe defines their success?
Amaya: A successful team knows how to work as a team. They make compromises and include everyone in everything they do.
Amandalyn: What about winning? Does it drive you?
Amaya: Winning means a lot to me. It shows our hard work has paid off, but winning isn't everything.
Amandalyn: What drives you every day when you wake up?
Amaya: My education and my family. Knowing my education will get me far in life and that when I do well in school, it makes my family happy. Both of these drive me to succeed.
Amandalyn: What's in your future?
Amaya: In three years, I see myself in college at Howard. After graduation, I plan on starting my own business; a hair salon. In twenty years, I hope to be a successful business owner. 
Amandalyn: What excites you most about your future plans?
Amaya: Knowing how much I can achieve by just pushing myself.
Amandalyn: What would you like to tell the young girls who look up to you?
Amaya: That they shouldn't allow sports to hinder them from reaching their full academic potential.  
Amandalyn: Amaya, thank you for sharing so much. We appreciate your time and wish you only the best! Be sure to let us know when you open your hair salon. We'd love to share the news with our readers.