By Karla Goodhart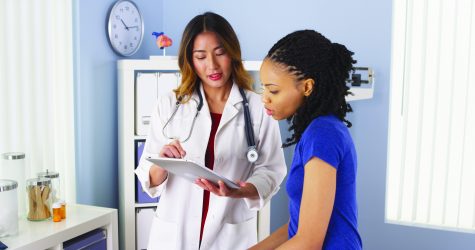 A breast cancer diagnosis is scary, and often patients don't know what to ask when their doctor tells them what's happening. Although you have a cancer treatment team and you'll have opportunities to ask questions at subsequent appointments, it can be helpful to have an idea of what you need to know as you go to follow-up appointments and meet other care providers.
Don't be afraid to ask your doctor about their experience treating this type, getting a second opinion and any detail you don't understand. This can help you not only get the information you need but also take some measure of control over your life during a difficult time. The American Cancer Society has lists of questions to help you.
When You're Diagnosed
How big is the cancer? Where exactly is the tumor?
Has it spread to lymph nodes or other organs?
What stage is it? What does that mean?
Who else will be on my treatment team?
How much will this cost? What does my insurance cover? Is there a patient advocate who can help me through the financial side of this?
Before and During Treatment
What are my options for treatment? What are the positives and negatives of each?
How long should I expect treatment to last?
What side effects will I experience?
What treatment do you recommend/what regimen would you do if you were diagnosed with this type of cancer?
Are clinical trials an option? Should I look at that?
Will I lose my hair? How will treatment affect my daily life?
What happens if this treatment doesn't work?
How will we know if the treatment is working?
Are there ways to manage side effects?
What lifestyle changes should I make during treatment — a different diet or exercise regimen, for example?
If I experience depression or anxiety, what resources are available?
Surgery
What type of surgery is best for me?
Should I consider a full mastectomy, even though the cancer hasn't spread?
How long will recovery take? How much of that will be in the hospital versus at home?
What will happen during recovery? Will I have stitches or staples, will there be a drain coming out of the site?
What are my options for breast reconstruction? What are the risks?