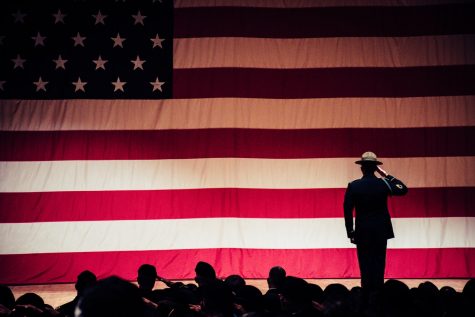 Since the Revolutionary War and the founding of the United States of America citizen soldiers of all races, nationalities, religions, genders and identities have fought, died and sacrificed for the pursuit of life, liberty and the freedoms we all enjoy as a nation. When a soldier raises their hand and takes the oath that they will "support and defend the Constitution of the United States against all enemies, foreign and domestic, that [they[ will bear true faith and allegiance to the same…" their sacrifice is not only their own. The sacrifice of every single member of our armed services also includes the self-sacrifice of the families and communities from which these soldiers come.
For us to live in a "free" nation founded on the aspiration of a government of, for, and by the People, is indeed a privilege and an optimistic pursuit truly worthy of sacrifice. It is evident, no matter your belief system, social status or political leaning, that we all owe a great debt and sincere gratitude to ALL who have served and sacrificed for our nation in the arenas of war whether nationally or internationally. This is where we can ALL agree as a nation and as Americans.
The Commonwealth of Virginia has a storied history and played a pivotal role in the narrative of America's evolution. One of the most important fights in the struggle for the soul of America had its epicenter here in Richmond, VA. Our state is laced with acres and acres of hallowed ground upon which the blood of our nation's sons, daughters and countrymen was spilled in the struggle to hold our young nation accountable to the values, platitudes and moral principles it espoused by virtue of it's Declaration of Independence and the Constitution it established. The words of these venerable and sacred documents were forged in the fire of freedom's journey and chiseled together through passionate debate, critical discourse and informed aspiration whereby they have afforded generations of Americans, whether by birth or naturalization, a beacon of hope and an anchor upon which to hang its hopes and dreams for the future.
Our armed forces have always and continue to defend our nation and what we stand for as a nation. We should never forget the sacrifices in blood and treasure that our service members and their families have given to the aspirational goals of an American Dream many of our citizens have yet to fully experience.
This nation has always been a "work in progress" and to its credit continues to strive towards the high calling of our ancestral past. Our forefathers, the architects of this democracy and authors of our founding documents, were fallible human beings. Many of them were contradictions of the very definition of freedom, justice, equality and liberty. All were men who did not believe in the equality of all human beings as they wrote, "All men are created equal…" They excluded women, non-whites and for these "Great Founding Fathers," enslaved people were not considered fully human so therefore excluded from these original proclamations . And yet, they set a high bar of morality, integrity and honor contained in the words of our founding documents that demanded
its continued evolution and transformative amendment in order to meet the needs of an emerging and growing democracy. The allowance for an ever-evolving democracy was imbedded within our founding documents and framework.
The dream and grand experiment of the United States of America by our founders, some might say by Divine inspiration, is sacred. It is the recognition of this "high calling" and a declaration of our national identity that our armed service members have given their lives over the decades and millennia. It is a sacred oath to support and defend our Constitution. For all who have and continue to serve, on behalf of a grateful nation, thank you for your service.