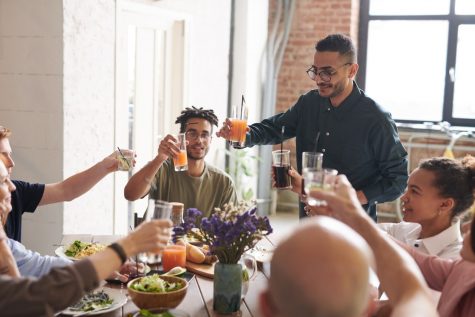 When people refer to the mythology and the stories of the goodwill and partnership between the pilgrims of Plymouth Rock fame and the Indigenous people of North America as the reason we celebrate Thanksgiving, it is indeed a false narrative. Thanksgiving is a very ancient concept among American Indian People. Although it is a wonderful practice to be  thankful  and to celebrate your blessings, it is not good to continue to buy into a false narrative or to distort history by falsely clinging to the "created narratives" that portray the origins of the holiday as established to commemorate a false history.
The truth is that Thanksgiving did not begin as a friendly relationship between the pilgrims and the Wampanoag, Pequot, and Narragansett people.  In fact, when the pilgrims (Puritans) who survived their first winter in Turtle Island sat down to a "Thanks- Giving meal", the Native Peoples were not even invited. There was no turkey, stuffing or cranberry sauce. Just a few days before this "celebrated meal", these very same pilgrim settlers, led by Miles Standish, were actively seeking the head of an Indian leader, and an 11 foot wall had been erected around the entire Plymouth settlement for the express purpose of keeping the Native People out. The purpose for their initial Thanksgiving feast was to celebrate the safe return of the men from (what is now known as) Mystic, Connecticut after participating in a successful raid where over 700 Pequot men, women and children were massacred. They returned to celebrate and give thanks for their great victory. It became a customary celebration every year after. Many American Indian People consider the Thanksgiving holiday as A Day of Mourning for what are obvious reasons.
Gathering together with friends and family to share a meal and proclaim the things for which you are thankful is certainly a good thing to do. Indigenous Peoples have been doing that for thousands of years. However, we do not need to perpetuate lies and falsehoods regarding the holiday we call Thanksgiving. Hopefully, someday we will no longer use the mythical stories told in preschools, elementary schools and community centers around the country to commemorate a holiday that was never intended to be inclusive of All people, but rather was planned as a celebration of bloodshed and war from its inception.
We should learn the truth of our history and teach it to our children. Then we should celebrate the richness of the American cultural landscape and the freedom that allow us to gather together
with the friends and family with whom we choose to break bread. Let us remember that we all have blessings in our lives and we should never forget to be thankful for each and every one of them. Let us, with gratitude, make the holiday a time of truthful reflection and a generosity of spirit that can commemorate our past and celebrate our future together as a nation.  And finally, with humility and purpose let us share whatever we have with someone who may not have enough. We have been blessed to be a blessing no matter what little bit we think we have or out of the abundance that we are blessed to call or own. Happy Giving Thanks Day RVA! Safe travels to ALL!