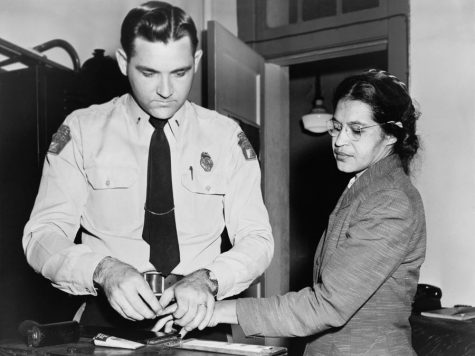 In 1955, Mrs. Rosa Parks refused to give up her seat to a white man on a bus she was riding in segregated Montgomery, Alabama. This simple act of civil disobedience ignited the Montgomery Bus Boycott , which was a 13-month mass protest that ended with a Supreme Court ruling that segregation on public buses is unconstitutional. The seeds of the boycott were planted years before Mrs. Parks refused to give up her seat but truly served as a galvanizing moment for the Civil Right Movement. This December 1st, 64 years later, Montgomery is finally paying tribute to Mrs. Rosa Parks by unveiling a statue to honor her memory and commemorate the formative role she played in a movement that would continue for decades into the future.
The national celebrations of Black Americans placed within the canon of historic and momentous events so inextricably woven into the tapestry of the American cultural continuum have been a long time coming. It was a struggle to get some states to recognize Dr. Martin Luther King, Jr. as a national hero and to make MLK Day a national holiday. And yet, there are still parts of America who do not celebrate the holiday as one to be set apart for commemoration or ceremony. There are literally hundreds of Black American heroes and (s)heroes who have yet to be recognized for the contributions they made to American history and the greatness of our nation's social experiment to make this nation what it proclaims itself to be in its founding documents. There are Great Black Americans who challenged this nation and its people to make America a place where All people can live free and work to achieve their dreams of life, liberty and the pursuit of happiness. Dr. King and Mrs. Parks are but just two of those courageous people.
For so long, the American story excluded Black Americans from its historic accounts in any sort of heroic or significant way, except to give some cursory account of slavery and the enslaved Africans brought to this soil on great ships sailed by the brave and entrepreneurial white men who were in the "business" of building a nation. The founding fathers have always been glorified as brave, courageous and determined men with lofty goals and high moral character. These men who wrote the Declaration of Independence and our Constitution have always been touted as American heroes and only recently within the last few decades have books been written questioning their personal integrity, their honor and/or their intentions, at least making them human in some sense of the word. They were fallible men like any other men and yet the stories we have been told about them have been more magical than real.
It is important that we begin to recognize ALL of the Americans who have built this nation and who continue to hold it accountable to the platitudes and pronouncements it makes as a nation of equality and justice for all. Mrs. Rosa Parks was truly one of those great Americans and the recognition of her life and the contributions she made to the struggle for freedom, justice and equality is long overdue by the city of Montgomery, the state of Alabama, and a grateful nation. It's never too late to do the right thing. We pay tribute to Mrs. Rosa Parks who sat down to stand up for freedom and justice.