Submitted by Virginia State University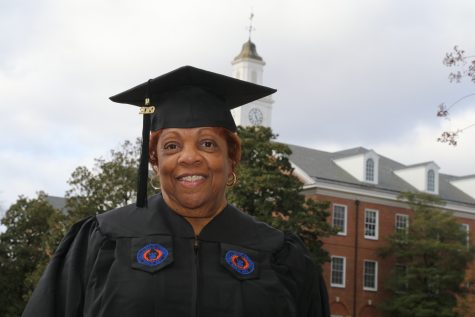 We all have heard or made a promise to ourselves that it is important to finish whatever goal we set out to accomplish. One of Virginia State University's (VSU) graduates achieved her goal of receiving a college degree on Saturday, Dec. 14. Sylvia Morgan, who is 74-years-old and a breast cancer survivor, received her bachelor's degree in individualized studies. Morgan, along with her more than 300 classmates, celebrated with all of the pomp and circumstance during VSU's 2019 Fall Commencement Ceremony at the VSU Multipurpose Center.
The last time Morgan wore a graduation cap and gown was in 1965, when she graduated from Southside High School in Dinwiddie, Va. After high school, Morgan went to Virginia Union University (VUU) for a year, then left VUU to work at Hiram Davis Medical Center in Petersburg. In 1979, Morgan decided to complete her college education so she enrolled at VSU.
"I have always believed that whatever goal you set to do in life, you must finish it," said Morgan with a sense of pride and passion. "I enrolled at Virginia State University in 1979, because I wanted to finish my college education. I did not want to give up. I do not believe in giving up. But, my son was 10-years old and I needed to make sure I took care of him so I decided to put my education on hold. So, I worked at Hiram Davis Medical Center in Petersburg for 33 years as a unit secretary. However, after years had gone by, I realized I let some 30 years pass me by and I had not finished my [college] education. So, in the fall of 1985, I decided to come back to the University [VSU] to finish getting my degree."
Several unexpected twists and turns in her life hindered Morgan from fulfilling her goal, yet again. In 2014, she was diagnosed with breast cancer. Morgan experienced another life adjustment in 2018 when she lost 50 percent of her hearing in her right ear due to Meniere's disease. In spite of these setbacks, Morgan's drive and tenacity led her to reenroll at VSU in fall 2018 to make her dream come true.
"Thanks to God, I have been cancer free for six years," exclaimed Morgan, who went through 30 plus radiation treatments. "I give God all the praise because I wouldn't be able to finish what I started if it hadn't been for God! Life has been rough for me, but everything I have experienced has been worth it all."
So, what's next for Morgan after commencement? She plans to continue to do what she loves, working and encouraging people.
"I will probably work part time at Hiram Davis Medical Center and do what I have always loved to do, continue to encourage and minister to others."