By Bonnie Newman Davis
The afternoon was cool but sunny when I recently entered the Market at 25th Street parking lot in the Fairfield Community. Located at the corners of 25th Street and Fairmount Avenue in Richmond's East End, the full-service grocery store opened last April and in doing so, filled a void in an area commonly deemed a food desert.
I walked into the 27,000-square feet-store to grab lunch, having heard that the hot bar offers mouth-watering meals sure to please the palate. After a store associate handed me my order of chicken, collard greens and macaroni and cheese, I lingered, debating whether to order dinner, too. Before I could decide, the Market's head cook advised me to check out the meat loaf, assuring me that I would enjoy it.  I declined because I seldom eat red meat.
We chatted a while longer before I took a quick look around the store. I knew I would be back in a few days to get a closer look, but what I saw during my brief visit made me smile. In addition to an array of grocery items matching those of similar-sized stores in the area, the Market was clean, quiet and physically attractive with its soothing lighting and well-stocked shelves. Customer service also was on point. When I arrived at one of the check-out lanes, I noticed that my cashier was wearing a lovely red and white Santa hat. The festive hats were given to every employee by the store's management, she said, smiling.
I was impressed. When I later spoke with Norm Gold, the store's developer and operator, I asked him several questions which included the reasoning behind the Santa hats.
"We love our team members," replied Gold, a former Feedmore executive who spent dozens of years in the grocery business in Arizona and California before moving to Richmond in 2013.  "They are our family.  We want them to feel supported by us and to be happy to be a member of The Market @ 25th family.  That is why I am here – to give back to our team and our community."
Here's more of my interview with Gold.
UVW: The  Market at 25th Street opened in April 2019 . The store's opening was highly anticipated for an area that is increasingly diverse. Tell us more about the store in terms of its mission, employees, hours of operation and food, merchandise and products.
Gold: The mission of The Market @ 25th is to serve the Church Hill / East End community by hiring local, supporting and procuring from local, minority-owned businesses, and serving local shoppers by offering healthy, nutritious food at affordable prices.
We have 62 staff with over 65 percent hired from our area. We are open seven days a week, Monday through Saturday, 7 a.m. to 10 p.m. and Sunday, 7 a.m. to 9 pm. Via community feedback, our store was intentionally laid out to offer items desired by all diversities, ages, and incomes.  We offer vegan and organic products as well as sushi and collard greens.  We are continually changing to offer items that our customers are looking for.
UVW: How would you best describe your customers demographically?
Gold: Our customers are truly diverse.  This is something that few, if any, grocery stores are successful at.  We have lower-income and middle-income shoppers, both Caucasian and African American, and all ages and generations.  In our store, you will frequently see lower-income minority shoppers as well as millennials, and Caucasian families shopping.  I firmly believe that our welcoming culture for everyone and incredible customer service makes it a friendly shopping experience for everyone.
UVW: How does The Market @ 25th Street distinguish itself from the competition? What can customers who enter the store expect?  What are some of your most popular items or features?
Gold: When you walk in our store, you feel a different vibe than walking into a   typical grocery store.  It is truly a local, community market that honors the Church Hill area by naming the departments after schools in Church Hill, recognizing the churches in Church Hill on the aisle markers throughout the  store, and honoring the history by a Church Hill timeline along the back wall of the store.  You are welcomed to the store, drawn in by the décor, and provided unsurpassed service across the store.
The hot bar in our deli has become very successful for breakfast, lunch and dinner.  Our Sushi bar offers some of the best sushi in the city.  We are fortunate to partner with Brewer's Café, offering its award-winning coffee products and fresh juices inside our store.
The store was built in a food desert, so promoting healthy eating and nutrition is a priority.  We are the only grocery store in Richmond and the second in the state to offer a 50 percent discount on produce for SNAP recipient shoppers. This is through a program called Virginia Fresh Match and virtually enables SNAP shoppers to get twice as much produce for their money.
We also offer a 10 percent discount to seniors, First Responders from Monday through Friday.   We have senior bingo on Thursdays from 11 a.m .to noon.
We have a Loyalty / Rewards Card that can be used to identify churches and schools each shopper represents and/ or attends.  At the end of agreed upon period (month or quarter), we are able to total the sales per church or school, and 3 percent of all sales are donated back to that organization.
You can pay utility bills and RRHA rent payments at our customer service counter as well as buy lottery tickets and bus passes. Through a partnership with Lyft, customers buying more than $20 in groceries can get a ride home for only $3.  Also, we offer a free van ride home from the first of the month through the ninth for customers buying more than $20 in groceries.
UVW: What are the Market at 25th Street's most significant accomplishments since it opened?
Gold: Opportunities. We have hired over 65 percent of the staff from the area, providing opportunities and second chances to many who had previous criminal records or chemical dependencies.  Working with Caritas, we provided each employee with paid professional development training before they started in the store.  Our goal was and is to give each of our team members the skills necessary to become self-sufficient, whether they continue working at the store or move on to other careers.  Many of our team members have stabilized their lives and families, purchasing homes and cars for the first time.
Our local vendor program has given many local, minority-owned business owners the opportunity to sell their products in the store and learn how to become successful, giving them the opportunities that other retailers wouldn't.   Again, with the goal that they can grow beyond the store toward their own individual success.  We opened with over 70 of these vendors and are continually bringing in new vendors.  The more aggressive they are at selling and marketing their products, the more successful they have become. Our customer service and welcoming atmosphere and culture is unsurpassed and we are recognized for it.
UVW: Are there any unforeseen challenges that have occurred since the market opened? How have you met those challenges?
Gold: There has been the perception that the store is "too nice" for those that live in the lower income communities.  It has also been perceived that the store was built to take advantage of gentrification.  Both could not be farther from the truth.  The store was intentionally built for those living in the community, with the thought that everyone deserves a nice, clean, beautiful store to shop.  Gentrification is happening, but was not even considered when planning or creating the store.   To overcome each, we are doing more intentional community outreach to develop trust in why the store was built and who it was built for.
We had some pricing challenges when we opened which caused us to not have some of the lower, reduced prices on the shelf that we planned.  This gave us the perception that we were high priced.  While we are not, and cannot compete with Walmart prices because they can buy at a much lower cost of goods sold, our prices are very comparable to all other chains.  Word-of-mouth, though, is very powerful, and comments about high prices spread quickly.  We are continually working to overcome that.
We also learned that habits are very hard to change.  If someone has a habit to shop at one store, they are not likely to quickly change that habit and shop at our store.  It will take time.   I didn't take this into consideration when budgeting for our store.  Getting families to change their shopping habits from Kroger or Food Lion to The Market @ 25th will take time, but once they come to our store, I am convinced they will be sold on our mission and service.
UVW: What else can you tell us about The Market @ 25th Street that customers want to know?
Gold: Our prices are affordable and comparable to Food Lion and Kroger.  We are an independent, so our costs are higher than grocery chains.  For us to keep the staple items low and comparable to the chains, there will be some other items that might/ will be higher than others, like specialty items like vegan or bulk products.
We are a true community market, built specifically for the community.  Sometimes you need to make sacrifices to support local businesses.  Just like we support local vendors and local employees, we need those who live in our area to support us.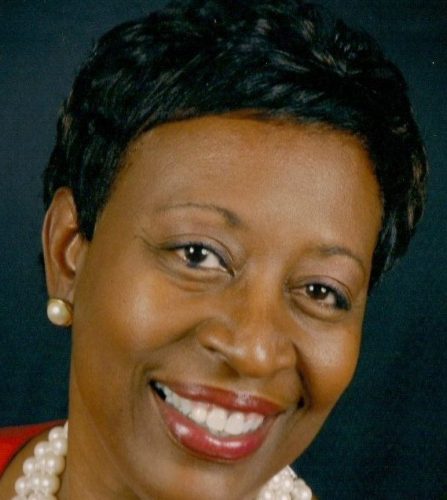 Bonnie Newman Davis
Journalist, Journalism Educator, Media Consultant
Executive Director, BND Institute of Media and Culture Inc.
bndimc.org
804 683-7203