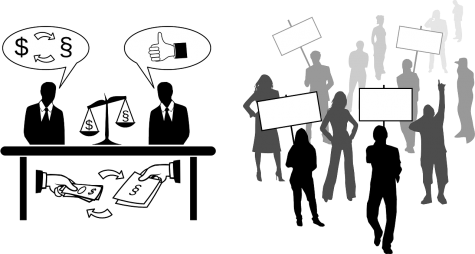 Absolute power corrupts absolutely!  This assertion was made centuries ago by Lord Acton, a British historian of the late nineteenth and early twentieth centuries. The assertion is that a person's sense of morality tends to lessen as his or her power increases. Unfortunately, it is an inconvenient truth about basic human nature. It appears that this assertion couldn't be truer in the sociopolitical climate we are currently experiencing. Right now, we are witnessing an historic moment in our nation. As we continue to reach for "a more perfect union" and the endless pursuit of freedom, liberty and justice for ALL people, we find ourselves in perilous times.  The impeachment of a president of the United States of America has rarely happened and yet, here we are for only the 3rd time in our almost 250-year history.
Truly we are at a major inflection point in our collective history. The U.S. Constitution and the recognition that our nation was founded on the lofty ideal of governance by a Republic that shares power through separate but co-equal branches of government being: the Executive, the Judicial, and the Legislative, is facing an extreme test as to whether or not the system as designed actually works. The Impeachment and up-coming trial of the President in the U.S. Senate is not only a test of our constitutional government but also a very real challenge for our fragile Democracy.
A close friend of mine remarked the other day, "Of course Donald J. Trump will not get a fair trial! This is America! He's a rich white man, and everyone KNOWS that he will be innocent even when proven guilty!"  WOW! The perception, by many people, that our systems and institutions are not only dysfunctional and unfair but are also incapable of actual justice and fair play, is one that becomes more and more difficult to argue against. It appears that truth and fact-based evidence has little to do with innocence or guilt, but rather the system is rigged towards those who are rich and powerful no matter what they do or say, and no matter what office they hold or oaths they take.
Most of us are subject to the "rule of law." If we break the law, there are consequences. There are always consequences for those of us who are not rich and powerful. Unlike the folks who may be able to walk down 5th Avenue and shoot someone in broad daylight without losing any support, and who would suffer no serious consequences whatsoever, we would be promptly arrested, charged and face an actual trial in a court of law. The laws of the land must be obeyed by most of us. However, as we have witnessed in the past few years and most recently the past few months, truth is relative, laws are for some people and not for others, and power controls everything! And Everything means EVERYTHING! When you have the POWER, there can be a trial without witnesses or testimony. When you are in charge, you can claim absolute power and get ALL the "rights" conferred upon yourself because you define what is criminal and what is not. If it is not possible for you to break the law or even be "charged" with wrongdoing, will there ever be any consequences?
America is increasingly a country divided instead of united. When we cannot agree that there are facts and fact-based evidence, how can we agree to be governed by laws? Unless we can agree that No One is above the law, there will come a time when the law itself becomes unenforceable! We are in perilous times America! The corruption of our Constitution, our Republic, and our Democracy are all standing on the edge of the proverbial cliff and only The People can save them from falling into the abyss.