By Bonnie Newman Davis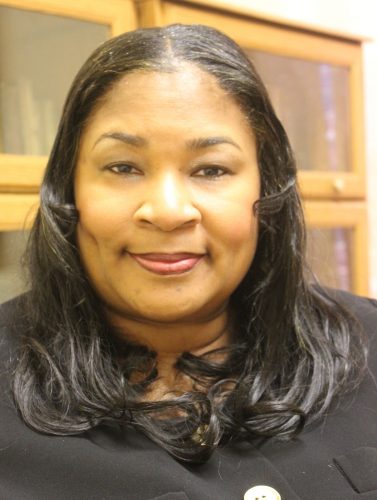 The approach of Black History Month has several Richmond-area educators, historians and scholars sorting through requests to share their knowledge and research about the city's past. Elvatrice Belsches is one such historian who is in high demand throughout the year, which keeps her well-prepared when accepting calls to lecture, speak or provide comments and context during Black History Month.
One month ago, Belsches discussed the life of abolitionist Harriet Tubman and the underground railroad in Central Virginia for two separate audiences at the Market@25th in Church Hill. (Belsches also helped develop a historical timeline of Church Hill that stretches across a side wall of the grocery store.)  Belsches' lecture, "Roll Call to Freedom," was timely in that a movie about Harriet Tubman's life was released last November. Both Saturday afternoon talks drew a full house, no surprise given that Belsches is featured in the podcast series "Following Harriet" and the Focus Features film "Harriet," by Kasi Lemmons.
Besides her title as a public historian, Belsches is an author and archival researcher. She also is the writer and researcher for the documentary, "The Life and Times of Elizabeth Keckley," and served as an in-studio researcher for Steven Spielberg's motion picture, "Lincoln." I was delighted when Belsches accepted my request that she share some highlights of her career with Urban Views RVA's readers.
UVRVA: You're in high demand for talks and lectures during Black History Month. How do you decide which invitations to accept?
Belsches: I decide which invitations to accept by way of my schedule.
UVRVA: It must be exhausting to prepare for your lectures, not to mention delivering them. How do you strike a balance? What do you do to unwind?
Belsches: My calling is as an educator and historian. I unwind by watching documentaries and interviewing the elders.
UVRVA: Your recent lectures about Harriet Tubman drew good turnouts on a Saturday afternoon at the Market @25. Why are people so hungry for history about African Americans? Do you believe that Richmonders have a particular thirst for black history and if so, why?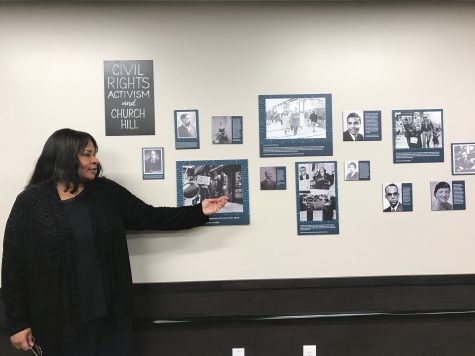 Belsches: People are hungry to hear their experiences, and those of their ancestors acknowledged within the context of American history.  I am able to present these many stories in an engaging way. My belief is, when you couple powerful storytelling with sound scholarship, it results in public history at its finest! Why are these presentations important? Expanding the narratives for all allows us to better understand the events of today and it engenders a greater awareness, appreciation and respect for the contributions and customs of others.
UVRVA: Your work is imbued in movies, films, documentaries, exhibits and books.  Much of your work started decades ago. Do you feel that your work and your passion have always been recognized, or was it working with Steven Spielberg that brought your name into the public eye?
Belsches: I have always been emboldened by the response of the elders. My book "Black America Series: Richmond, Virginia "(Arcadia Publishing) has been in print for 18 years and is carried in repositories around the country. I've heard from people as far away as England who use it as a reference. It is even cited in several dissertations. In 2010, I was awarded the Maggie L. Walker Heritage Award for my research and creation of the Historic Jackson Ward Podcast for the National Park Service, and for being the historical researcher who finally verified that Walker was born in 1864 and not 1867.
UVRVA: Which of your projects are you most proud?
Belsches: All of them!
UVRVA: What's next for Elvatrice Belsches?
Belsches: Respectfully, that's a question for God. I look forward to acquiring financing for the completion of several documentaries and publications that I've had in the pipeline for some time.
UVRVA: What February talks do you have on your schedule?
Belsches: My public presentations verified thus far are: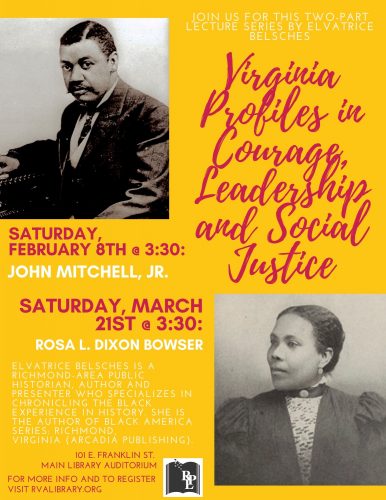 Feb. 8 – Richmond Public Library's Main Branch on John Mitchell Jr. "Virginia Profiles in Courage, Leadership and Social Justice"
Feb. 6 – MCV Campus-Virginia Commonwealth University, "The Free Black Experience in Central Virginia"
Feb. 22- Pamplin State Park and National Museum of the Civil War Soldier, "The Free Black Experience in Central Virginia."
UVRVA: What do you hope that people take away from your lectures?
Belsches: It is my fervent hope that audience members come away with a greater awareness, appreciation and understanding of our collective histories. My hope also is that these stories serve as a source of inspiration.
UVRVA: Among the many people whom you have studied, lectured or written about, who stands out most and why?
Belsches: Some of my favorite people that I've researched include the following:
Susan LaFlesche Picotte, M.D., the Hampton Institute graduate who became the first known Native American woman to become a physician. Also, Sarah G. Jones, M.D., Miss Virginia Estelle Randolph; Elizabeth Keckly and the medical and pharmacy graduates of Shaw University.
Why? They all defied the odds and went on to make transcendent contributions to their communities.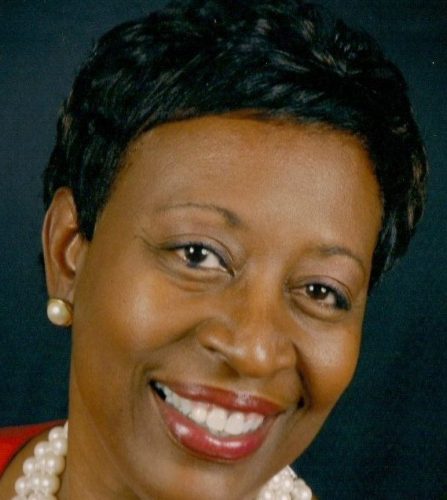 Bonnie Newman Davis
Journalist, Journalism Educator, Media Consultant
Executive Director, BND Institute of Media and Culture Inc.
bndimc.org
804 683-7203