By Bonnie Newman Davis
Many Richmonders know Robert Dortch through his ministry—he served as senior pastor of  Shiloh Baptist Church in Chesterfield County for 10 years and as interim pastor at another Chesterfield church.
Others recognize him through his philanthropy as a founder of Ujima Legacy Fund, a giving circle that promotes philanthropy among men of color and provides funding support for nonprofits that serve youth through innovative education initiatives.
What remains unknown to most, however, is Dortch's work as an emerging photographer whose revealing images intersect with his poetry and other forms of writing.
 "I enjoy my work in philanthropy; I look at it as a ministry," says Dortch, while sipping tea recently at Urban Hang Suite in downtown Richmond. "But I'm an artist at heart. I'm now doing more writing, and the photography is taking on a different type of energy."
On February 19, Dortch's artistic side will be revealed during a spoken-word presentation of "A Black Man's Quilt" at the Black History Museum of Virginia and Cultural Center. Mixed with his photography and prophetic voice, Dortch will deliver real talk about black masculinity, vulnerability, love, intimacy and faith. Stacy Hawkins Adams, a multi-published author, will explore with Dortch what it takes for a black man to weave his way through life, faith, fatherhood and love in today's world.
Remnants of Dortch's black man's quilt hang from a wall in Urban Hang Suite at 304 East Broad downtown Richmond.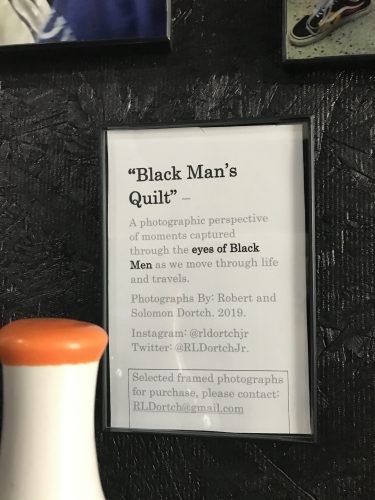 Photographs taken on his Android mobile phone show images of his sons, Malcolm, 22, and Soloman, 19, a Black Lives Matter's rally and a father-and-son embrace.  The exhibit will be on display until February 29.
Seated just a few steps away from the wall that showcases his work, Dortch speaks rapidly and rhythmically as he explains what led to the exhibit and what comes next.
His passion for art –painting, making collages, having displays at the former Thalhimers Department Store and in Richmond's City Hall –started as a child. So deep was his love for art that Dortch wanted to study the medium in college. His father was not in agreement, so Dortch instead earned a degree in business at James Madison University.
After JMU, Dortch enrolled in divinity school at Virginia Union University. Around the same time in the mid-1990s, Dortch begin journaling and has done so every day since then. His exhibit at Urban Hang Suite includes a photograph of a thick stack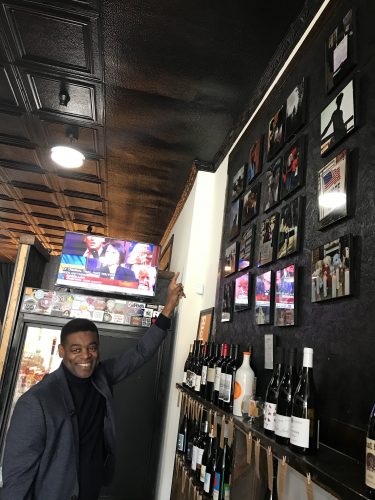 of journals that contain his deepest thoughts.
Being at VUU also enabled Dortch to briefly return to his first love when he spent time teaching art to students in Ghana, West Africa. His global reach was further extended several years later when he served as executive director of the African American Trailblazers documentary and educational series that was broadcast nationally on PBS stations.
Today Dortch wants his spoken-word poetry, provocative sermons and photography to help create a "more caring, intimate and loving society."
It is equally important that his work "be accessible and presented from the perspective of a black man," he says.
"Too often society fails to see that black men can be vulnerable and tends to buy into stereotypes about how black men relate to their partners and children," says Dortch. "Doing so ignores the depths of who we are as human beings…I want to show that we have much more depth."
"A Black Man's Quilt" will take place 6 p.m. Wednesday, February 19 at the Black History Museum and Cultural Center of Virginia, 122 West Leigh St., Richmond, VA, 23220. The event is hosted by the museum and the BND Institute of Media and Culture. Admission is free. Details: info@blackhistorymuseum.org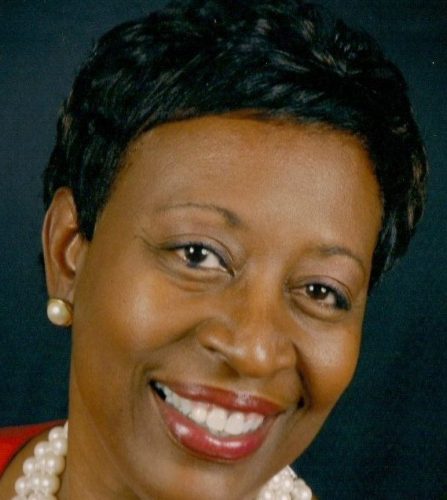 Bonnie Newman Davis
Journalist, Journalism Educator, Media Consultant
Executive Director, BND Institute of Media and Culture Inc.
bndimc.org
804 683-7203