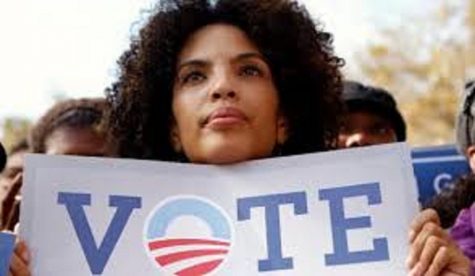 Here we are in the month of March. It's Women's History Month, and the month of March is a major marker in the political primary season when 1/3 of the delegates are awarded to secure the Democratic nomination for the party's candidate to challenge the incumbent president in the 2020 election. Last week's Democratic Primary has reset the landscape for the democratic party's field of candidates going forward. It is because of the Black voters in South Carolina that one candidate's campaign was rejuvenated and, one might argue, brought back from the brink of extinction. Several other major candidates ended their quest for the Democratic Party's nomination to be the next president of the United States, and everyone left is re-evaluating where do we go from here? All of this shifting and reshuffling is a direct result of Black voters in South Carolina turning out to vote and throwing their support towards one candidate above all the rest. What must be conceded, if anyone is confused or in denial, is that Black Votes Matter.
Black people in this country are a force to be reckoned with and any candidate who refuses to recognize that will do so at their own peril in a national election, a statewide election and even a local election (depending upon the state and/or city.) We know that there are certain parts of the country like Iowa, New Hampshire, Vermont and other geographic locations within the U.S. that have very low percentages of Black people living there. However, the Democratic party must not be lulled into believing that those demographics make it less important for the party to pay attention to the issues that are important to black and brown people and the overall collective power of the Black vote in America. It becomes extremely important for all people who recognize the principles inherent in a democratic system of governance to protect the right to vote for every American. This includes engaged advocacy for voter registration all over the country and standing up against any efforts to suppress the vote; including all unlawful purging of voter rolls and or any efforts at voter intimidation. If we are going to have a Democracy, we must fight to keep our elections free and fair.
We just celebrated the commemoration of Bloody Sunday, when 55 years ago a march led by civil rights activists Dr. Martin Luther King, Jr, Rep John Lewis and others was interrupted by a state sanctioned attack. The marchers, which included men, women and children, were brutally attacked by local police, Alabama State Troopers on horseback and white supremacists, as they attempted to cross the Edmund Pettus Bridge on their way from Selma to Montgomery to demand the Right to Vote. The Right to Vote for Black people has always been a struggle. Many of our people have bled and died to make the right to vote possible for all of us.
Today, we often struggle as we attempt to mobilize the Black Vote. There's a lot of disillusion with the whole "political process." There's disappointment in our government, our institutions, and the lack of change it "seems" the vote has actually accomplished. The latter is where we often seem to struggle the most. Change doesn't come easy. It doesn't come quickly. Change is hard fought and hard won in the end. What is unforgiveable is allowing the vote to be taken from us or for us to willingly give it back after all of the bloodshed and the sacrifices made by those who came before us to ensure that we actually are recognized as citizens in these United States because we have the Right to VOTE. We are fond of saying Black Lives Matter. Well, unless we make sure that Black Votes Matter, Black lives will never matter! Our brothers and sisters in South Carolina have demonstrated this FACT for the entire country to see. They have shown us all how much Black Votes do matter!