Part 1 of 2
By Bernard Freeman
Getting Started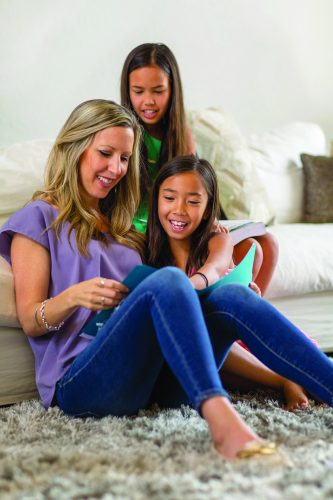 With the need to practice social distancing has come the need for many parents to take on a more active role in the educational life of children.
Depending on how many resources your school has provided, tracking down the needed resources and materials to get started can feel like a daunting task.
A good starting point for core subjects is the Core Knowledge Foundation (www.coreknowledge.org.) The organization offers detailed curricular guidance, which lays out what children should know at each grade, as well as provides some of the needed materials. TeachersPayTeachers.com, where teachers make educational resources they've created available for a fee, or sometimes for free, is another good starting point.
Here are some more ideas and free online resources to help.
MATH
Khan Academy is useful for students (and parents) who struggle with math. Founder Salman Khan publishes short videos explaining math concepts. Then students can practice what they know with online practice questions and quizzes. The site covers math concepts from basic counting through high school AP classes. Parents can sign up as teachers, which allows them to assign content for students to cover and track their progress. While you're there, check out the other course offerings, which include science and engineering, arts and humanities, social-emotional learning, economics and finance, computing, test prep and more.
 READING
Research shows that it's good for children to not just read on their own but to have books read aloud to them. Check out the Storyline Online channel on YouTube, where celebrities read children's books for the camera, along with illustrations. The channel comes from the SAG-AFTRA Foundation's award-winning children's literacy website Storyline Online, and has featured readings by Betty White, Oprah Winfrey, Kristen Bell, James Earl Jones and Al Gore.
To keep kids writing and help them process their feelings about the upheaval in their schedule, include journaling in their language arts time each day. Ask younger kids to make a video journal about what's happening each day and how they feel. Older kids can write anywhere from a couple of sentences to a few paragraphs each day.
SCIENCE
The web has a wealth of resources for science education. If your children are visual learners, check out the TV series Xploration DIY Sci, available through Amazon Prime Video and through some cable TV packages. Each episode sees scientist Steve Spangler tackle a science topic with hands-on experiments and analysis.
Discovery Education is offering its entire library of science content available free to any school or teacher that requests it. Email your school or school district to ask about setting up access.
If your child is interested in computer programming, take a look at Amazon's Future Engineer program at www.edhesive.com/amazon/free_access. The program is being offered free to U.S.-based parents during the COVID-19-related school closures. Courses include basic coding for middle-schoolers, and courses in Python, AP computer science and Java programming for high-schoolers.
SOCIAL STUDIES
Head to Thoughtco.com for a list of free printable social studies worksheets covering everything from Medieval times to World War II to Black History Month.
For more visual learners, the Crash Course channel on YouTube features fun animated videos for kids about a range of topics, including world, U.S. and European history. Some titles have included "World War II," "Economic Depression and Dictators," "Post World War II Society and Economy," "The Monarchy: European History," and "The Atomic Bomb." Similarly, the LibertyKidsTV YouTube channel covers American history through animated videos.
Virtual Field Trips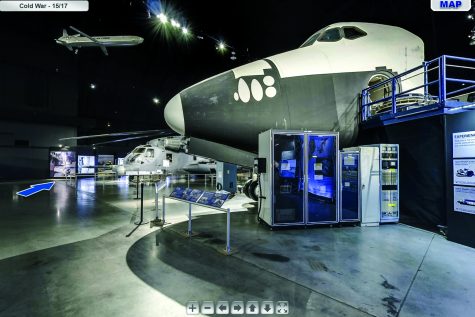 You can't venture out into public to visit landmarks and popular attractions, but you can still take a field trip, via technology.  (Plus, no bumpy bus ride or 20+ screaming kids to deal with.)
SCIENCE AND TECHNOLOGY
Boeing offers looks at the Johnson Space Center and more through its Future U website (www.boeingfutureu.com/virtual-field-trip). Or, check out how manufacturing works with virtual field trip videos from ManufactureYourFuture.com (https://bit.ly/33DJGvp).
Arizona State University immerses students in 360-degree images shot at scientific points of interest all over the world at https://vft.asu.edu/. Locations include the Grand Canyon, a Panamanian rainforest, Australian archaeological sites, Mesoamerican pyramids in Mexico and the terrain of Mars.
The Nature Conservancy (https://bit.ly/397orDi) also offers online virtual tours of everything from the deserts and grasslands of Africa to an island powered entirely by solar energy to a scuba diving adventure in the waters off the Dominican Republic.
ANIMALS
You could also let kids explore Google Earth (www.google.com/earth), which combines satellite and aerial images into what Google bills as "the world's most detailed globe." "Visit" natural and manmade wonders all over the world, state and national parks, monuments, historical sites and more. Fly over the Matterhorn or hover over the Great Barrier Reef. Read "knowledge cards," which provide basic info about landmarks. ("The Eiffel tower is a wrought iron lattice tower on the Champs de Mars in Paris, France.") You also can see additional photographs of many locations.
Technology makes it easy to take a trip to the zoo. Tune in to the panda cam at the Smithsonian National Zoo in Washington, D.C., the Atlanta Zoo or the San Diego Zoo. The Cincinnati Zoo is offering Facebook Live videos called Home Safari each weekday, in which zookeepers introduce viewers to a zoo animal and answer questions live. The first episode saw Fiona the hippo greeting eager viewers from her enclosure at the zoo.
Aquariums offer similar virtual experiences. Check out the Monterey Bay Aquarium's "Jellycam" to see what the jellyfish are up to, or take a virtual tour of the National Aquarium or Seattle Aquarium.
At www.farmfood360.ca, you can take a tour of all things agriculture: a grain farm, chicken, pig, sheep and cow farms, as well as a milk and cheese processing facility, among others.
ARTS AND CULTURE
You can even visit many museums across the globe virtually. Good Housekeeping rounds up the best offerings at https://bit.ly/2WFvZL4. (They also include zoos, aquariums and theme parks.)
Check out Google Arts and Culture's massive collection at https://artsandculture.google.com, including a guided tour option.
Get Creative with Crafts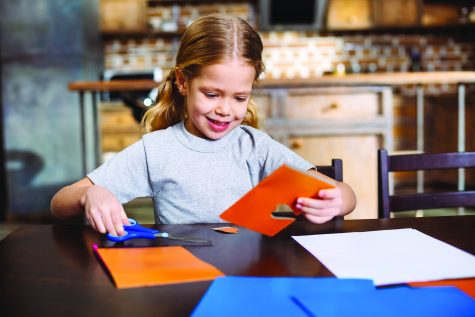 Being cooped up at home doesn't mean you can't have a ton of fun being creative at the dining room table. Crafts will keep the little ones busy and keep their creativity blooming.
Since a trip to the store for supplies is not a good idea right now, here are some ideas from around the web for easy projects you can do with common household items and basic crafting supplies.
MAKE CARDS
Paper crafts are the most basic of crafts. All you need is construction paper (even printer paper will do in a pinch), some markers or crayons, and your creativity. USA Today reports that since nursing homes have had to stop allowing visitors, they are asking children to send cards to brighten their residents' days. (Scanning or taking photos and emailing them might be a better option at this point, however, to avoid spreading germs.)
PAPER BAG CRAFTS
All you need is a package of paper bags and a few other basic supplies to make these fun crafts.
Paper bag village: With the provided template, you can cut and color an entire village, then glue your "buildings" to the bags and line them up down a make-believe street. Visit https://bit.ly/2QEiur9 for templates.
Paper bag monster puppets: Another easy, fun way to use paper bags is to turn them into puppets. First paint the bags with acrylic paint. Then glue on eyes, stripes, horns, teeth and other fun details made of construction paper. Get ideas here: https://bit.ly/2wAnjdY.
PASTA BUTTERFLIES
Acrylic paints can turn farfalle pasta into butterflies. Have fun decorating the "wings," then glue your creations to construction paper. Use a permanent marker to draw on the antennae and other details. Find the instructions here: https://bit.ly/2wAnw0K.
CRAFTS FOR TWEENS
Older kids might want projects with more detail and options to personalize the craft to their interests. They can learn the basics of origami at https://origami.me/beginners-guide. Lush-inspired bath bombs are simple to make, with baking soda, citric acid (used for pickling) and cornstarch as the main ingredients. Check out a tutorial from TheSpruce.com at https://bit.ly/2Ud6QFF.
GET OUTSIDE
Going outdoors is copacetic, provided you keep your distance from neighbors. So, why not whip up some outdoors fun for your family? Highlights magazine offers ideas for making your own bubbles (https://bit.ly/3bpWWWT) and sidewalk chalk (https://bit.ly/2y4Z2NJ) from materials you probably already have at home.