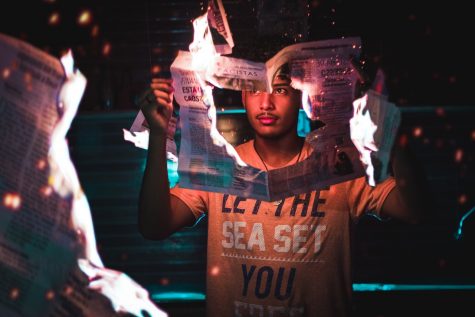 "This is a great success story and I think that that's the story that needs to be told!" Jared Kushner stands on the White House lawn proclaiming, like the Little Prince, the heroic story of success that this National Health and Economic Crisis, due to Covid-19, has been for his famed Father- in -law in Chief. It must be conceded that, whether in fact or in perception, whoever controls the narrative lays claim to the truth. It has always been the way history has been written, the way perceptions are altered, and people's beliefs, minds and actions are manipulated. If nothing else, we have to admit that the current administration is masterful at seizing the "narrative" that they want to promote and always making it "The Story" and the focus of the Great American Media Machine. They grab hold of the headlines with the ferocity of an epic galactic battle and repeat the "story they want to be told" with the calculated timing of a multi-million-dollar ad campaign. We hear it over and over again from in the early morning to the midnight hour.
As Winston Churchill once said, "A lie makes its way halfway around the world before truth has a chance to get its pants on."  And yet, in this age of the over saturation of electronic media , commercial media, and multi-media outlets on the great information highway, we've lost something in the translation. We, as a society, function in an HD (high definition) world and the "Construction of Truth" rather than Truth itself gains more momentum. The facts matter less than personalities and celebrity, fake news, fake facts, false prophets and diluted information has infected our ability to discern the truth from the lie. When success can be counted as tens of thousands of people dead and dying within a span of several weeks and millions of people infected and infecting others exponentially due to a lack of adequate testing, tracing and tracking methods, we have to also concede that up is now down and bad is now good. But if you are in control of the narrative, then THAT's the STORY and you're sticking to it!
The REAL Story that should be told is one of incredible courage, persistence and tenacity in the face of insurmountable odds. The STORY of those people who stand in the GAP for all of the rest of US every single day in order to keep us moving forward in the face of unspeakable grief, pain and loss. Both the visible and invisible s/heroes, workers, first responders, last responders and everyday people who stock, drive, move, lift and carry us all through these challenging and disturbing days are the stories that need to be told.
Tragedy and opportunity are not mutually exclusive; they can co-exist. We can never forget the horrific loss of human life and the millions of people those losses directly affect emotionally, physically, economically and psychologically. Additionally, we must celebrate the victories, large and small, within the tragic stories. It's important to recognize how much we all depend on one another not only within our individual families but also within our communities.
Due to the crisis we find ourselves engulfed in and its grip on how we can or cannot exist right now, we have the opportunity to take stock in our lives, to examine where we are and where we see ourselves going in the future. We can reassess what is truly important to us, and what is not. Tragedy makes you STOP and look at what you truly need in your life and what and who is important
to you. It makes you face your inadequacies and deficiencies and recognize the things you have control over and the things that you do not. We are at a time of great calamity within our nation and it is an opportunity to make the BIG Changes that are necessary for us to coexist as diverse, multicultural and pluralistic society. Or we can cling to false narratives that it's "all good" and "We are Great!"
The STORY of this time in our history will ultimately define us for future generations. Don't believe the HYPE! We are NOT Great! This is Not a "Great success Story!" However, we have an opportunity to seize this moment and STEP into the Truth of WHO We Are as a Nation and begin to do the HARD Work to re-build ourselves from THAT place of recognition and resilience.